Hemlock, Selkirk and Troy Railroad Engines and Cars
I had a Lionel docksider I used to see if I could improve the smoking capabilities of the smoke unit. After making some improvements in that department I decided to repaint the locomotive to use on my Hemlock, Selkirk and Troy Railroad. Before painting it I added a full set of handrails on the front, along the boiler water tank and by the doors. It is a fine addition to my railroad's roster.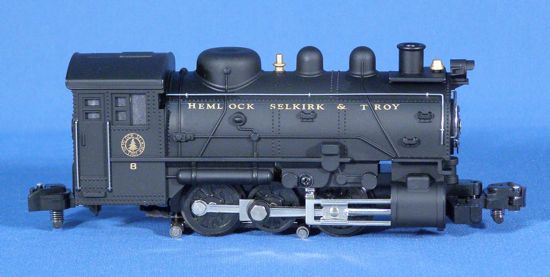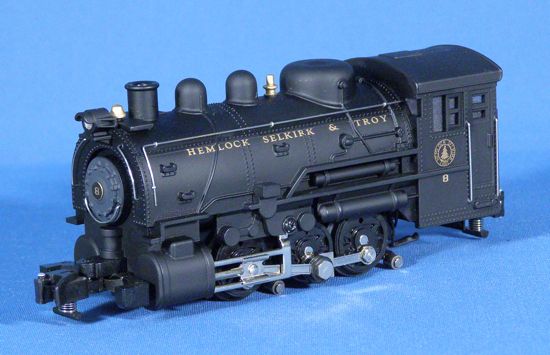 After working on several RS-3s for fellow ACSGers I decided I should add one to my roster of locomotives for the Hemlock, Selkirk and Troy Railroad. I picked a Tuscan paint scheme with a single gold stripe. The gold stripe lines up with the upper gold stripe on the passenger cars of
The Selkirk Arrow
so this locomotive can be used as a backup for the semi-streamlined steam locomotive when it needs some shop time. The locomotive is from American Models. I added directional LEDs for both ends.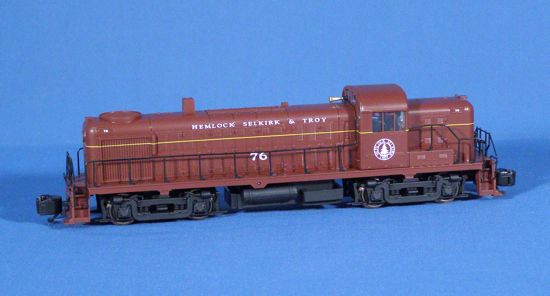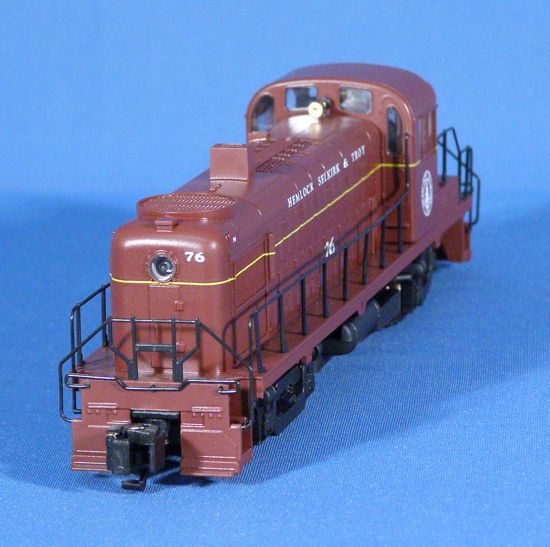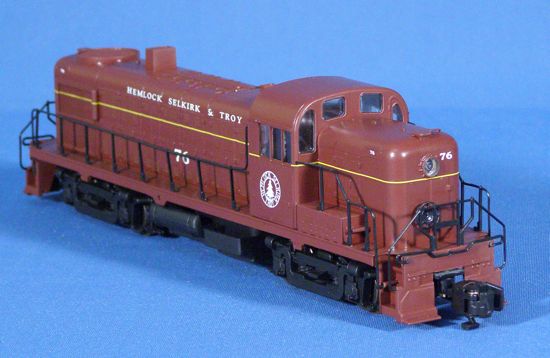 I had a New Haven Baldwin diesel from American Models that I had purchased for the purpose of adding to my HS&T railroad. I painted it in Brunswick green with white handrails. It was originally sold as a scale version of this model. I added an electronic reverse unit from Dallee and changed the couplers to American Flyer. It has directional headlights at both ends.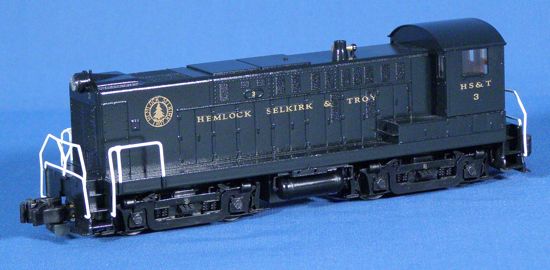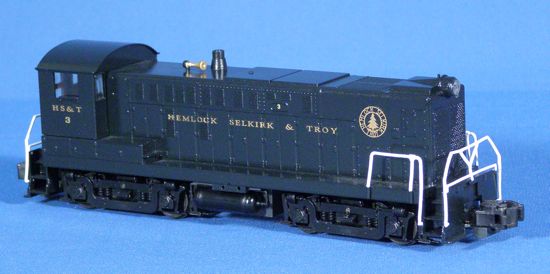 Here is the HS&T Baldwin pulling a mixed train on Jeff Hill's layout. (1:54)
I let my imagination go a little after I finished the
4-4-2 Pennsylvania E-6
. That project required me to cut a cab off of a second K-5 boiler so I could create a cab with four windows instead of the two the K-5 had. That meant I had a K-5 boiler with no cab. Rather than just waste a perfectly good boiler I modified it by removing the generator and feedwater heater around the smoke stack and adding a cab cut from a Reading Atlantic with a plastic boiler shell. I next modified an Atlantic pilot I had with a corner of the slats broken out. The keystone logo on the boiler front was removed and a round number board installed. I also always wanted a locomotive with a Vanderbilt type tender so as long as I was using up left-over parts making a freelance locomotive I used an Atlantic plastic tender shell and a Gilbert tank car to make one. The die-cast tank car frame was used for the tender after it was shortened. The locomotive is numbered and lettered for my HO model railroad I was building during the 1960s; the Hemlock, Selkirk and Troy Railroad, "The Hemlock Line." The HO railroad fell into disuse while I was in the Navy and has been torn down.

Here is a shot of the Vanderbilt tender I made for my freelance Hemlock, Selkirk and Troy Railroad. The water hatch is the hatch that was removed from the Atlantic tender after the water tank was cut off of the coal bin.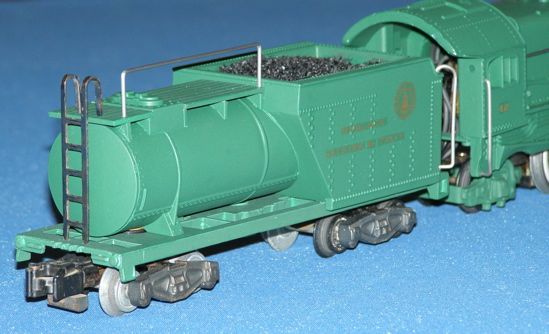 Here is the HS&T 42 pulling a train of 20 Hemlock, Selkirk and Troy cars. (4:19)
These are pictures of some of the freight cars I painted for my Hemlock, Selkirk and Troy Railroad.
The center cupola caboose is a Gilbert product and the bay-window caboose is from American Models.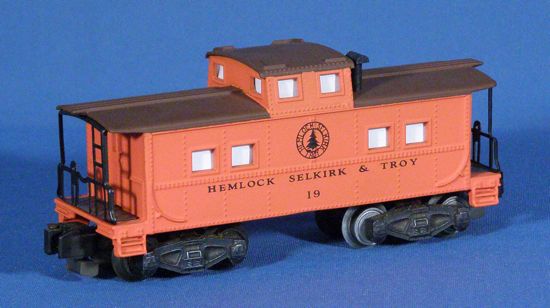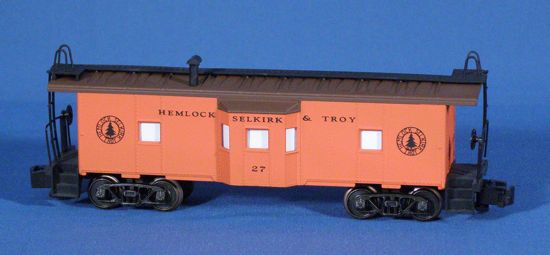 I have always liked seeing military equipment on flatcars and wanted to model some with World War II era tanks. I could not find any Sherman tanks in 1/64 scale so I settled for 1/72. This is pretty close and for small object, such a tank, the difference is slight. The 1/72 scale tank is about one-quarter inch too short for S scale. The half-tracks are in 1/64 scale.
The flatcars are from Gilbert and model 50-ton capacity cars. Since a Sherman tank weighs 30 tons I could only put one per car as a load. The half-tracks weigh 15 tons each so I could put two of them on one car. It was a lot of fun making these cars and they look good on the layout behind a steam locomotive.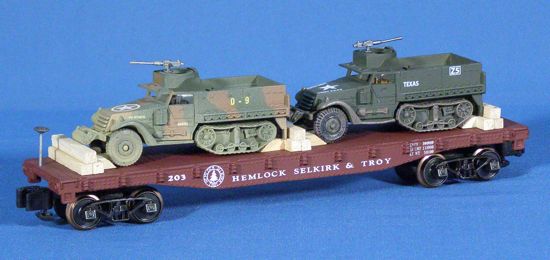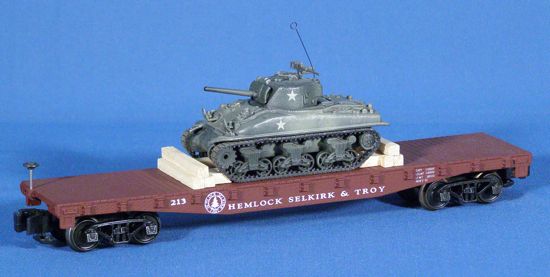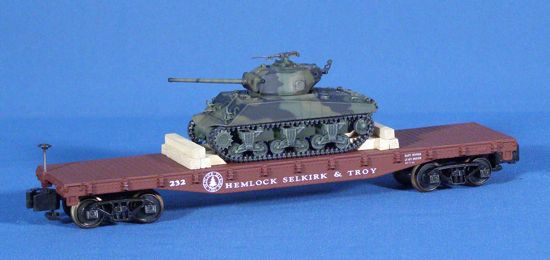 Here are the Hemlock, Selkirk and Troy locomotives and cars running on
Jeff Hill's layout
.
The passenger train consists of a semi-streamlined Pacific and five cars making up the named train, the Selkirk Arrow.
The freight train has the HS&T Pacific locomotive with a Vanderbilt tender that is pulling a train of 20 cars of HS&T equipment, including ten flatcars of military equipment.