Joe Deger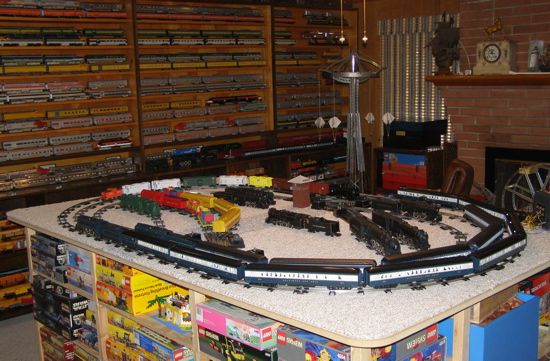 I am Joe Deger and have been a member of the ACSG since 2009. I have been interested in trains (and particularly toy trains) all my life. My father collected and ran Lionel and American Flyer Standard Gauge trains from the 1920s and 1930s (and he let me run them - once in a while).
My first train set was an American Flyer 5605T with a Baldwin diesel and three cars from 1956. My trains grew steadily from that point. I joined the Train Collectors Association in 1962 as a family member and became a full member in 1968.
I do not have a permanent layout but my train room does have a 5 ft. by 8 ft. table that I set up trains on for part of the year. Other times it is used to assemble Erector models, Lego sets, puzzles and as a work table for my locomotive conversion projects. This picture is of my layout in September 2009. Keeping the same basic track pattern I have had a similar layout each year since. I can run three trains simultaneously plus I can switch trains from track to track.
My projects are linked below. Click on a photo to see the details of the project.
---
---
Joe's B&O Royal Blue passenger train, Docksider, NYC 4-8-2 Mohawk, and Pennsylvania K-4 Pacific and Ken's Silver Bullet pulling a train of beer reefers keep the visitors entertained at the ACSG Tidewater Division layout during the Trains and Planes show at the Military Aviation Museum on November 25, 2011. (1:14)
A Reading 4-4-2 Atlantic, B&O Royal Blue with 8 cars, Docksider pulling tanks and half-tracks, Brunswick green Pennsylvania K-4 Pacific and a NYC 4-8-2 Mohawk pull trains on the ACSG Tidewater division layout during the Trains and Planes show at the Military Aviation Museum on Novemeber 25, 2011. (38 sec.)