Dan De Santis
It's up and running... my On30 - Christmas tree - Layout.
Overall table size is 4'-1-1/2" x 6'-1-½", with a train space of 4' x 6' - (3/8 plywood) which allows a reasonable size On30 track plan for my "Christmas Tree" layout. The table height is 30". A 4' high Xmas tree sits on one corner of the table on top of the "mountain." Dept '56 New England Village buildings set the winter scene. The track is wired with three blocks so I can alternate between the passenger train and a trolley car.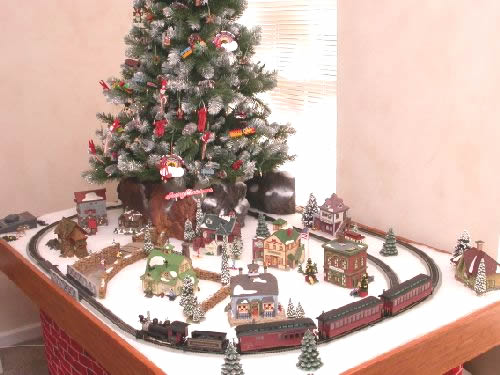 I put a 4' x 6' piece of blue 3/4" Styrofoam (painted white) onto the 3/8" plywood top. Grooves were cut on the under-side for the wiring. The "snow" is a 48" x 72" x ½" piece of cotton batting; $6 in a fabric store. The track is just sitting on the cotton batting, not secured to the Styrofoam. This provides a considerable reduction in track noise. I eventually plan on carving down into, and building up onto the foam to vary the terrain; and carve a "frozen" stream. I'll have to find another way to cut down the noise then. This is a work in progress.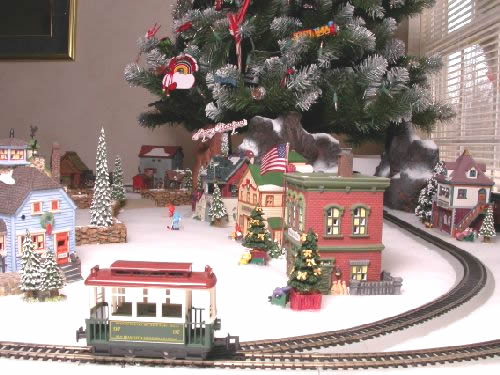 The outside trim board is 1" x 6" poplar, the heaviest and most expensive wood in the whole thing. I could have used clear pine, with stain it would look almost as good. The legs are 18" in from the 6' dimension and the legs are about 24" wide. So, the leg area is about 2' x 3' - I decided on "inset" legs so that no one could accidentally kick a leg and upset the train. The table is very stable, almost no rocking in either direction. The legs are very light and exceptionally sturdy due to the "cross-member" approach.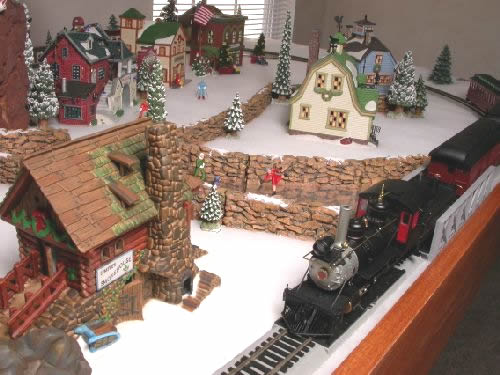 I'll be happy to share the detailed drawings with anyone who might be interested.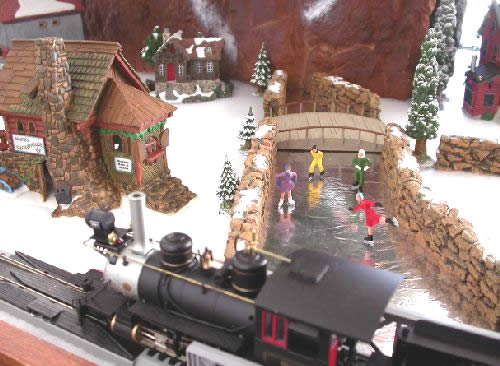 Thanks for looking!