2021 ACSG Northern Florida Division Train Show Schedule
Please check again for more Northern Florida Division train show information.


Please check again for more Northern Florida Division train show information.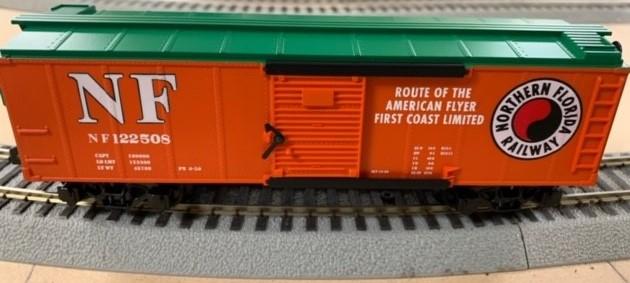 Northern Florida Division Special Issue Commemorative Boxcar
---
Division Update from Larry Shughart
Thanks to Chris Rooney for donating a brand new American Models C & O GP-9 to the club. It runs beautifully and reliably. Chris also donated several kits and scenic items which we used and/or sold for funds to the club kitty.
Thanks to Steve Baxendale for volunteering to freshen up and repair dozens of our trees. He took them home and painted and reflocked them, and they made a world of difference.
We have completed the trailer retrofit and the modules now have racks to sit in. After 2 shows, it seems the new systems works quite well. Thanks to everyone who contributed to making this happen.
We displayed our layout at the Annual Beaches Train Day at the Beaches Museum. This is a GREAT event and is turning into our premier event of the year. We had over 600 guests view the layout including many, many children. ALL were very engaged and spent much time discussing and talking with us about trains and S gauge.
We displayed our layout at the Orlando TCA show. This was held in a GORGEOUS middle school cafeteria / auditorium. The space was HUGE and well lit. We had the entire stage area to our selves and there were ramps up/down to make it easy on us. Special thanks to Michael Coles from the South Florida club who came up with dozens of very special and unique trains to run. Lloyd and Larry both presented at the "Show and Tell" with great acclaim. Lloyd discussed his custom FEC passenger train and Larry presented 6 sample silk screened wooden buildings from his Windfield Design Collection. This show paid us a small fee to show our layout which deferred some of the costs of the hotel rooms for the 4 of us who participated. Thanks to Lloyd for pulling the trailer down and back to Orlando !
---
The Northern Florida Division of the Atlantic Coast S Gaugers growing and stable. We now have 12 members who attend regularly on-and-off with an average group of around five. Our new modular layout bench work (8 new modules and two modules relocated from the Baltimore club) is completed and we had the layout world premiere at the Jacksonville TCA show in December 2015.
If you are in the northern Florida area, and interested in joining the Atlantic Coast S Gaugers, please contact Larry.
Larry A. Shughart
5216 Lourcey Road
Jacksonville, FL 32257-1146
Office: (904) 292 3000
Mobile: (352) 284 1250
LarryShughart@Outlook.com
The Atlantic Coast S Gaugers is a club is designed with the utmost flexibility in mind. Each of you can decide how intensely you want to be involved, what activities you want to participate in or not, and what aspect of the hobby you wish to pursue. If someone wants to only come to a couple of meetings a year, that is fine. if someone only wants to work on a module and participate with that, then great. If someone wants to start a newsletter, facilitate a trip, and/or organize a swap meet, then we will see who in the group wants to help them achieve their vision.
Our aim is to provide a place and time where the group can gather informally on a regular basis, talk about trains, help each other on projects, share ideas, and promote the hobby by showing a modular layout.
We hold a regular meeting on the 3rd Saturday of every month at Larry's barn, from 7:00 to 9:30 PM. All are welcome. People take turns bringing snacks and drinks. We work on the modular layout, run members' latest acquisitions, help each other with repair jobs, and have fun operating Larry's 60 x 35 layout.