Dean Hall
I joined the Tidewater Division after seeing the club's layout at the January 2002 Greenberg show in Virginia Beach. The club appeals to me because, since I don't have a layout of my own, it gives me an opportunity to run trains occasionally throughout the year. And it's great just getting together with others who love S-gauge as much as I do!
I live in the Kempsville area of Virginia Beach, and enjoy troubleshooting and repairing original Flyer, as well as tinkering with new products. My collection includes a Northern 336 our family had when I was a child, as well as 30 or so other steamers, diesels, and motorized cars, and a hundred or more other pieces of rolling stock and accessories, both new and old. My collection provides numerous Plasticville buildings and figures, as well as diecast metal cars and trucks, for use as scenery on the club's layout.
One of my projects was to build a TV camera car for use on the club layout. I purchased a camera on ebay and used the innards to make the test vehicle seen here. The seller directed me to the Joe Cool Trains website that provided a good amount of detail as well as video clips of the camera in use.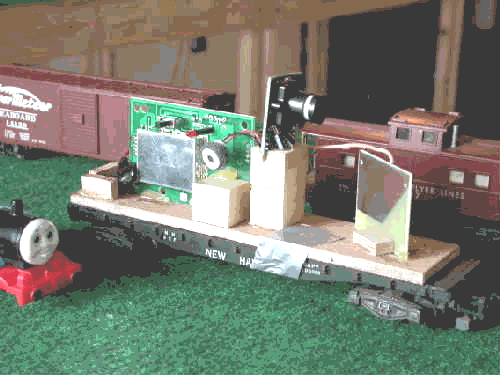 After the test flatcar proved successful, I used a couple of Flyer cabooses to construct a taller caboose to allow the camera to shoot over top of the train as it rolls down the track. It's still a work in progress, but it broadcasts in color and has sound, and each 9-volt battery lasts as much as 5 hours. Not bad for a $20 camera!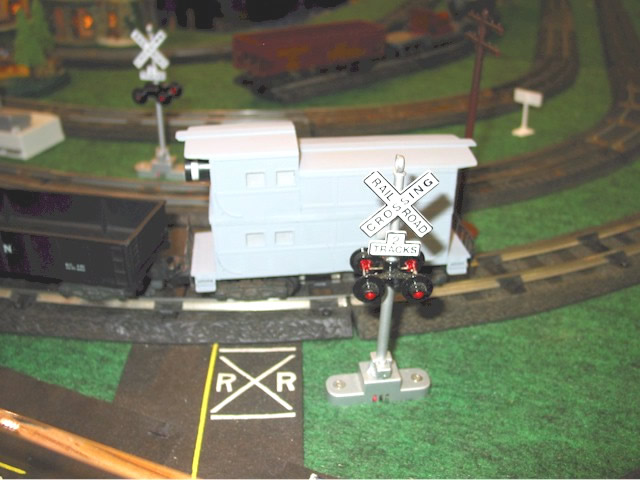 Another project is the Thomas engine. I used two Casey Jones chassis to make a single 0-6-0 chassis, and installed a 21168 smoke unit. The boiler is made from a toy whistle.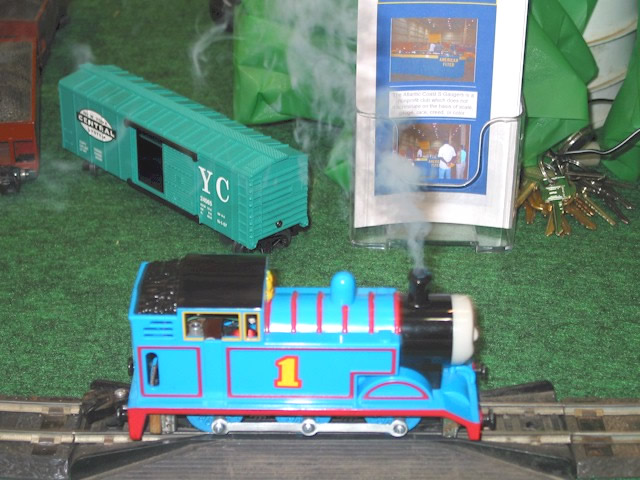 Sure wish we could get a plate issued for the ACSG club! Until then, this will have to do.