Beaches Museum Train Day, September 11, 2021, Jacksonville Beach, FL

On September 11, 2021 after a two year hiatus, 12 volunteers from our local S Gauge club transported and set up our modular layout at the Jacksonville Beaches Train Days event. Over 600 people came and visited the displays, toured the historic buildings, listened to lectures, and rode the rubber tired zoo train around the streets. Our layout ran very well thanks to the extra help we had tweaking and levelling on set-up. The FEC passenger train and Oscar Meyer Hot Dog train were custom painted by Lloyd Lippert. Ron Fisher made the Life Saver factory and painted most of the Plasticville buildings on the layout. New Haven trains compliments of Steve Baxendale and JP Snyder.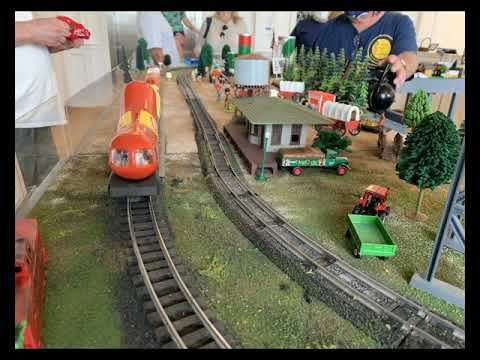 Watch the video of the layout at the show on YouTube.
Thank you to Larry Shughart for the video.