Previous Division Meetings: February 2017 - June 2019 - April 2020 - May 2020 - June 2020 - August 2020 - January 2021 - May 2021

---
May 2021 Meeting - Field Trip!

The North Florida Division of the ACSG went on a field trip to visit 2 spectacular S gauge collections and layouts.

Peter and Jane Woodward's layout is located in a train room attached to their house in Fort White Florida, about a 2 hour drive from Jacksonville. Peter operated many different trains for our enjoyment. All of the accessories were wired and we could push buttons located along the layout edge. A wonderful Lightning and Thunder storm feature makes this layout special, along with the exquisite lift bridge designed and built by Vic Lemmon.

Earl Beegle's layout is housed in a separate building on his property in Chiefland Florida, also about 2 hours from Jacksonville. Earl scratch built and kit bashed dozens and dozens of rail cars and locomotives. He demonstrated how he makes scale people and how he resin casts rail cars and parts. Earl's layout is wired for DCC operation. S Scale on the lower level and HO on the upper level blend nicely together. The trains operated smoothly and everyone enjoyed finding the many details Earl has in his layout including building interiors, special rail car designs, complete steel mill complexes, and animations. Earl and his wife are celebrating their 60th anniversary this year and Earl gave each of us an S scale Bride and Groom he cast and decorated.
Please visit Peter's Layout page and Earl's Layout page to see more pictures of these layouts and pictures of our group's visit.
---
January 2021 Meeting - Sharing what Santa brought you for Christmas

The North Florida Division of the Atlantic Coast S Gaugers held their regular monthly meeting at Larry's Barn on January 16, 2021. Seven members were in attendance, plus Angel.
The theme for the evening was: 'S'haring what 'S'anta brought you for Christmas. The video opens with some candid shots of the club members. Chuck is showing off his new FEC shirt that Santa brought him.

The next section highlights the new train shelves Larry got for Christmas, the lower 3 were added to each end of the layout, below the existing shelves. One set of new shelves holds the PRR collection and the other end has the American Flyer link coupler collection. Larry also got a Florida East Coast ES44AC locomotive, that is an exact model of the train that goes by Larry's house 10 times per day. Santa brought two locomotives, but one had to go back for repair as the electronics did not work out of the box.

The last section of the video features Lloyd Lippert's Christmas present which he bought from Larry's mom after dad passed away. It is an original Gilbert American Flyer Missouri Pacific Eagle passenger set that is especially meaningful because Larry's mom bought this for Larry's dad for Christmas in 1968. Lloyd carefully cleaned and serviced the set, and this is the first time it ran in over 40 years!
---
August 2020 Meeting

The Northern Florida Division of the Atlantic Coast S Gaugers held their August Meeting at Larry Shughart's barn. 12 people attended including 1 seven year old grandson and two teenagers.
This month's meeting theme was "Military and Space Trains" in recognition of Lionel's Volume 2 Catalog listing the new American Flyer Air Force train set.
Featured are the traditional American Flyer cars, many custom painted and custom made cars. The BN Bicentennial Engines were featured in a 1976 S Gaugian cover article, showing how to cut the low hood and custom paint these special units, made by Ken Hein. The Lionel O Gauge Blue Angels car with S Gauge trucks doesn't look bad !! and the Menards O Gauge Flat car with jeeps fits right in as well. Some shots of the Disney World area show the animations that have been added during Covid Quarantine.
Lloyd Lippert brought his military train pulled behind a Hudson. The rest of the trains were from Larry's collection.
---
June 2020 Meeting

Our regular 3rd Saturday meeting was held June 20 from 7:00 to 9:30 PM at Larry's barn.
Given the uptick in Covid cases in Florida, everyone who attended wore a mask, and we had 3 doctors and two medical professionals among us. Refreshments consisted of individually wrapped snacks and bottles/cans of beverage. Thanks to everyone who brought stuff, the food was bountiful !!
This was supposed to be the opening night of our great "Make Trax to Jax" annual TCA convention, may it RIP. Mark indicated that a "virtual" highlights video from the convention would be forthcoming.
Many guys wore a hat and/or shirt that celebrated some aspect of Jacksonville: CSX, Jaguars, Shrimp, TPC, whatever.
Fellows brought their favorite train car or loco or accessory that represents Jacksonville or the North Florida region. Lloyd brought his model of Maxwell House Coffee Roasters in Jacksonville, the only commercial operation of its kind remaining in the US. Beautiful Seaboard E-8s hand-painted by Larry and Jose made their debut. And two "younger generation" model rail enthusiasts were present and running trains, Cashel and Connor. It was great to see the gorgeous D56 water tower (some are still available) and the 6-pack of 2020 TCA S reefers on Larry's layout.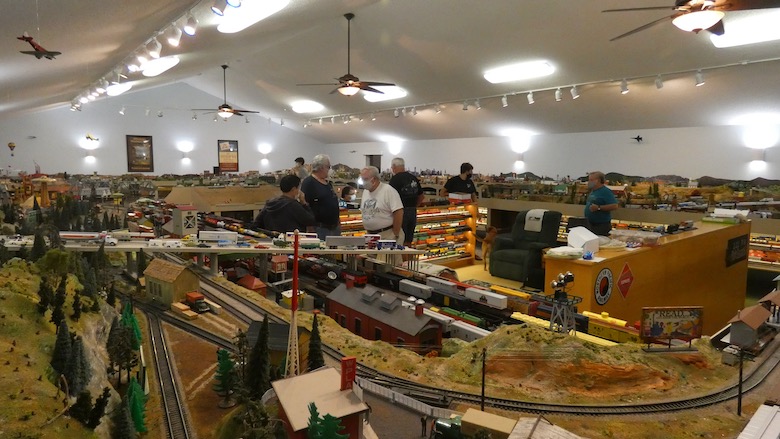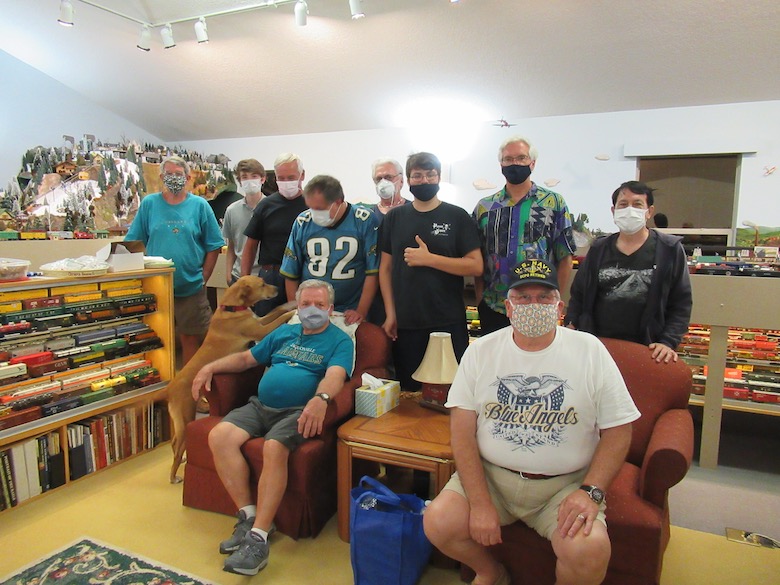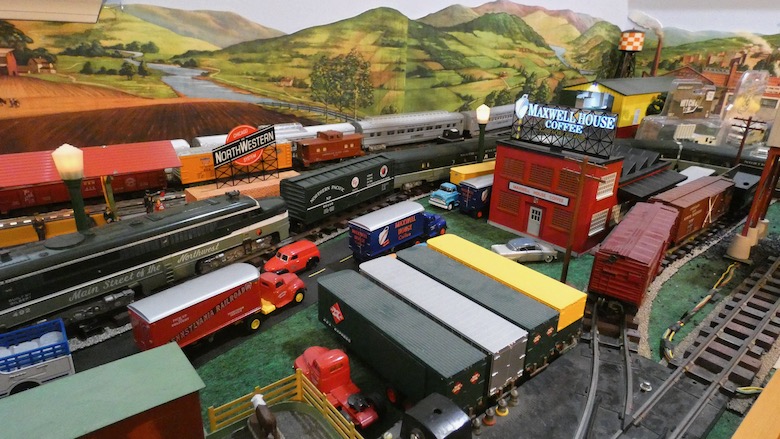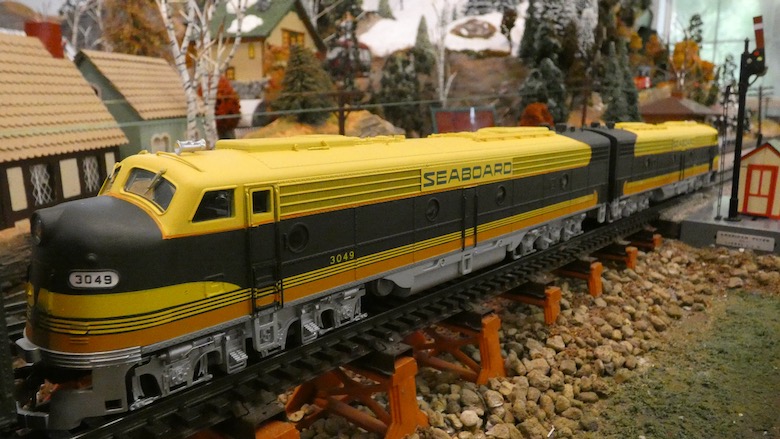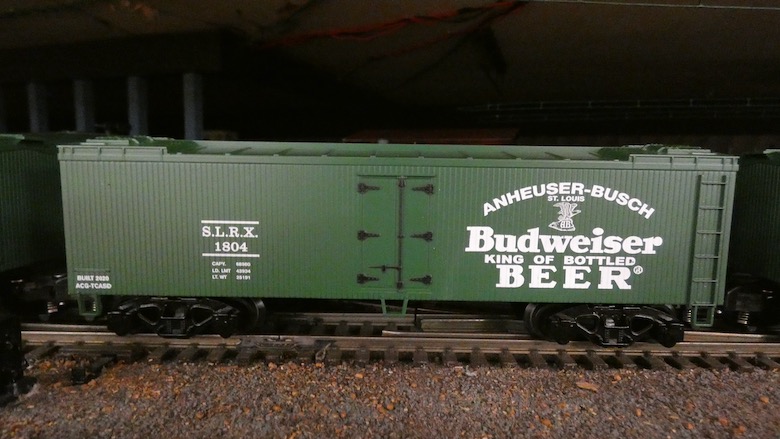 ---
May 2020 Meeting - "Reefer Night, not 420"

The North Florida Division held a May Meeting with 10 people attending in person, most with Covid masks.
The theme for the night was "Reefer Night, not 420" and we can attest that the only smoking that was going on were the steam engines.
Thanks to Ron Fisher for providing sandwich rings and Mark Laszlo for bringing sodas. Sharon Lippert sent in some of her wonderful ginger cookies, individually wrapped to guard against the virus.
Larry was running 4 trains, pulling 111 of reefer cars from his collection of 148.
Lloyd brought a 25 car train of beer reefers, many special issue cars, and Mark Laszlo brought 2 Hershey reefers while Jim brought a nice Gilbert CNW (alas, not the 5 digit version). Fred sent in his contribution via video.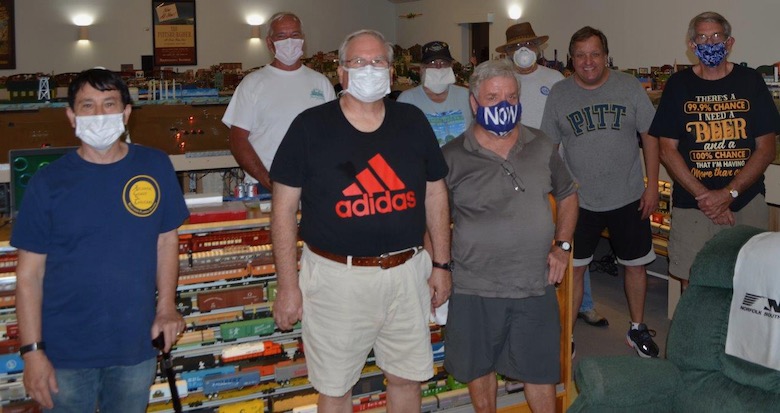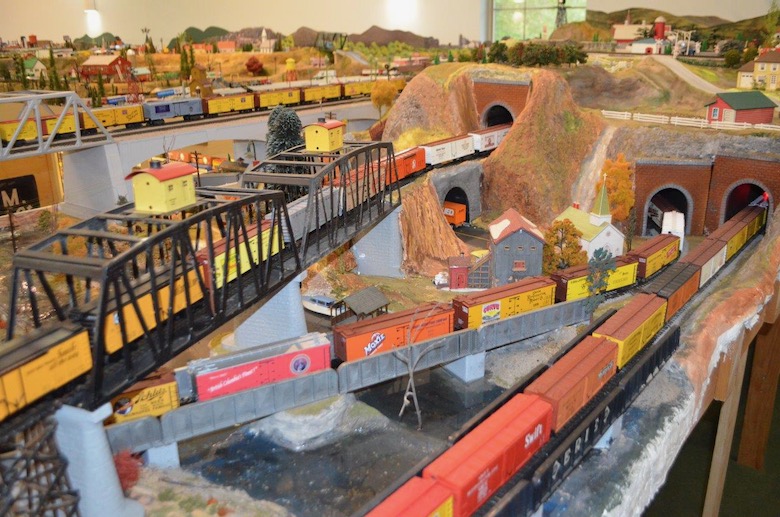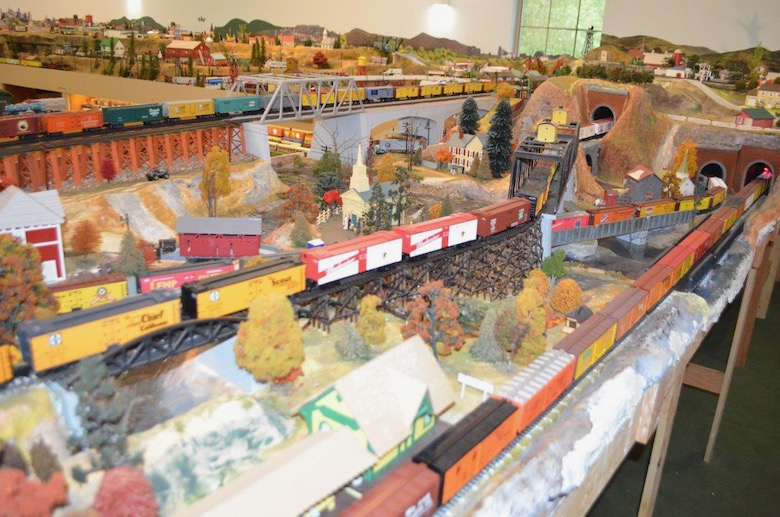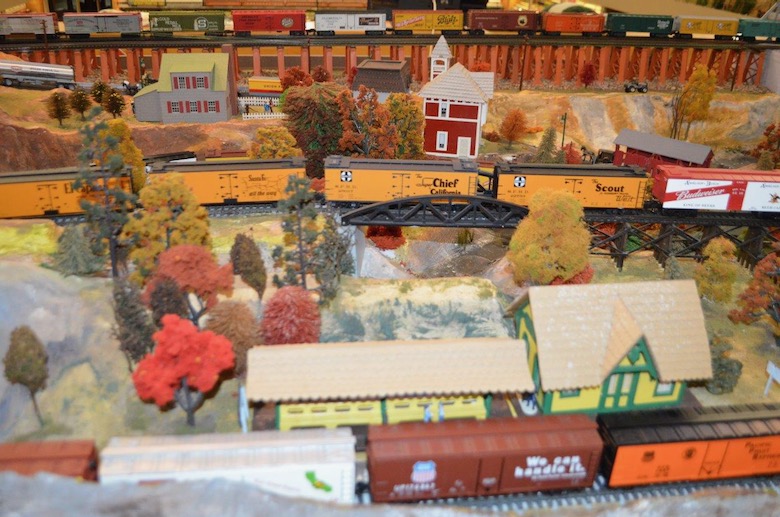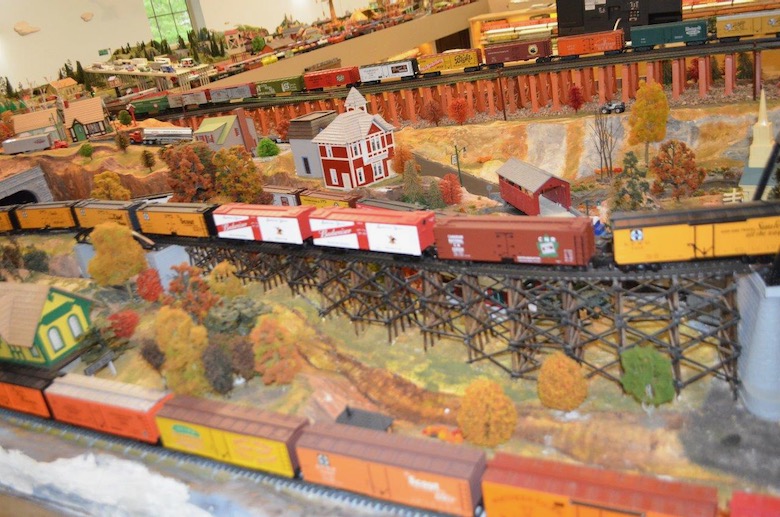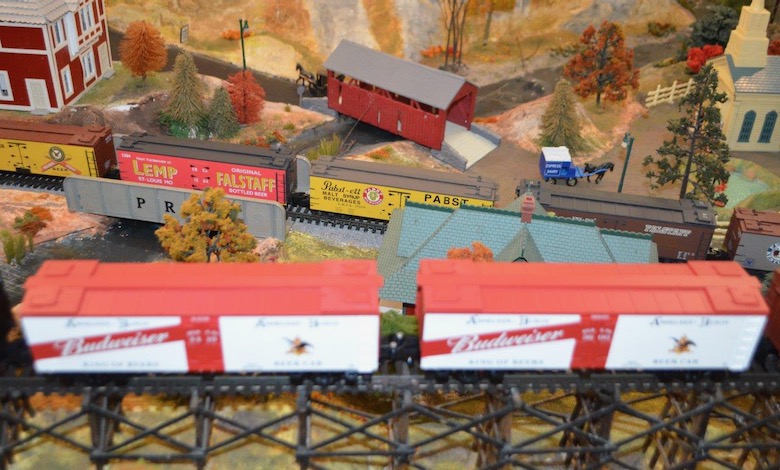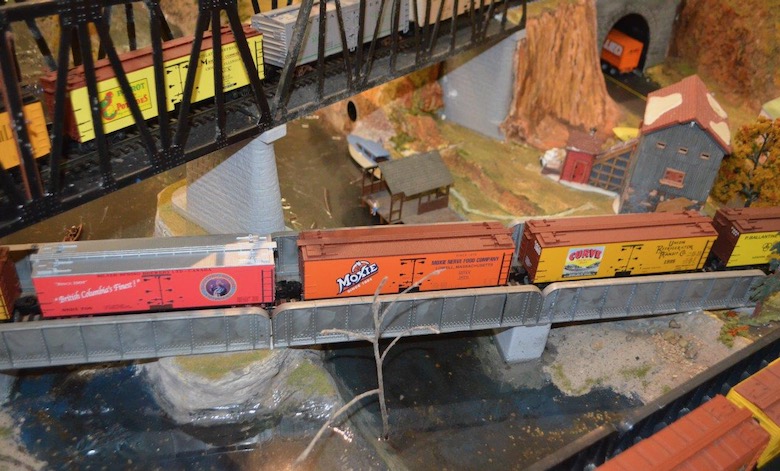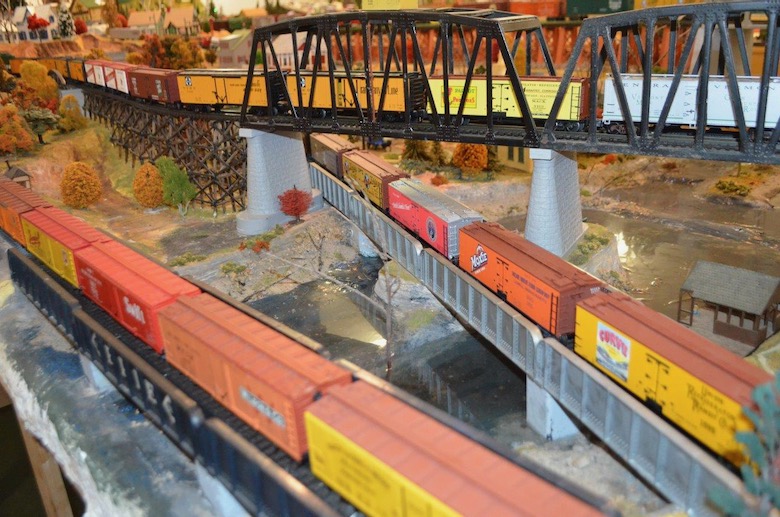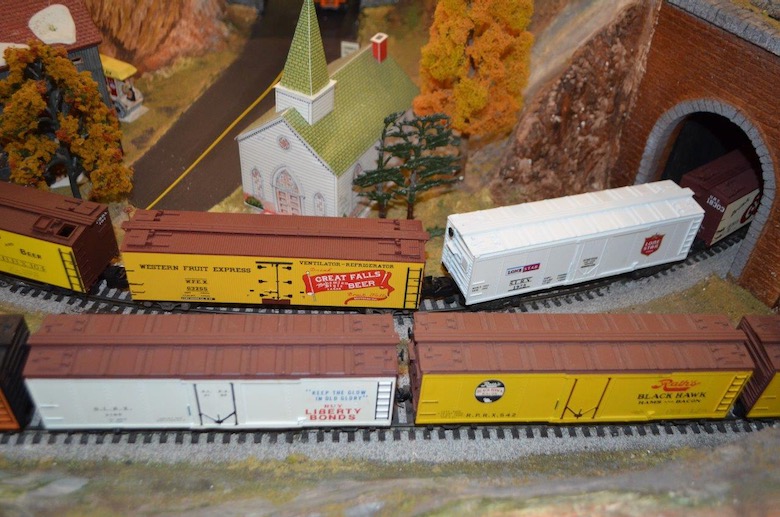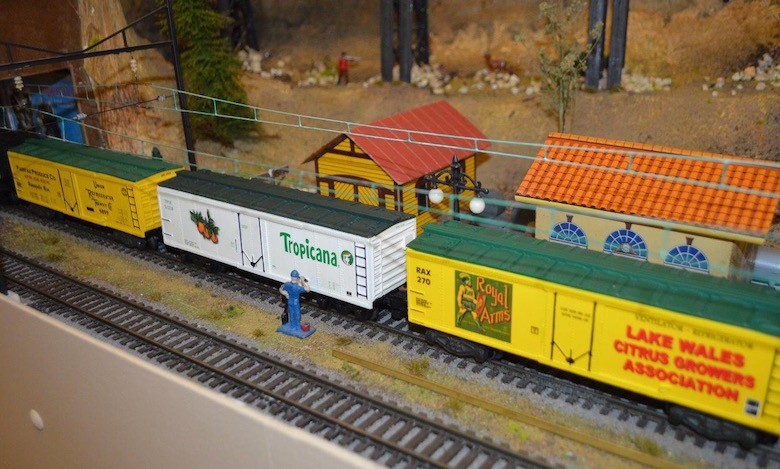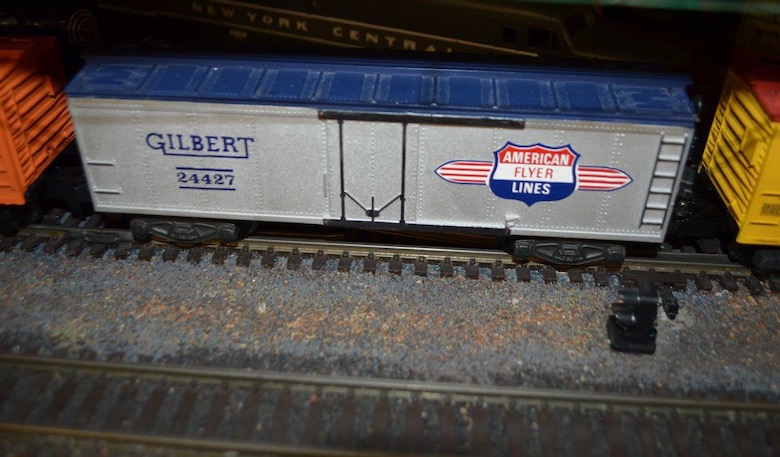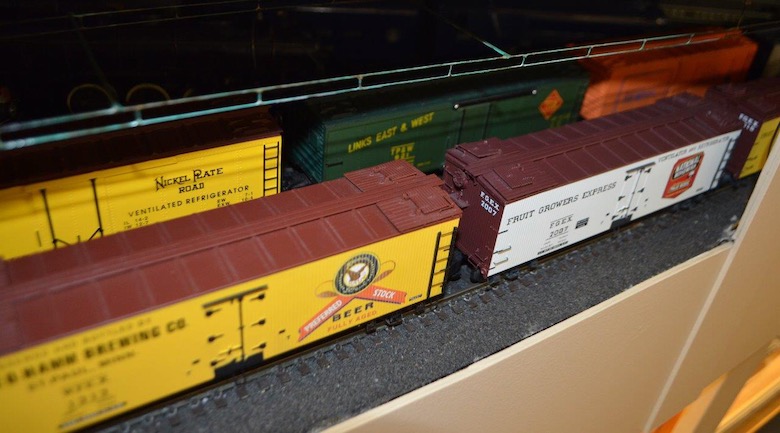 You can see a video of the 5 reefer trains running on Larry's layout here:
Larry's Reefer Collection Summary:

112 Knuckle Couplers
25 Kadee Couplers
9 Link Couplers
2 Converter Cars

Design Style:

97 Mechanical Reefers
40 Woodside Reefers
11 Insulated Box Cars

Manufacturers:

32 Custom Painted Gilbert Bodies
32 Lionel American Flyer
23 Gilbert American Flyer
23 Showcase Line S Helper Service / MTH
10 Andy Kriswallis Painted Gilbert Bodies
10 Russ Downs Painted Gilbert Bodies
8 Wooden Kits
7 Crown Model Products
1 Pacific Rail Shops
1 American Models
1 Southwind Models
After running trains for a while, the crowd watched an ATSF produced video on reefer trains:
---
April 2020 "Meeting" - Stay-at-Home Projects and Activities

This month's meeting is an on-line "meeting" due to the stay-at-home orders and includes photos and videos of what Northern Florida members have been doing.
---
Chris Rooney:

We got together a couple folks for the first time in the attic and held an "operating session" which Richard Paul was good enough to video record.

Certain parties ran a little fast for the Attic Central which likes to operate at 25 MPH. And we have to organize a passenger train I am told. (Working on that.) Hope to get some S scalers up for a session when circumstances again permit.
---
Mark Klemens:

I'm planning a new layout. This was my S layout in Ohio 2 years ago.

I never liked the hole in the middle. And the benchwork was too heavy, with too many legs! I'm hoping to design something simpler, and lighter, that can be easily carried up a flight of stairs. I'll try to come up with some ideas.
---
Lawrence Eggering:
---
Dennis Larson:

Although my S gauge stuff is stored, I am actively modeling in HOn3. Some photos of models completed during isolation are shown below.

The gray car is kitbashed from parts to resemble a narrow gauge kitchen or office car in maintenance service. It was fun adapting various sub-assemblies and odd parts .

The Tiffany refrigerator is turn-of-the-century equipment from the Denver, South Park & Pacific ng. Styrene kit.

The gondola is a pipe gondola without a load of pipes (straws) yet. It's a styrene kit, too. The pipes were typically 40 or 47 feet and the car is only 30', so it uses idler flats on both ends to accommodate the longer pipes. I'm building the idler flat cars now.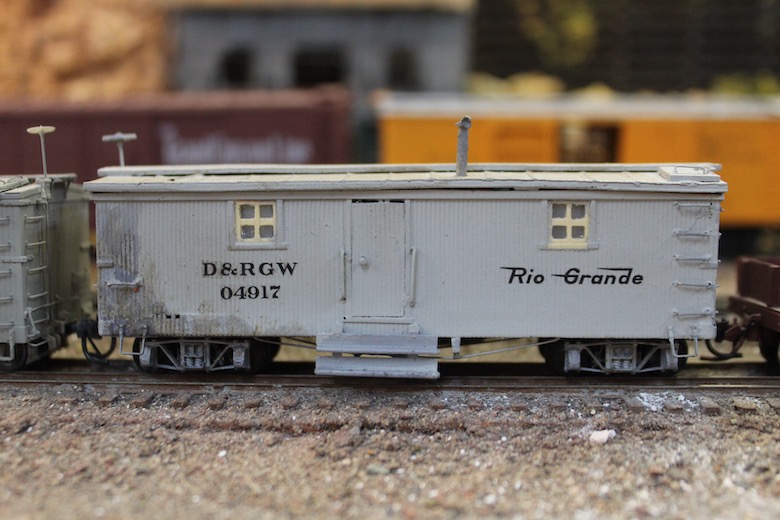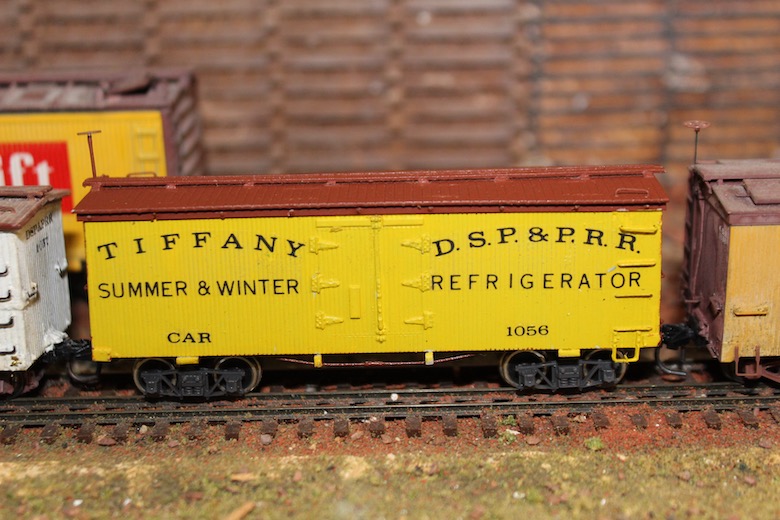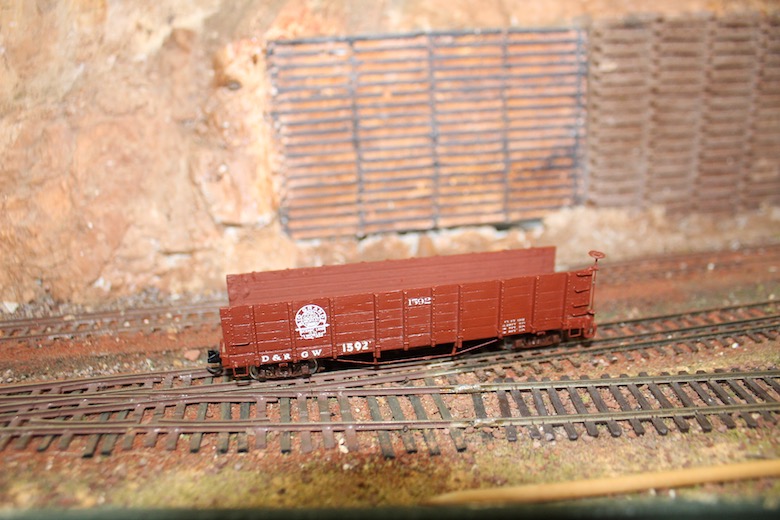 ---
Jim 'Grits' Dundon:

I had my original AF Set from 1957-59 time frame and only got it out occasionally over the years after my kids out grew the novelty. In 2016, I pulled it out of storage and my wife thought it was really neat. So I start looking at Ebay and got into collecting AF Rolling Stock from 1953-60 and accessories. The Rolling Stock is the 800 and 900 Series.

Since the lock down due to this Covid-19 Virus, I have pulled most of my stuff together and decided what direction I was going to take. I originally had thought of going with FasTrack but decided to go with Original Flyer Track and the Rubber Roadbed.

So for the last couple weeks I have been checking the accessories for missing parts and been placing orders with Port Lines.

Also been testing and repairing switches and cleaning track. Looking forward to building a 12 x 12 Layout.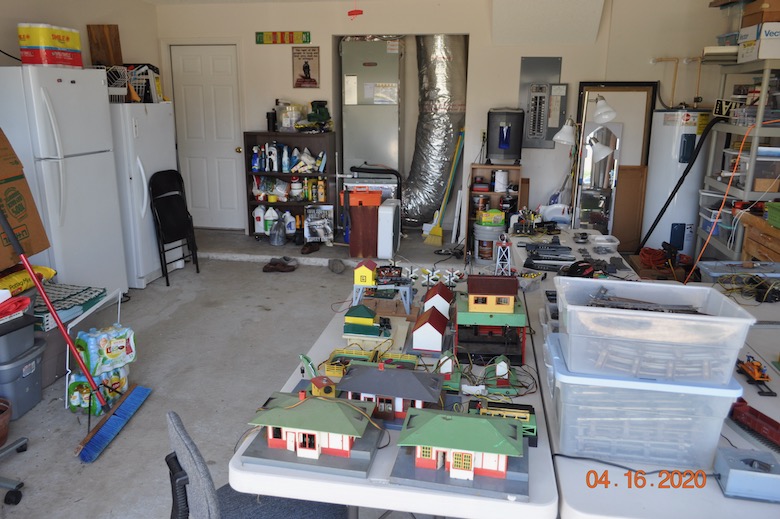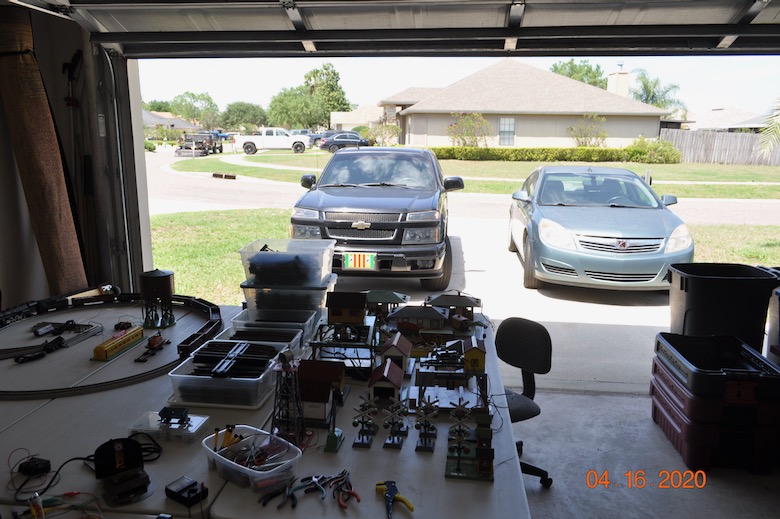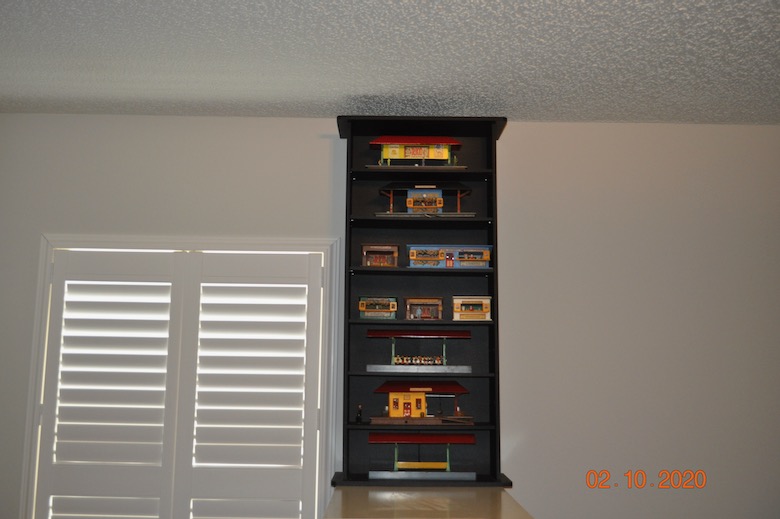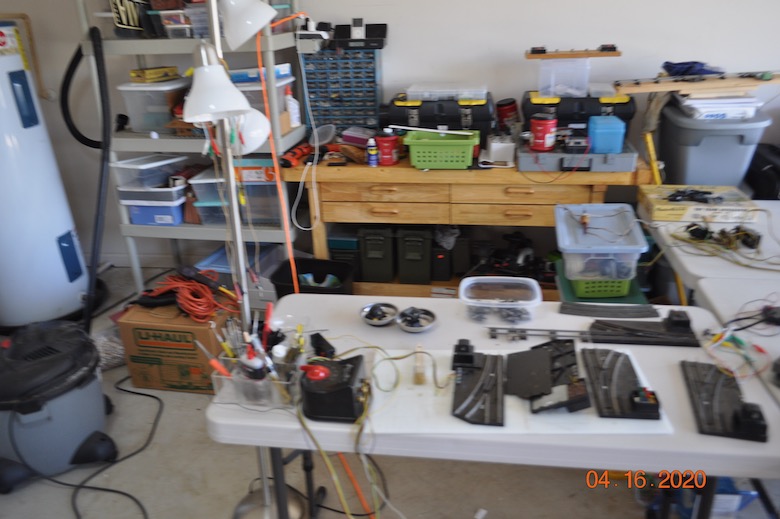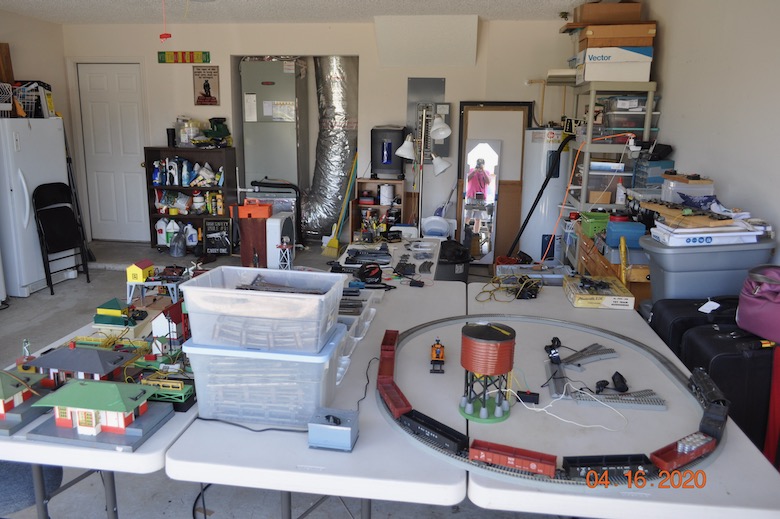 ---
Wayne Hoffman:

Wayne has been catching up on his reading and building some vintage automobile kits.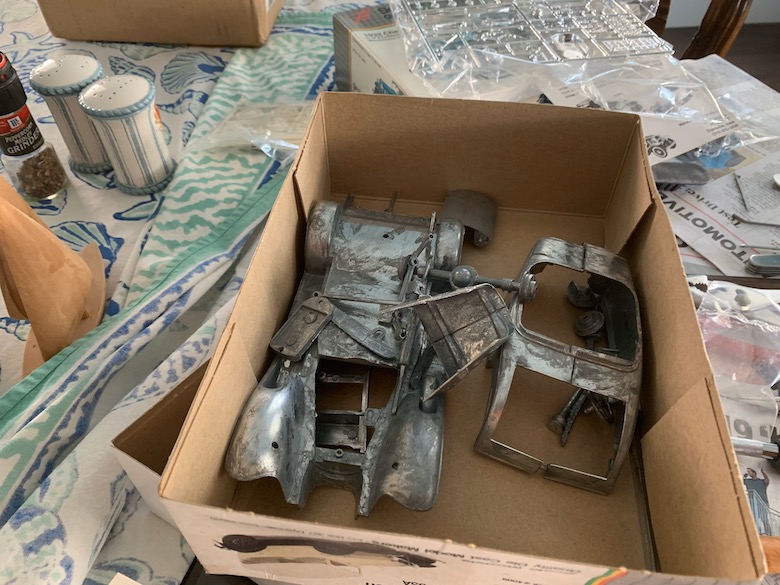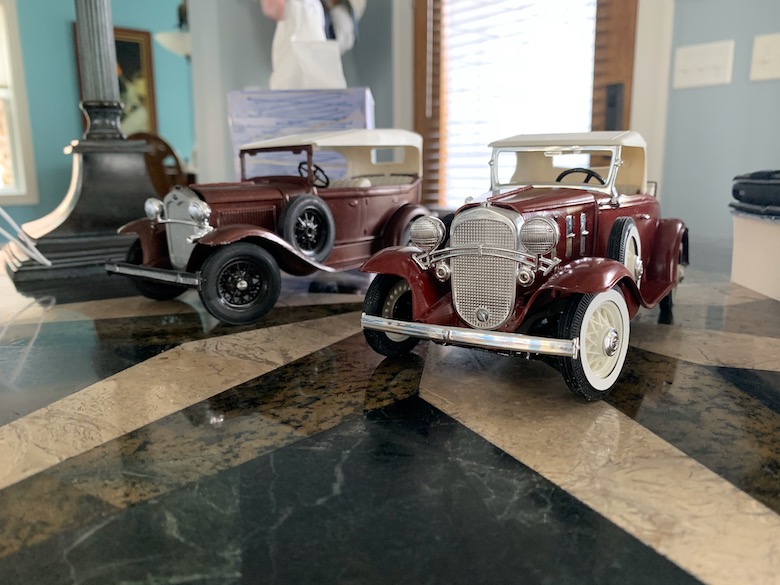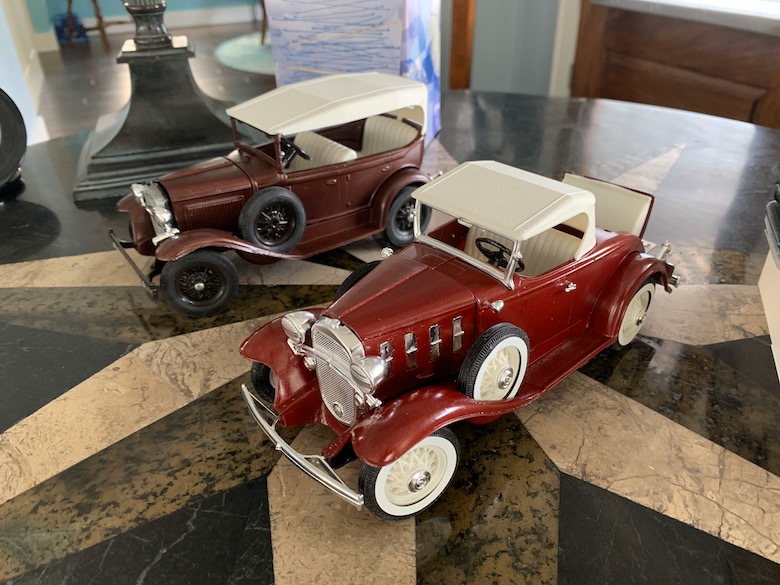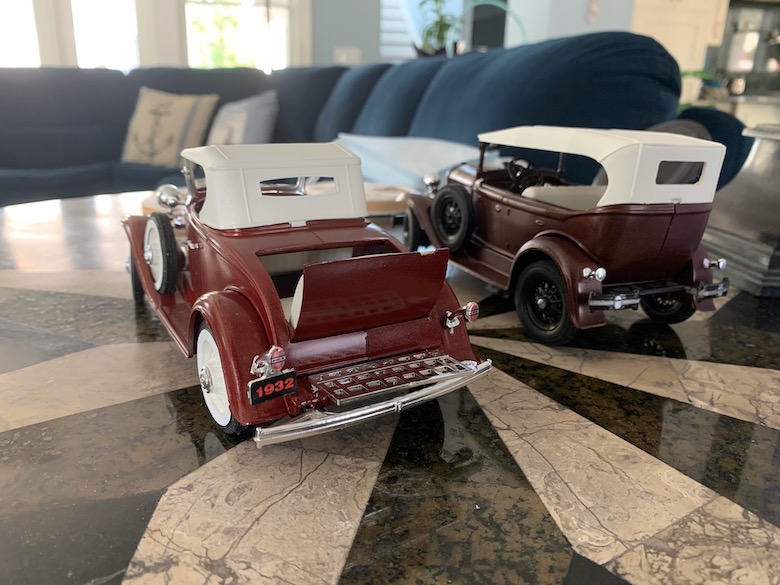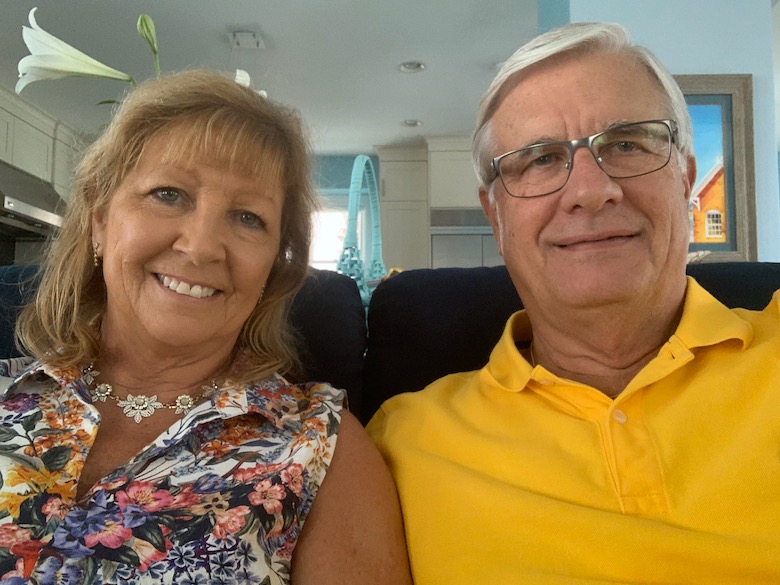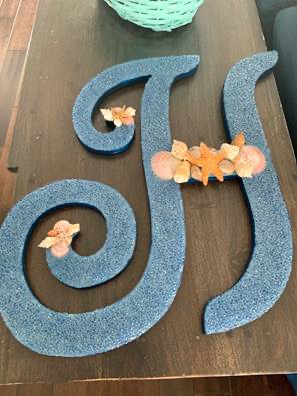 ---
Christian Bacheler:

I haven't had the chance to meet anyone yet, new to the group, having recently moved down to South Florida (Sunny Isles Beach) from South Jersey / Philadelphia. I have just started getting back into the hobby for the first time since running trains with my father as a child. I always loved the few American Flyer trains we had (was mostly O scale), so I decided to jump right into S gauge and build my own layout.

While I am in a small space, 1 BR apartment, I managed to construct a 4x8 layout on the floor (with the extreme patience of my wife!). It can be separated into 4 2x4 ft sections with wire disconnects between each. After three months of hard work, I am pretty much done. I packed a lot of track into the small area, so that I can have up to 4 locomotives (and 3x trains) on the track at one time. Almost every section of track can be switched on, off, or to either power source A or B, and to either conventional or DCC/Legacy, allowing a lot of flexibility with moving the trains around. The layout is a blend of traditional American Flyer and Hi-rail scale S. It has an operating milk car, platform loader and loading boxcar, cattle loader, talking station, and oil drum loader. In the next couple of weeks I plan on making a youtube channel for it, showing off the action! Be sure to check it out!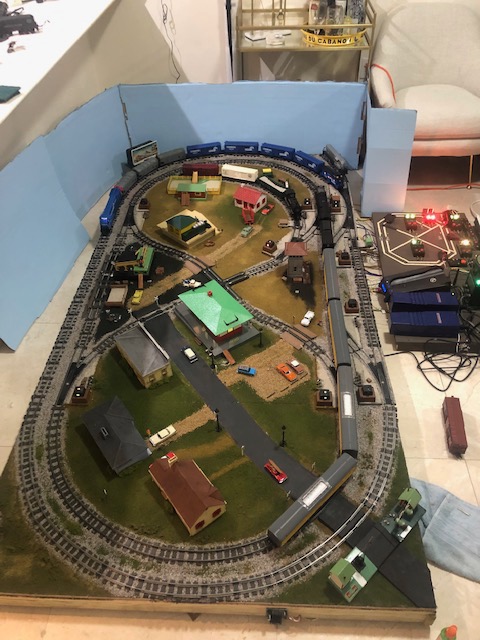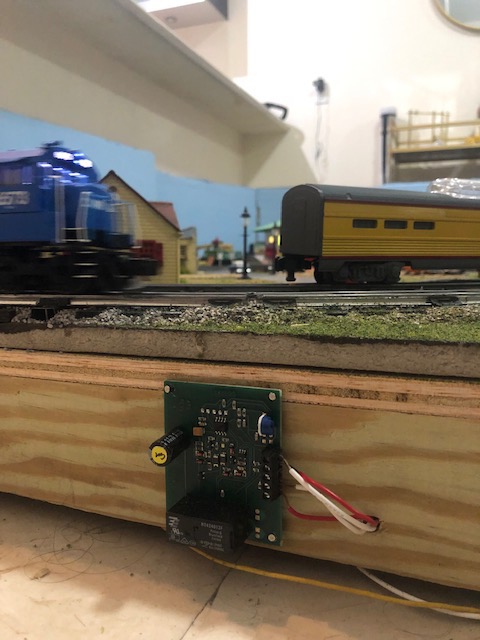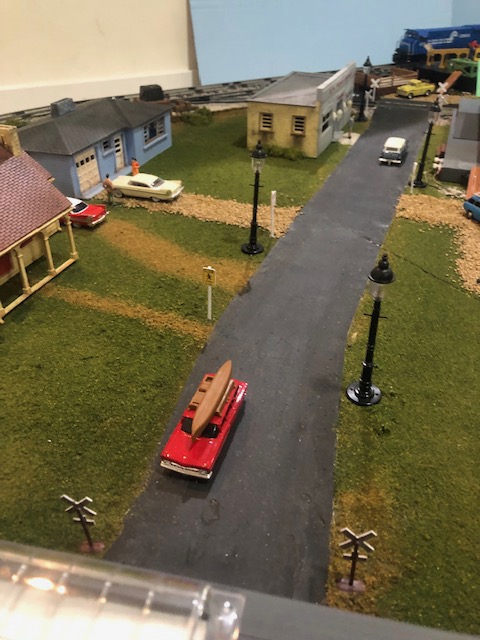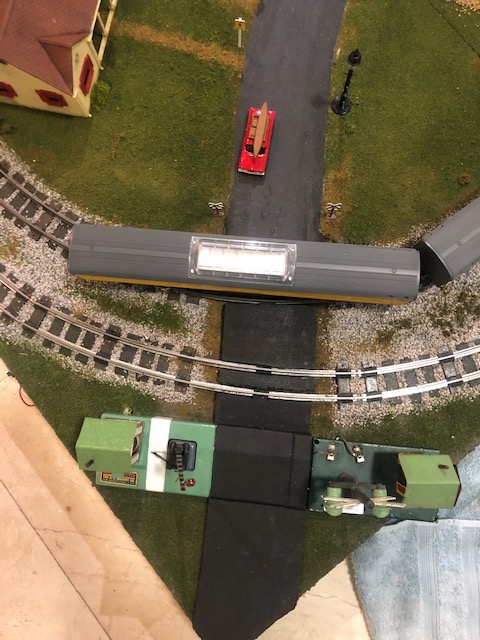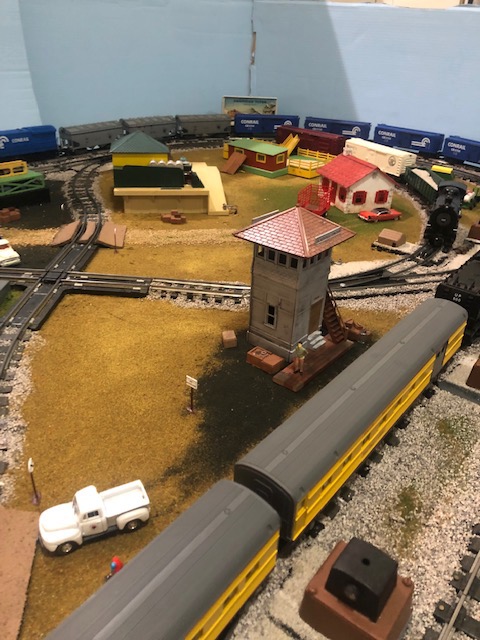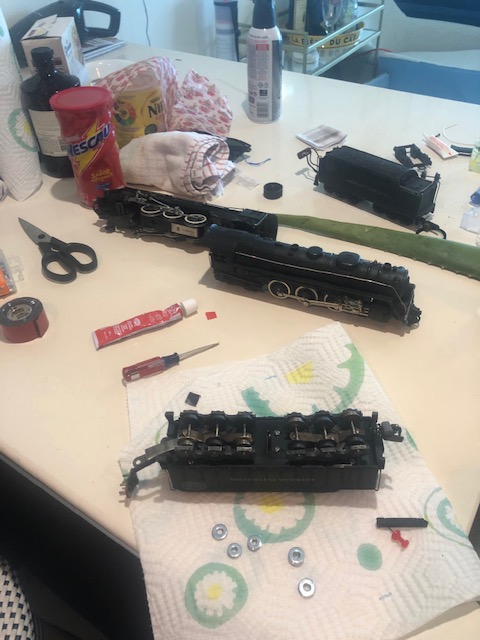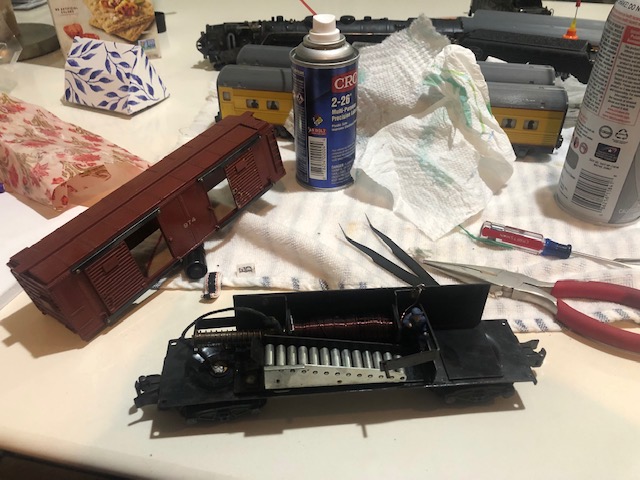 ---
Lloyd Lippert:

I was able to add to my collection a 1957 NP passenger boxed set.

The seller stated that the set had not "seen the light of day" for 25 years before it was sold. That was believable given the accumulation of dried grease in the gears and dust and corruption I cleaned from the chassis and motor. I suspect I was the first to clean the armatures. After much effort, the engine ran "like a top." It was apparent the set had been run but was very well cared for.

I have added 2 items to the set. A LTI B unit is a good approximation of the Gilbert B unit which was part of the 1956 NP passenger set. The result is a respectable ABA combination. And an American Models NP refrigerator car carrying milk that frequently accompanied a NP passenger train.

The final photo is a lighted campfire Larry Eggering made for me which I added to my hobo camp. My photography skills did not allow me to capture the lighted fire when the room was dimly lighted.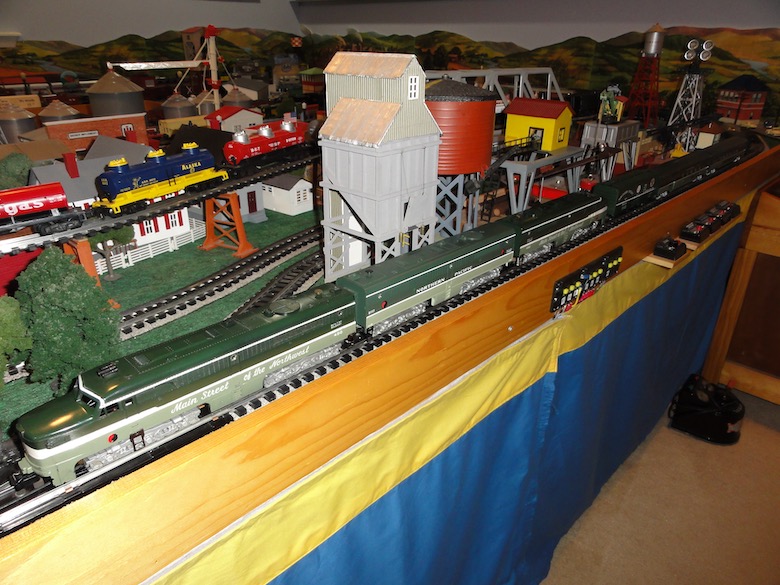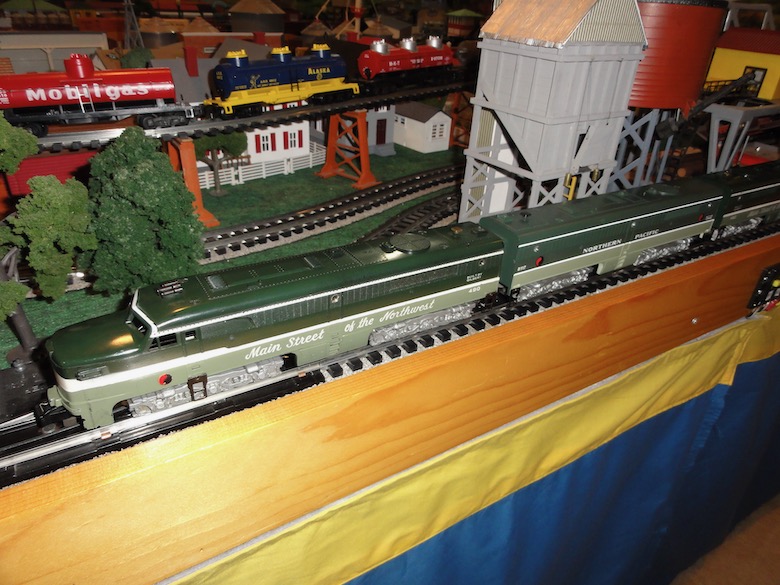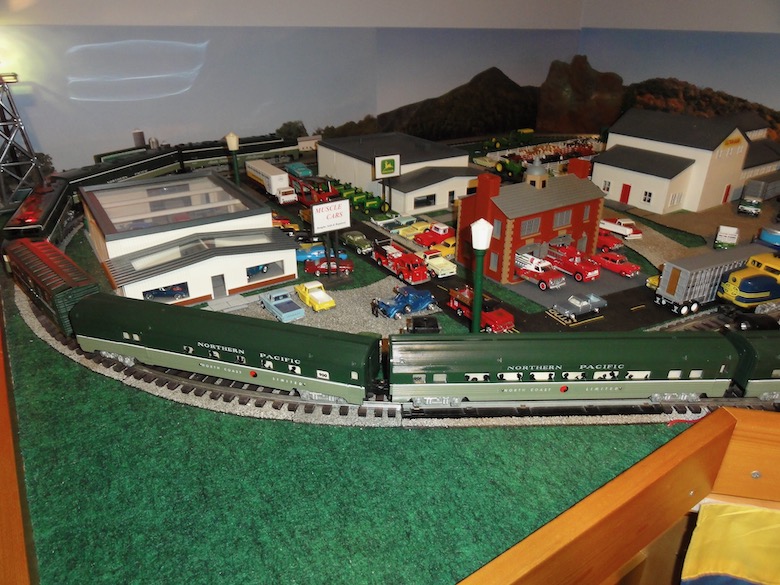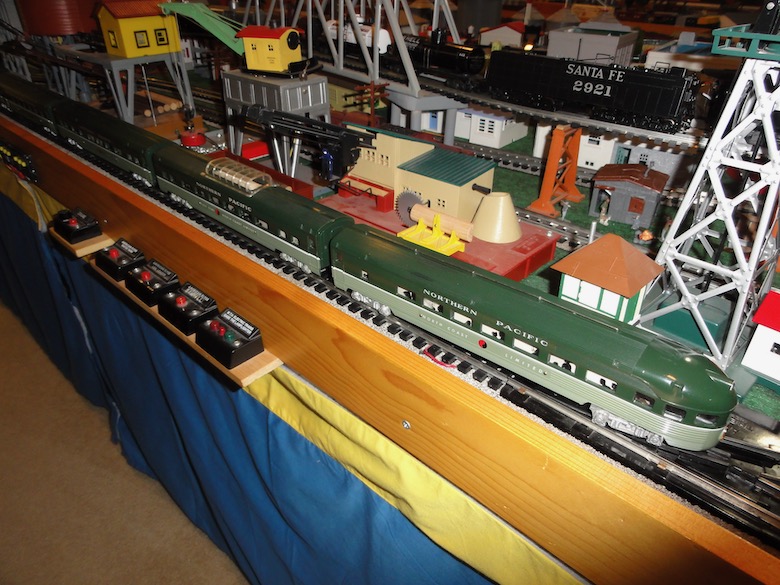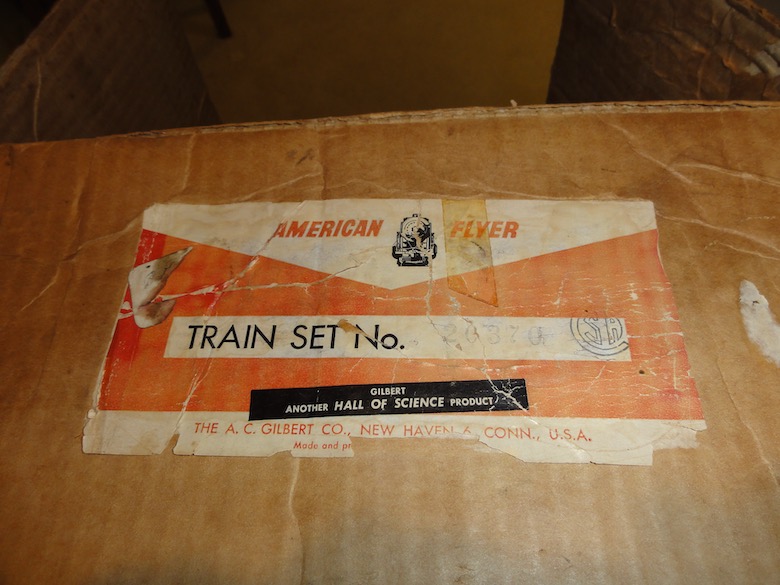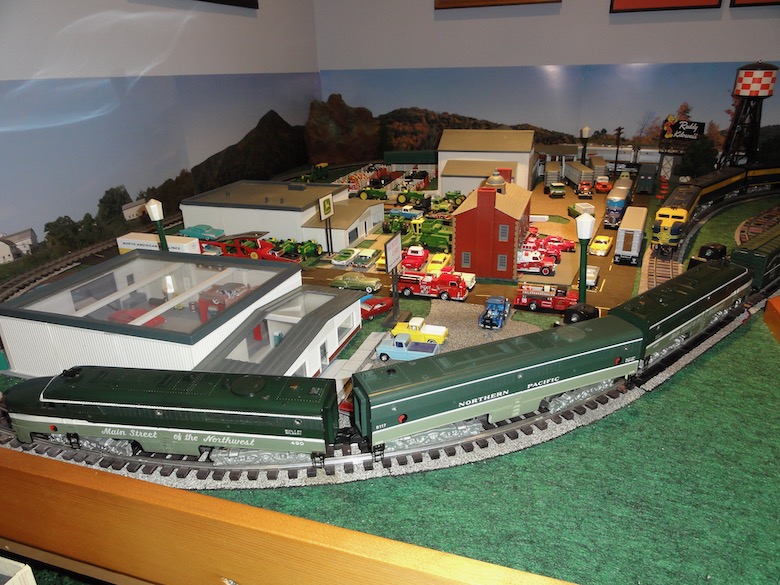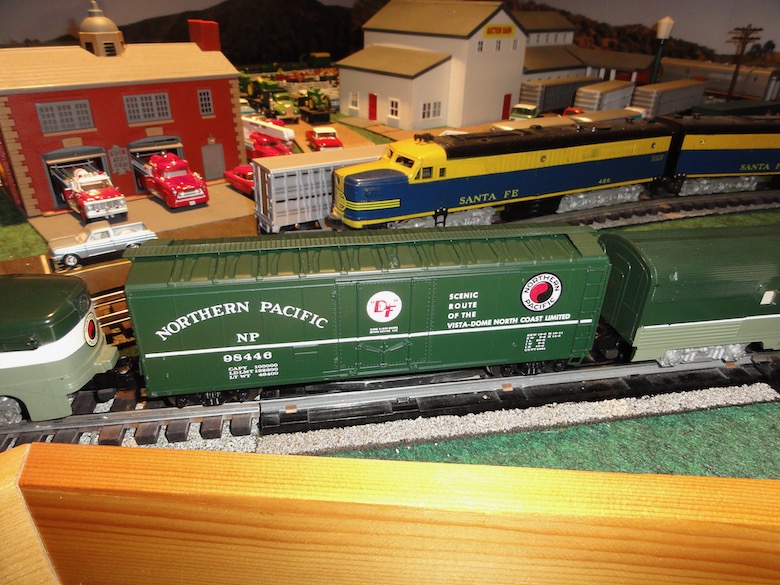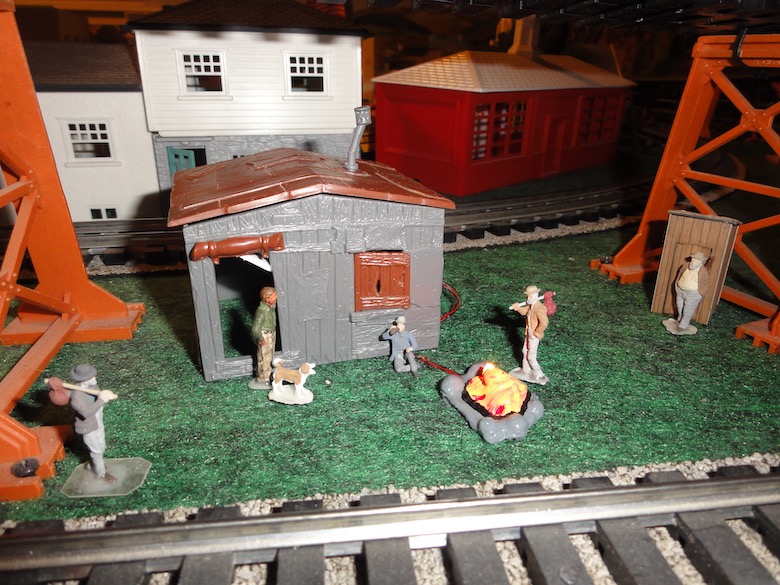 ---
Ron Fisher:

Ron Fisher is our most stalwart member of the NFD ACSG, and he doesn't own one piece of S gauge !! He comes to every meeting and often hosts. Ron helps set up, tear down, and run our modular layout wherever or whenever, it doesn't matter. Ron loves trains, and is a great friend.

Over the last several years, Ron tore down his old 3 rail layout, and is working on replacing it with a much larger, and much more involved layout. During quarantine, he has progressed nicely on his Mt. Rushmore scene, and completed the beautiful, all hand-made, curved wooden trestle. Ron designed and constructed the trestle himself. One section of the layout will be a lumber yard and saw mill. These two flat cars now have custom loads and ready to go !!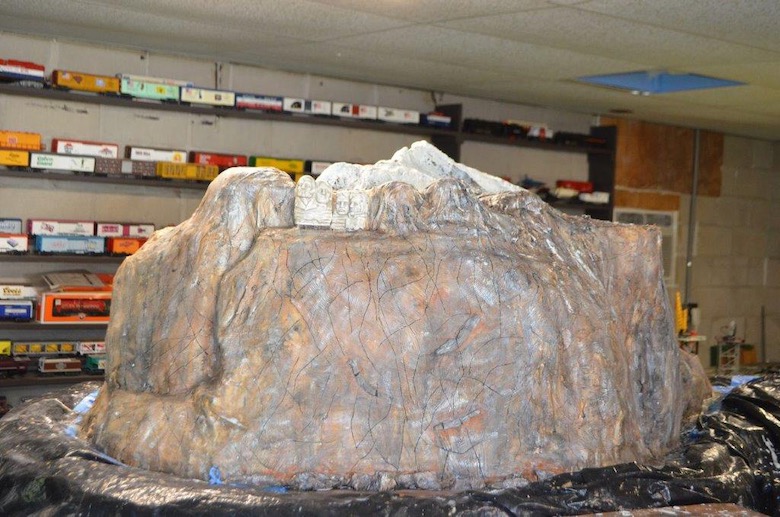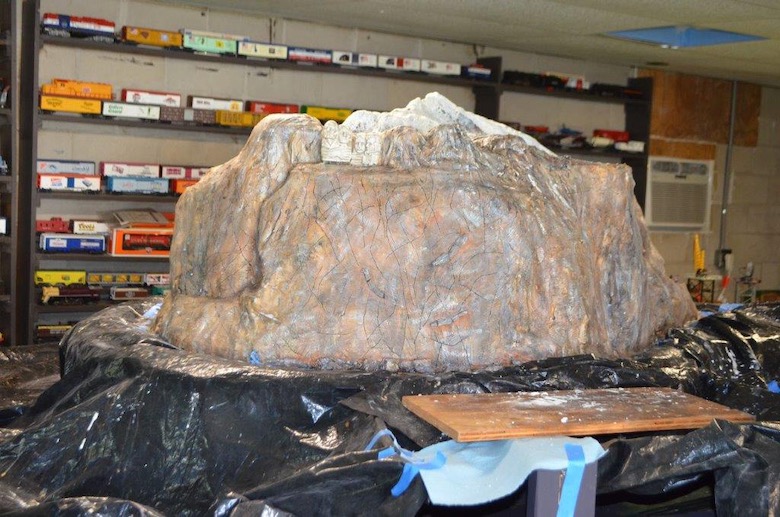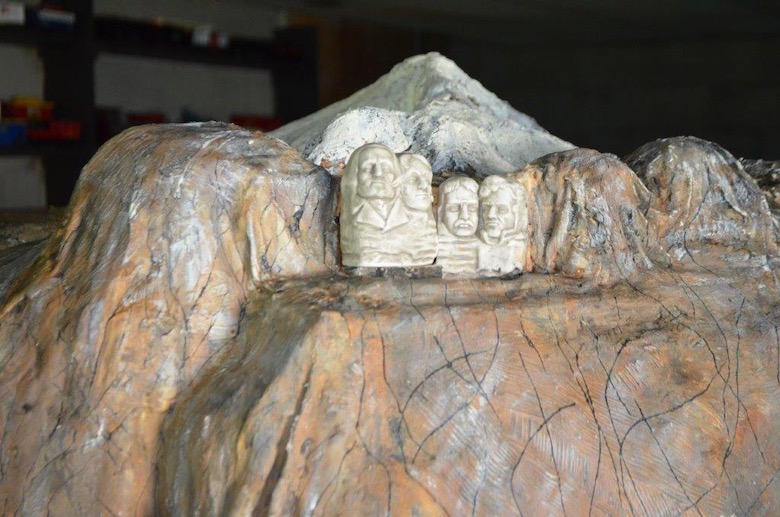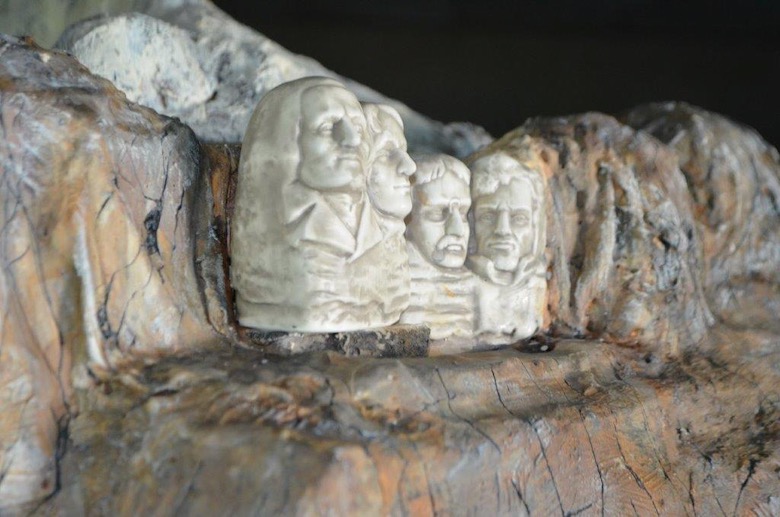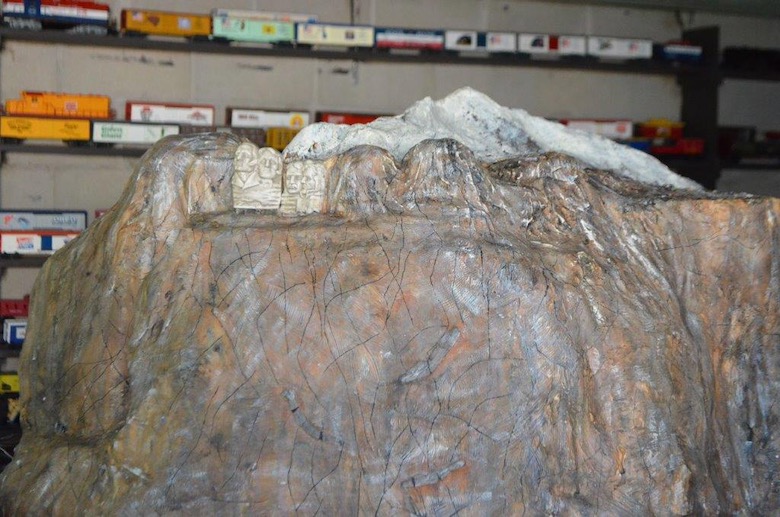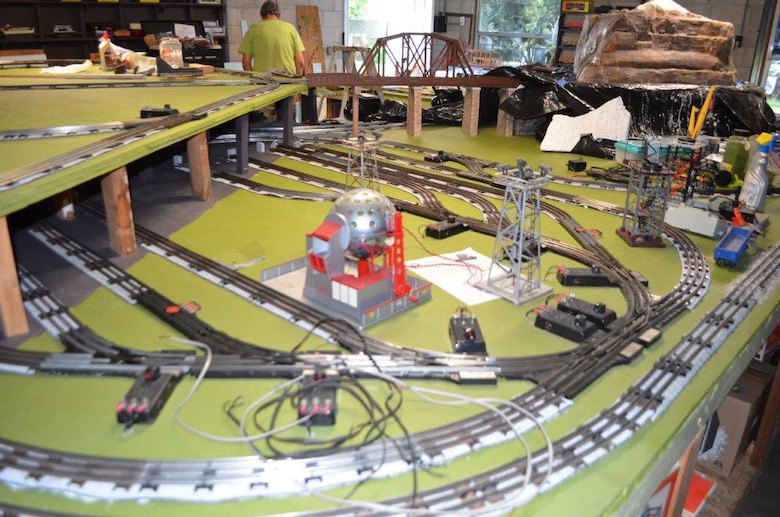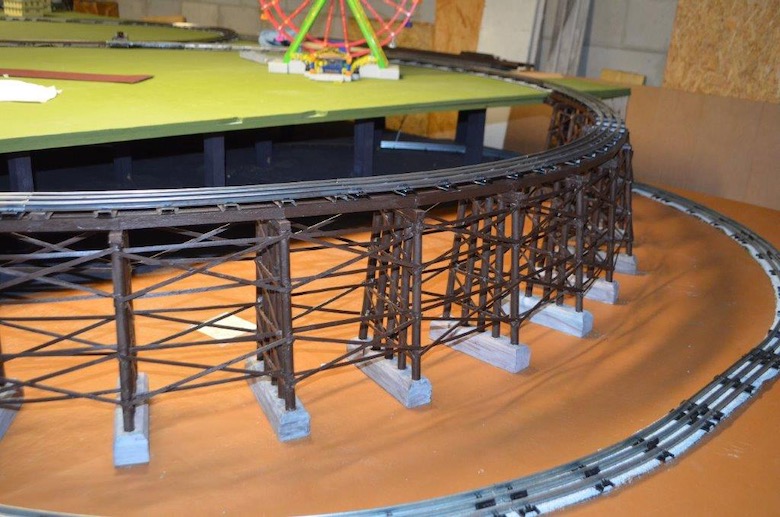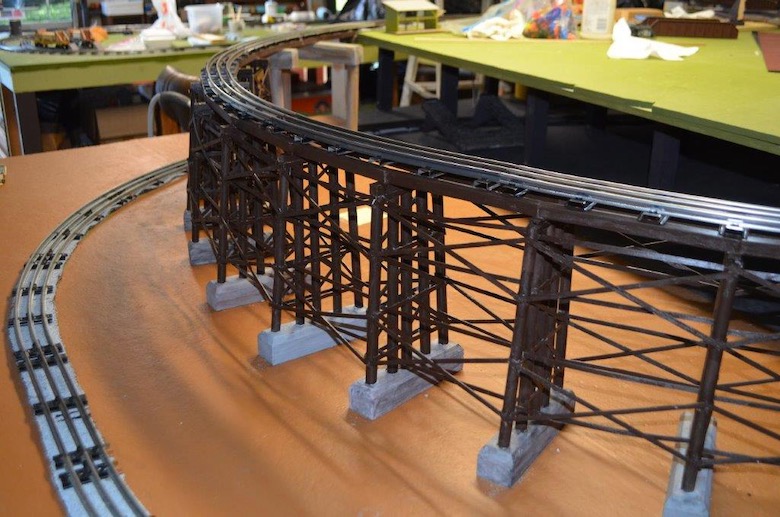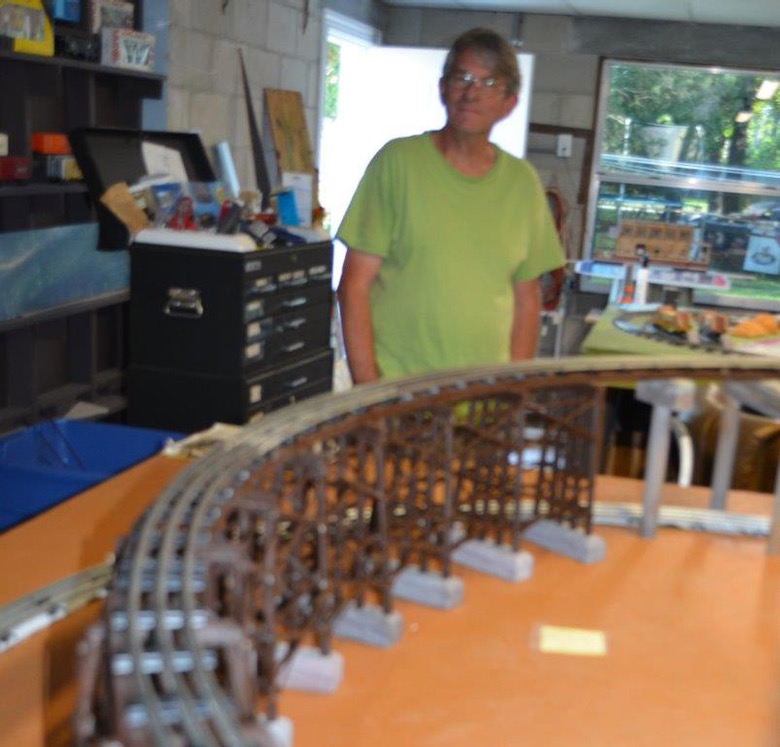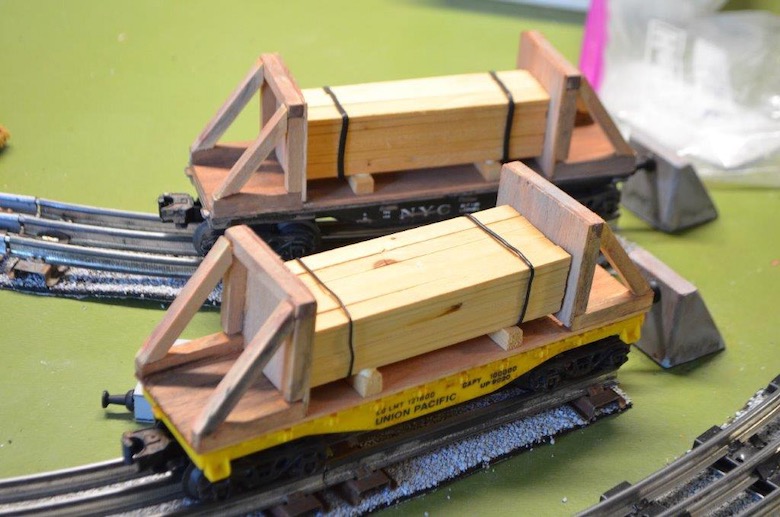 ---
Mark Laszlo:

While Mark has no intention of buying a new house, the first photo is where the Train Room is going when the 3-car garage and Man Cave are completed. Commencement of construction date is TBD, but looking better every week as one cruise after a other gets cancelled.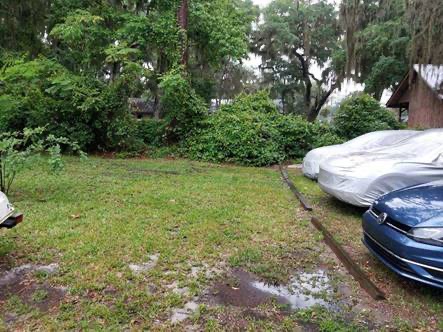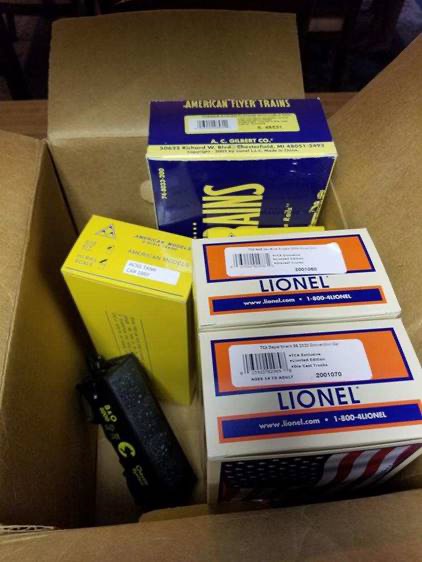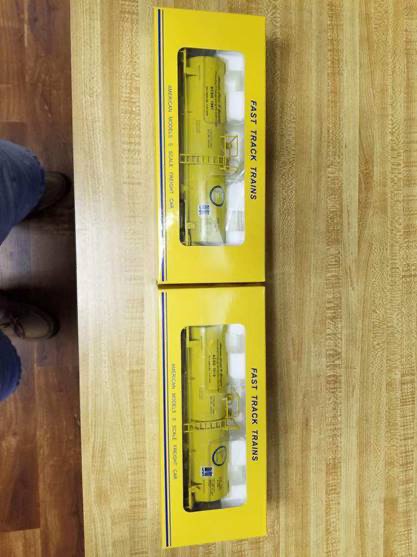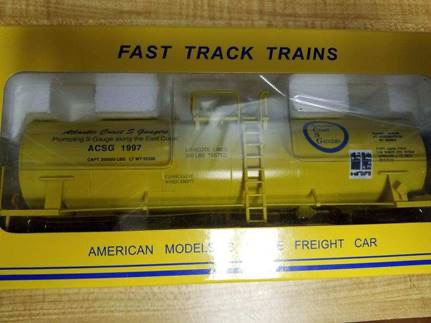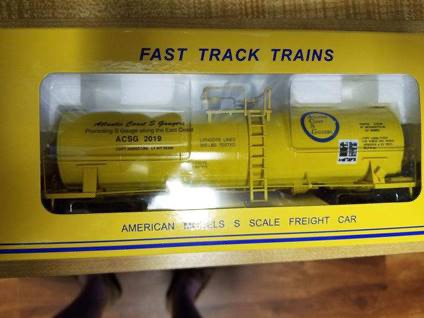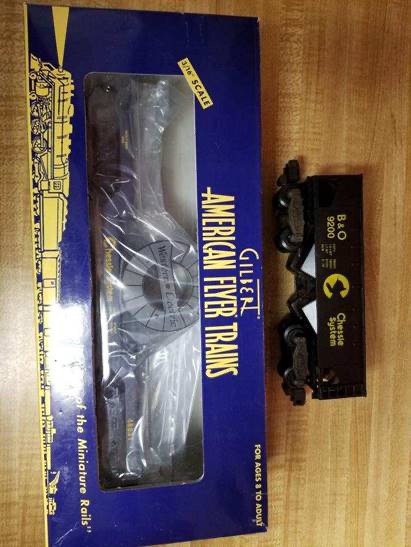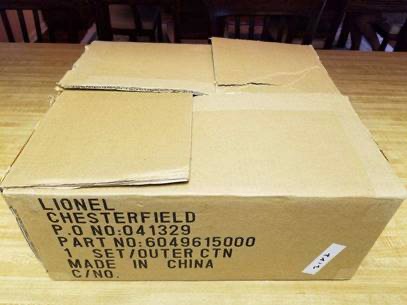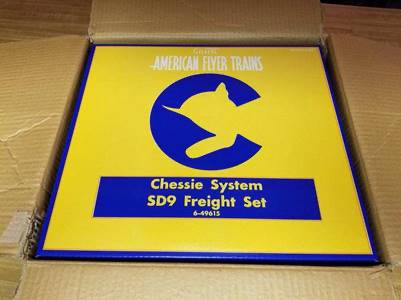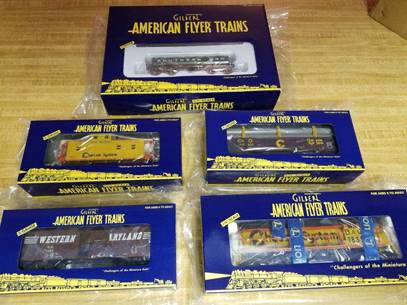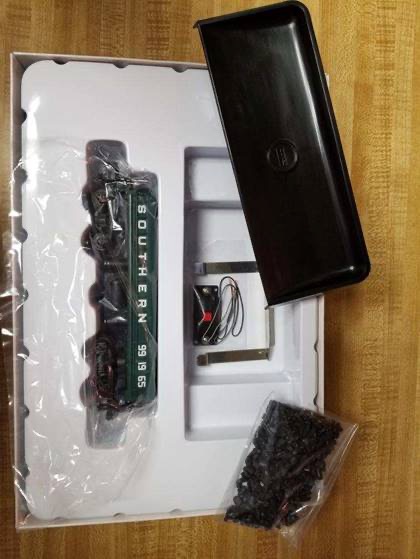 ---
Larry Shughart:

So, when my nephew Conrad visited at Christmas, I had to make a place for him to sleep under the train table, and I unearthed a set of 6 scale length passenger cars that I forgot I even had.

I was going to sell the cars, until Steve Baxendale said, "OH NO, you can't sell these. These are nice! You can fix these up. . . . "

According to Chris Rooney, the cars were kits that were made in the 1950s by West Chester models. The kits were half built, missing parts, and all glued together.

I was unable to take them apart, so alas, I am stuck with interiors that are there, and no lights. But some paint, decals using Lloyd's decal paper on my printer, some repaired trucks and added diaphragms, they look and run pretty good !!

The cars have smooth roofs, like Pullman Standard, but are rather generic otherwise. Steve and I did some quick research and decided they looked most like SAL cars, many of which came from the C&O and FEC with smooth roofs, and some later cars that SAL bought from PS.

Bill Howes helped me research the right car numbers, and Reid inspired the name of the sleeping car !!

Of course, we needed a set of locomotives to pull these cars. While the cars were a bargain, the locomotives were another story. . . . . .

Start with a pair of Undecorated E8s from American Models. Painted them with Minuteman Paint (formerly Scale Coat).

No one makes S scale Seaboard decals. So, by cutting, fitting, copying, and cheating, I used 2 sets of HO and 2 sets of O scale decals to get what you see here.

Oh Yea, and about 4 man weeks' worth of work. Jose and I worked on these together. We make a pretty good team !

While SAL did have E-8s, they did not carry the original Citrus paint scheme, except on the Northern Florida Railway, where everything is prototypical !!

The pictures really don't do them justice. I am very pleased how they turned out and can't wait to show them off in person, once the quarantine is over !!

This was truly a "Viral" project with input and support from many of my friends !!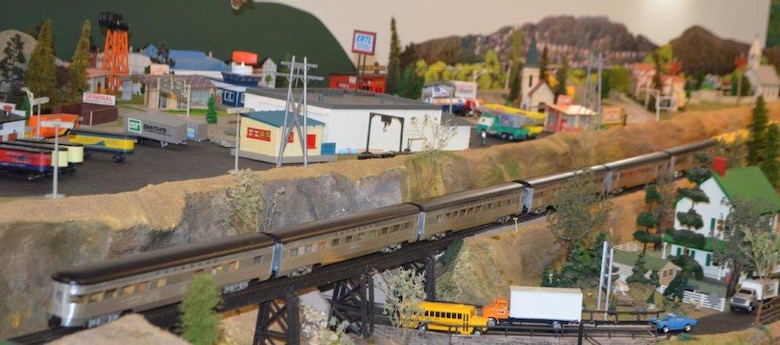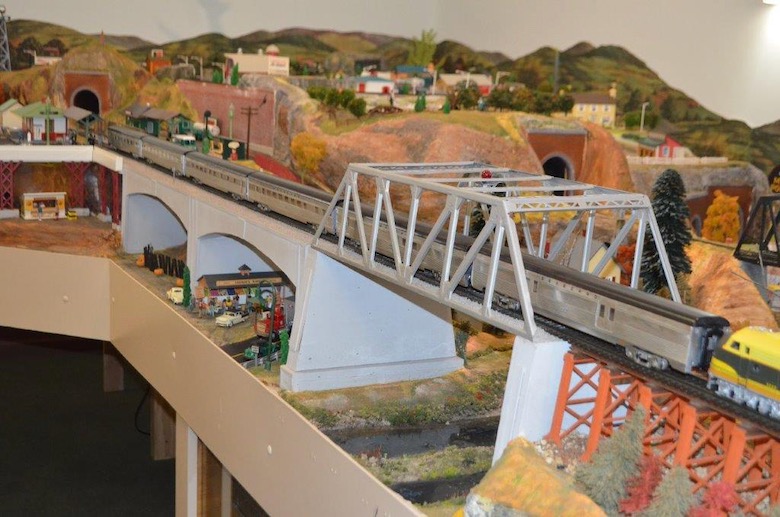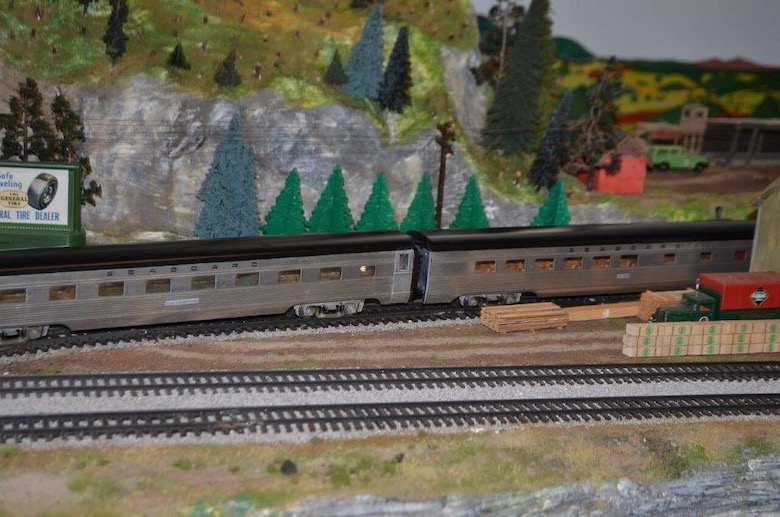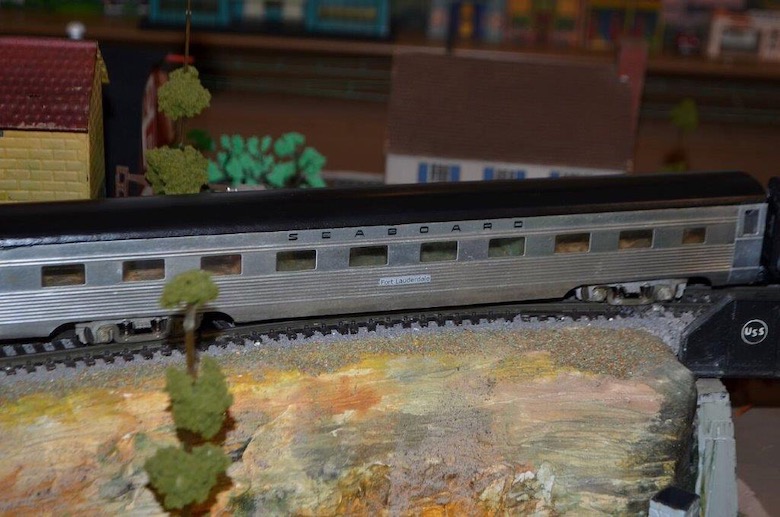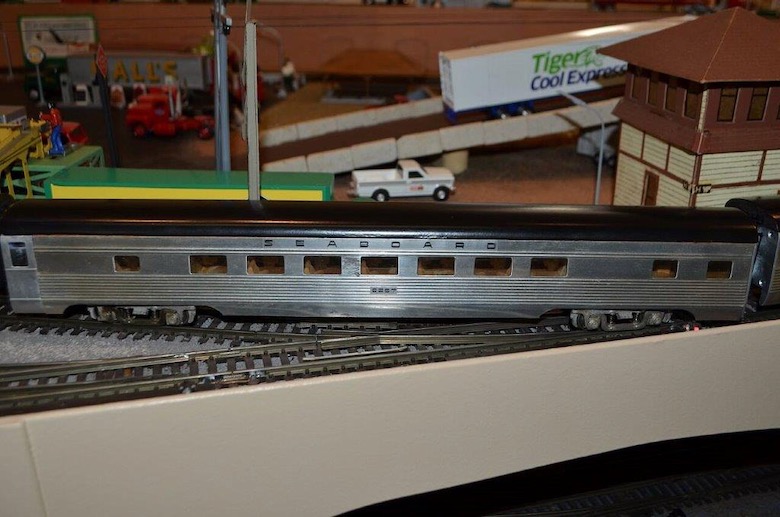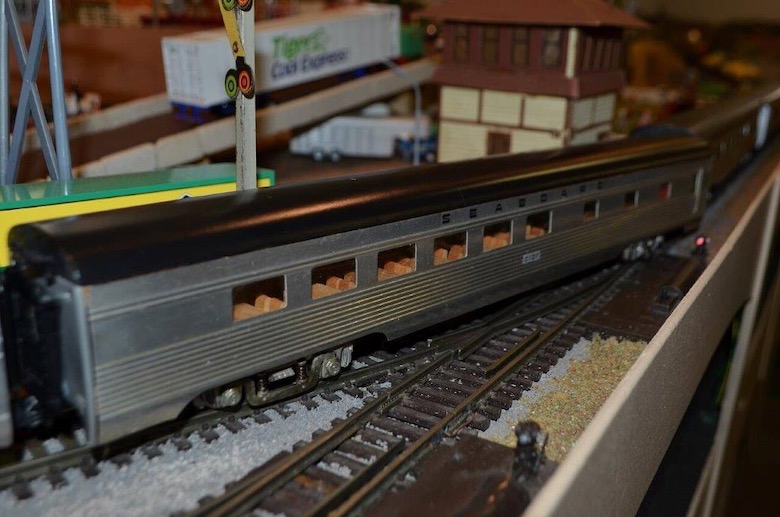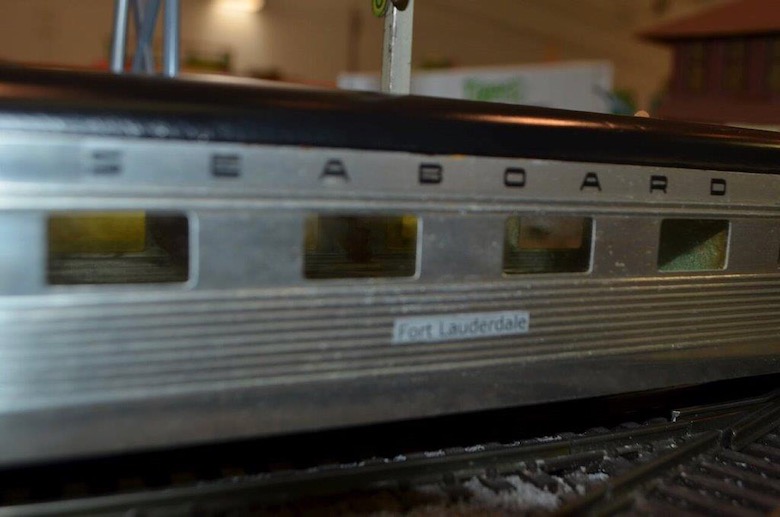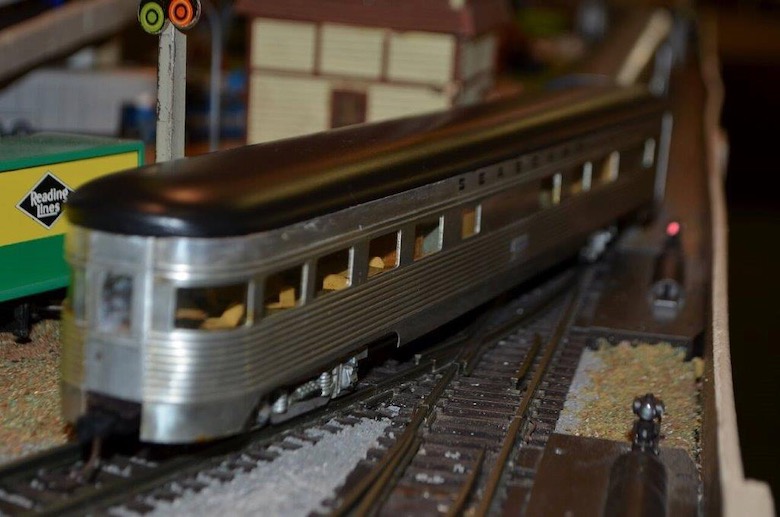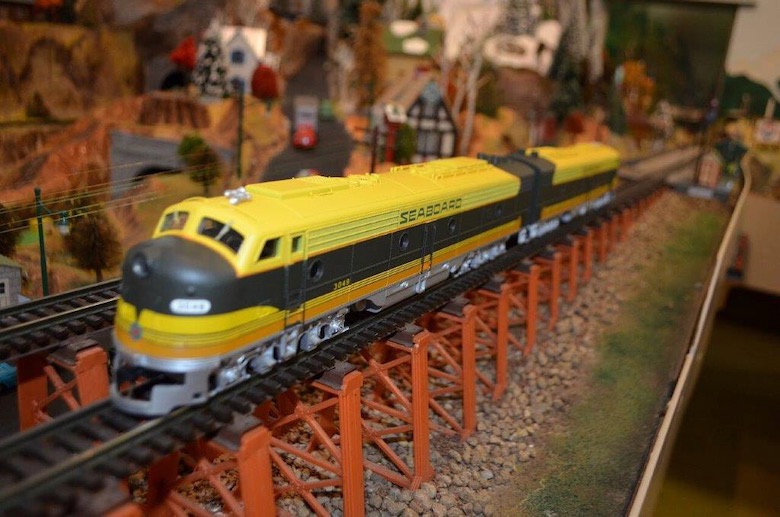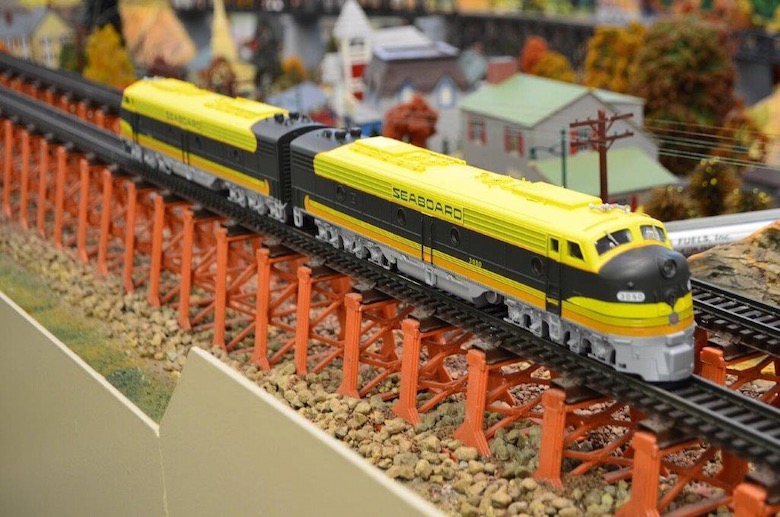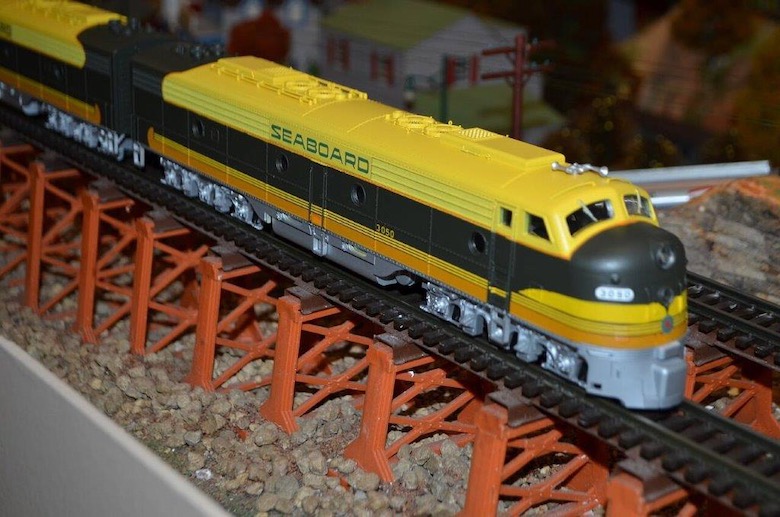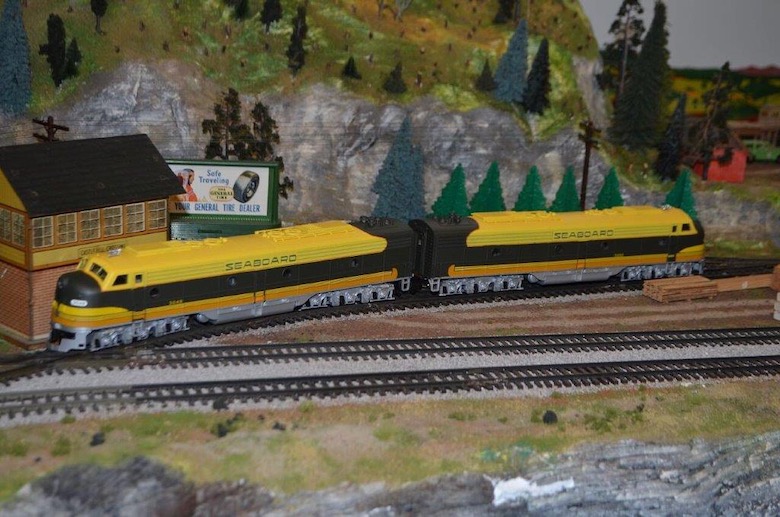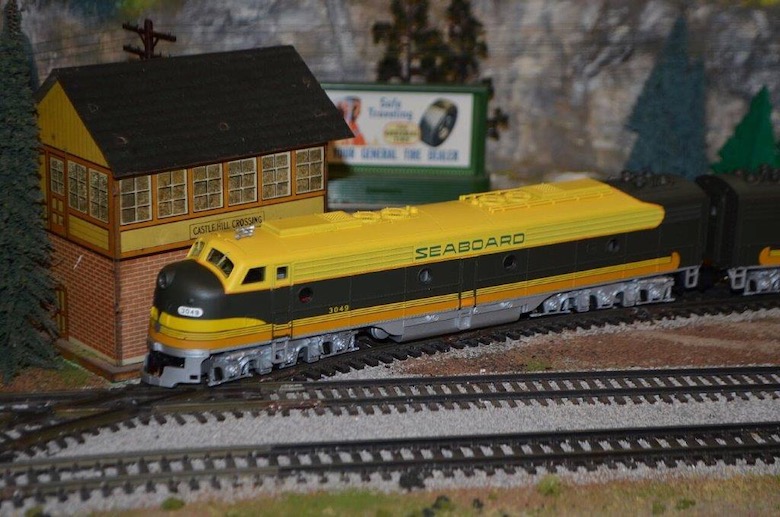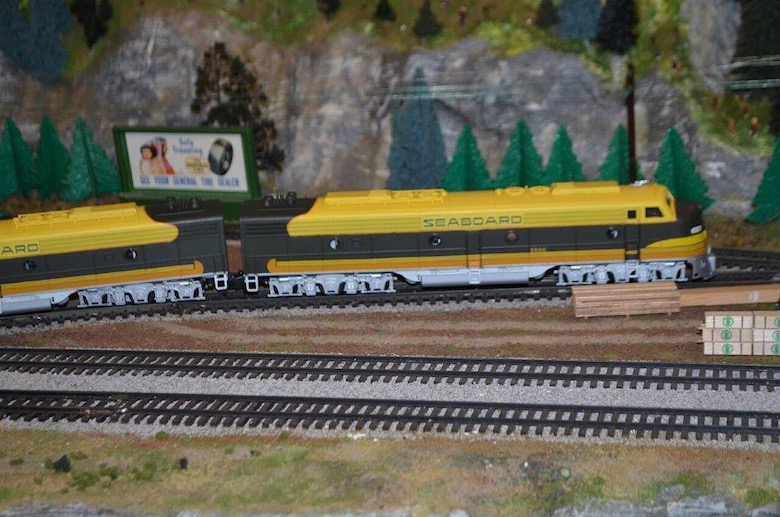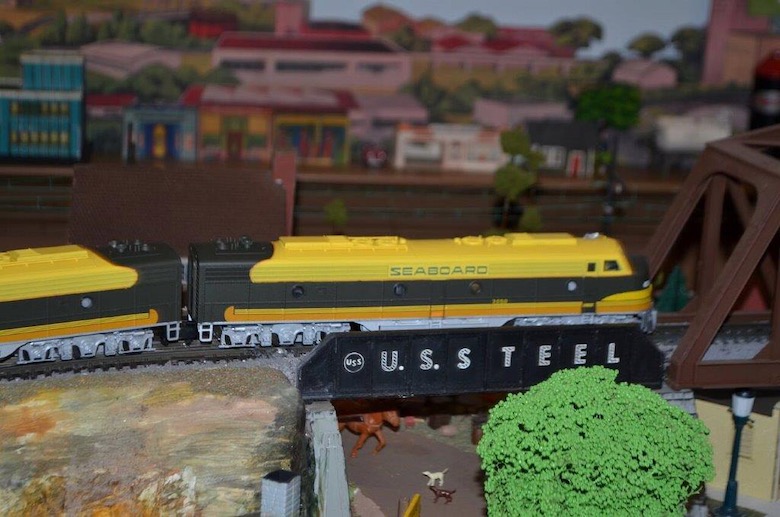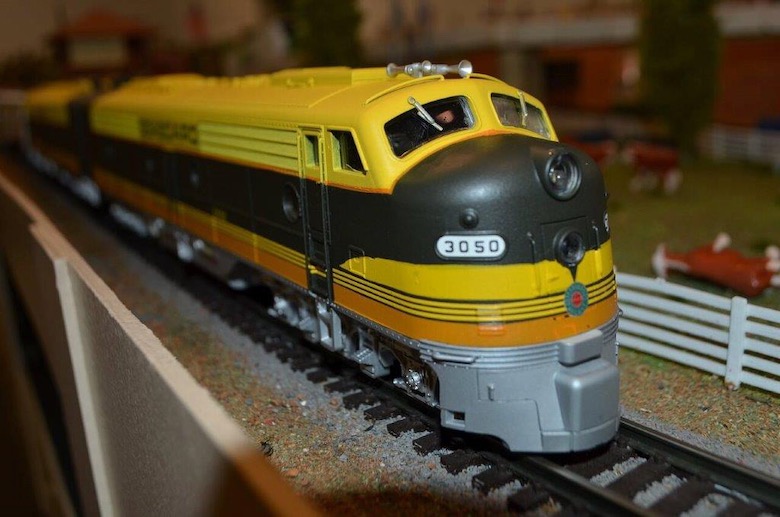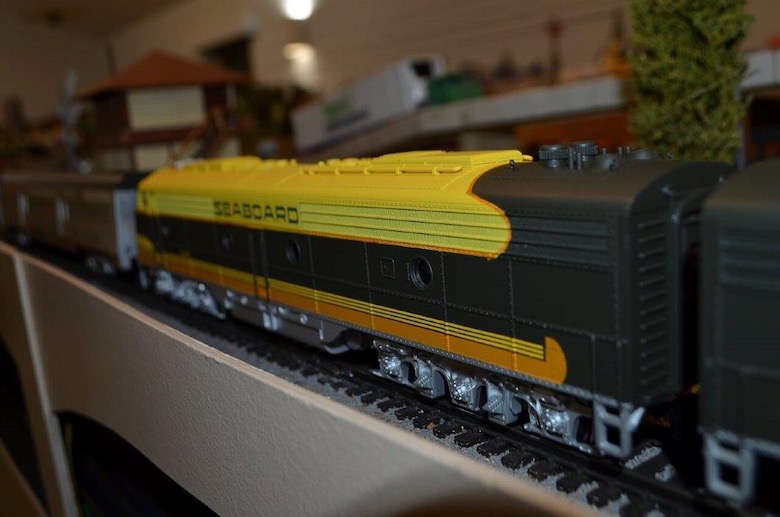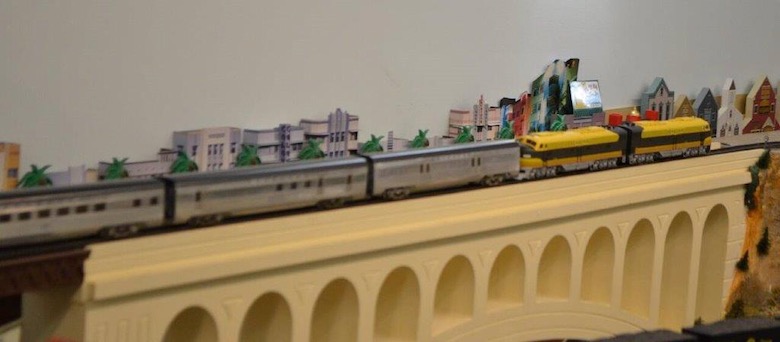 ---
June 2019 Meeting - "Not Flyer Night"

At our regular June 2019 meeting, we had 8 people attend. Each person brought a favorite "non-Flyer" item and/or picked something from Larry's train table to feature.
Items shown:
1950's Christmas Church from under the Baxendale tree every year for almost 70 years! Along with S gauge trains.
Omnicon Brass Union Pacific Gas Turbine Locomotives, easily pulled 30 AF freight cars!
2 Marx tinplate tank cars, converted to S gauge. Fit right in!!
Variety of S Helper and American Model locomotives and freight cars.
Skyline Freight House - also featured on 1950 AF Catalogue Cover.
Leroy Factory - also featured on AF showroom display layout.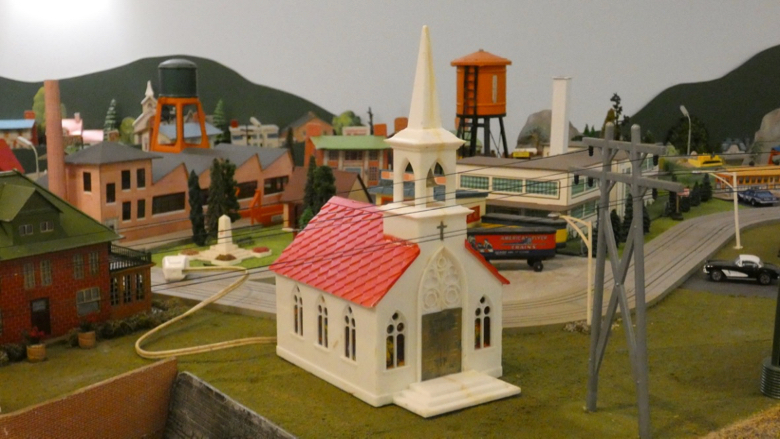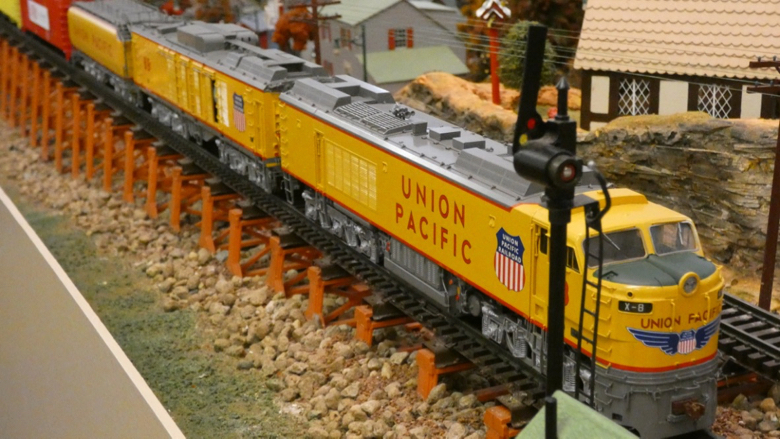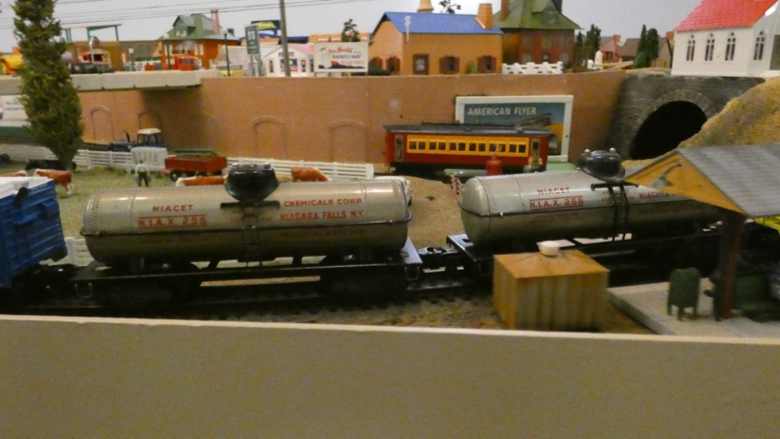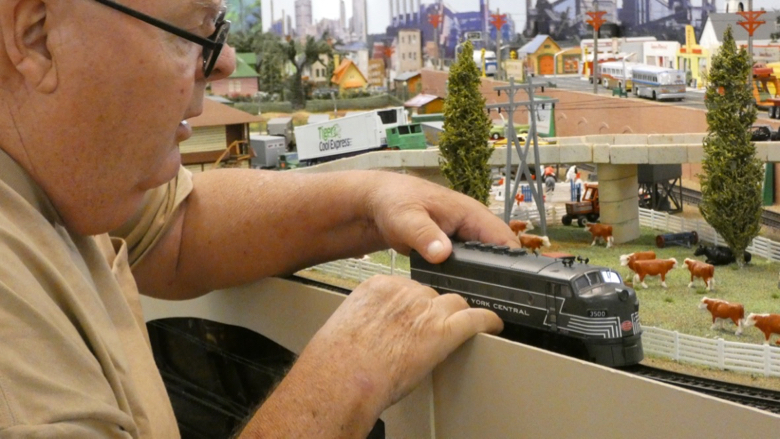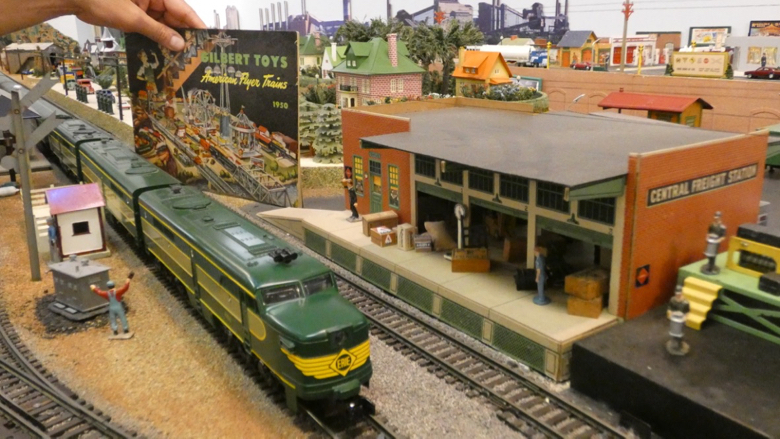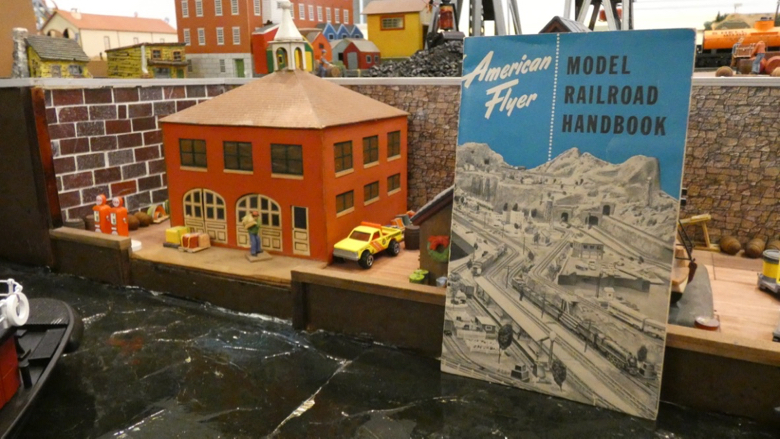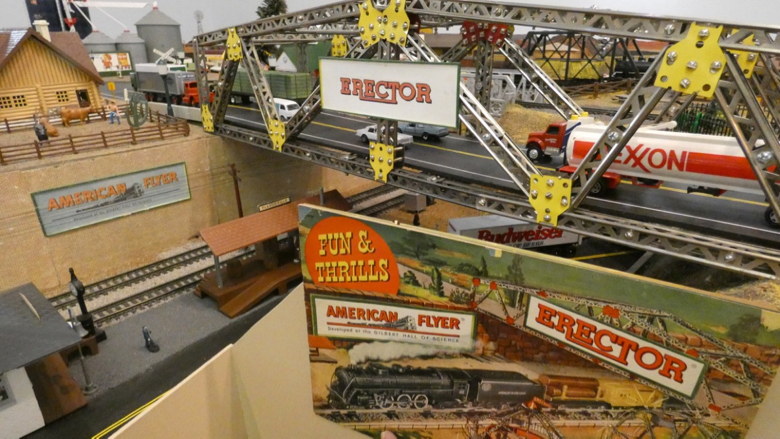 And Mark's Christmas train running on Larry's layout:
---
February 2017 Meeting - "Hudson Night"

On Feb 18, 2017, the Northern Florida Division featured "Hudson Night" at its regular 3rd Saturday meeting. Various members brought their Hudsons to operate on Larry's layout. At one point, we had 6 trains running at once, all pulled by Hudsons. There were some accidental rear end collisions with two trains operating on one track. Larry's block control system is helpful, but not fail safe if one train gets too far into the next trains' block.
We operated 5 different Gilbert Pacemaker sets from 1954, 55, 56, 57, and 58. We had 4 different locomotive numbers represented and one that was converted to High Rail operation pulling a long string of American Models heavy weight cars. Lloyd Lippert brought a kit that he had purchased to double head two Hudsons, but the bracket that came with the kit snagged on the pilot wheels and did not work. We tried modifying the bracket, but could not get it to work reliably.
We closed out the evening watching two videos featuring prototype Hudsons. One can be found on YouTube: The Mighty Hudson Steam Locomotive.
The second one was the "History of the 20th Century Limited Part 1" on loan to us from the Bill Howes collection.
Thanks to Sharon Lippert for her delicious Chocolate Chip cookies, and a good time was had by all.