April 2020 "Meeting" - Stay-at-Home Projects and Activities

This month's meeting is an on-line "meeting" due to the stay-at-home orders and includes photos and videos of what Northern Florida members have been doing.
---
Chris Rooney:

We got together a couple folks for the first time in the attic and held an "operating session" which Richard Paul was good enough to video record.

Certain parties ran a little fast for the Attic Central which likes to operate at 25 MPH. And we have to organize a passenger train I am told. (Working on that.) Hope to get some S scalers up for a session when circumstances again permit.
---
Mark Klemens:

I'm planning a new layout. This was my S layout in Ohio 2 years ago.

I never liked the hole in the middle. And the benchwork was too heavy, with too many legs! I'm hoping to design something simpler, and lighter, that can be easily carried up a flight of stairs. I'll try to come up with some ideas.
---
Lawrence Eggering:
---
Dennis Larson:

Although my S gauge stuff is stored, I am actively modeling in HOn3. Some photos of models completed during isolation are shown below.

The gray car is kitbashed from parts to resemble a narrow gauge kitchen or office car in maintenance service. It was fun adapting various sub-assemblies and odd parts .

The Tiffany refrigerator is turn-of-the-century equipment from the Denver, South Park & Pacific ng. Styrene kit.

The gondola is a pipe gondola without a load of pipes (straws) yet. It's a styrene kit, too. The pipes were typically 40 or 47 feet and the car is only 30', so it uses idler flats on both ends to accommodate the longer pipes. I'm building the idler flat cars now.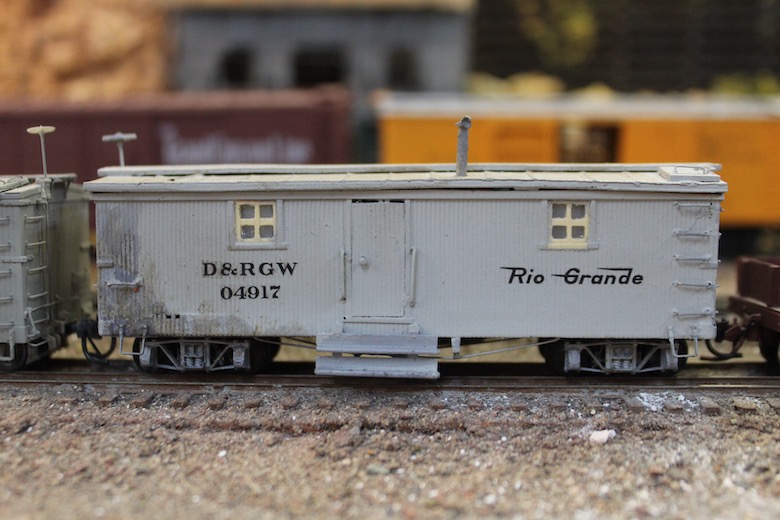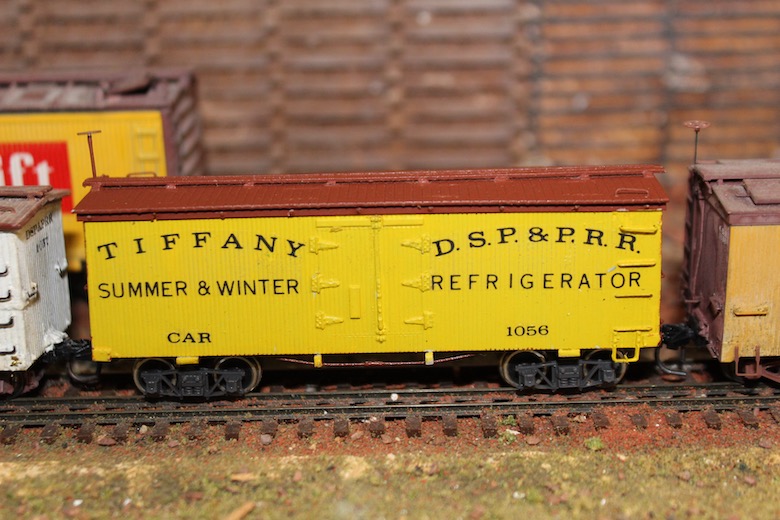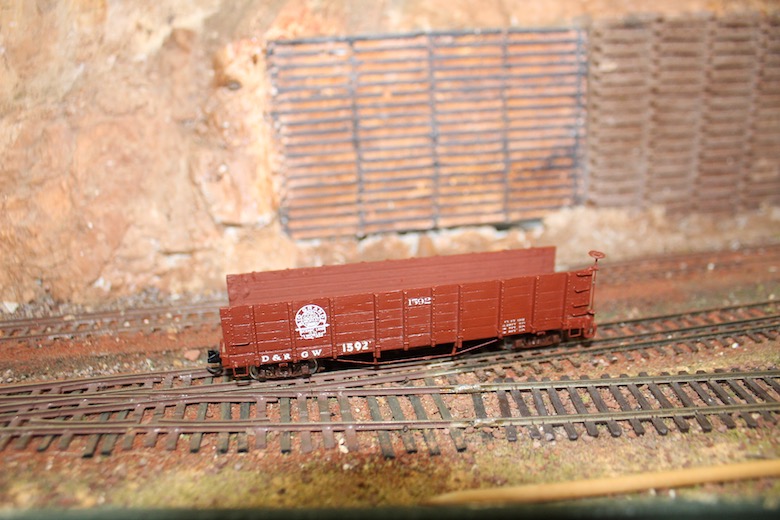 ---
Jim 'Grits' Dundon:

I had my original AF Set from 1957-59 time frame and only got it out occasionally over the years after my kids out grew the novelty. In 2016, I pulled it out of storage and my wife thought it was really neat. So I start looking at Ebay and got into collecting AF Rolling Stock from 1953-60 and accessories. The Rolling Stock is the 800 and 900 Series.

Since the lock down due to this Covid-19 Virus, I have pulled most of my stuff together and decided what direction I was going to take. I originally had thought of going with FasTrack but decided to go with Original Flyer Track and the Rubber Roadbed.

So for the last couple weeks I have been checking the accessories for missing parts and been placing orders with Port Lines.

Also been testing and repairing switches and cleaning track. Looking forward to building a 12 x 12 Layout.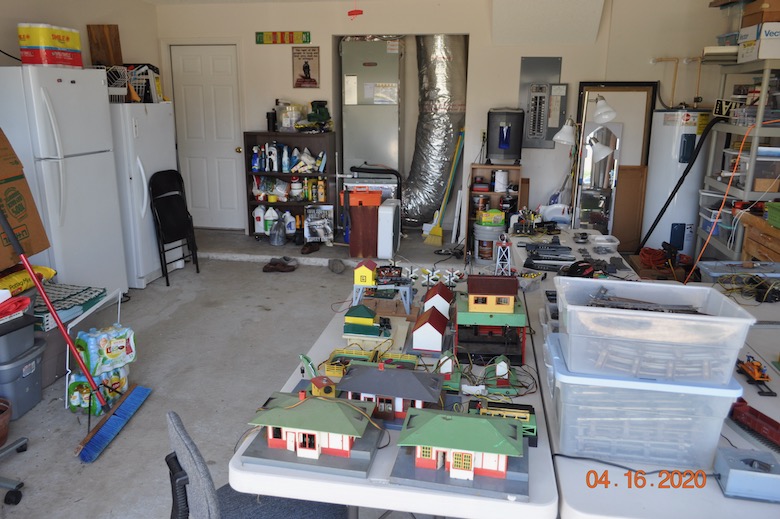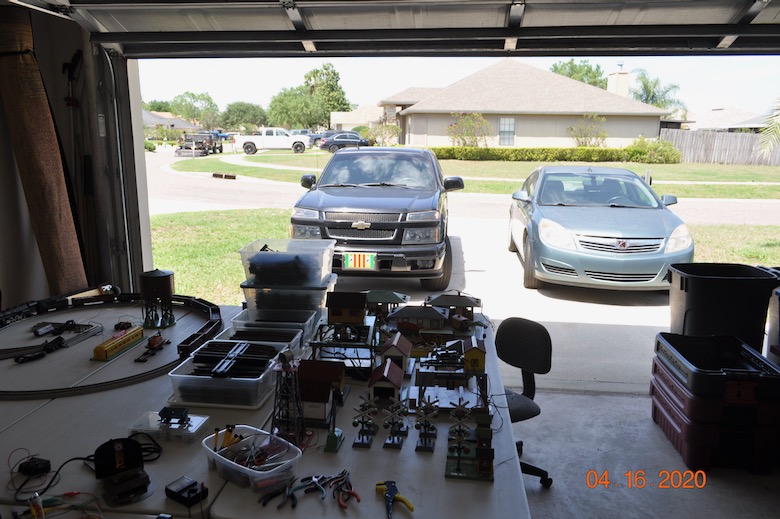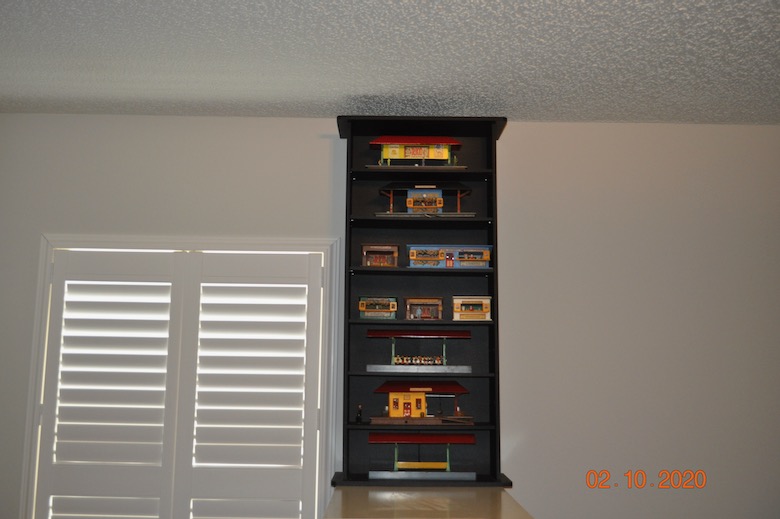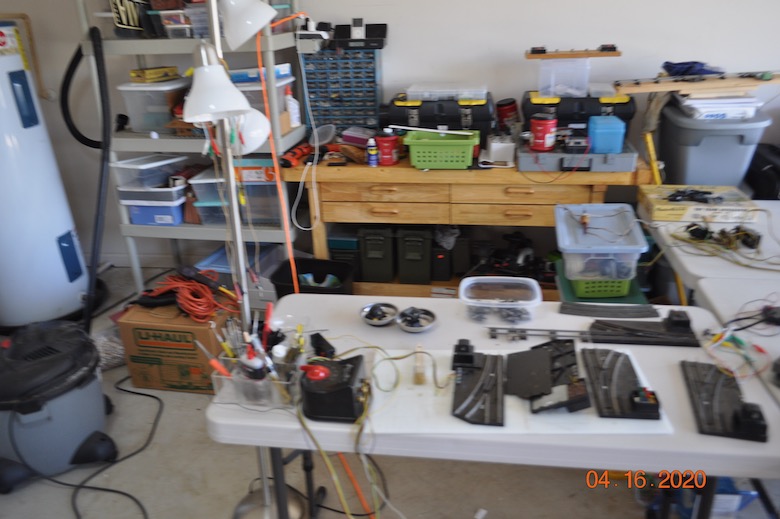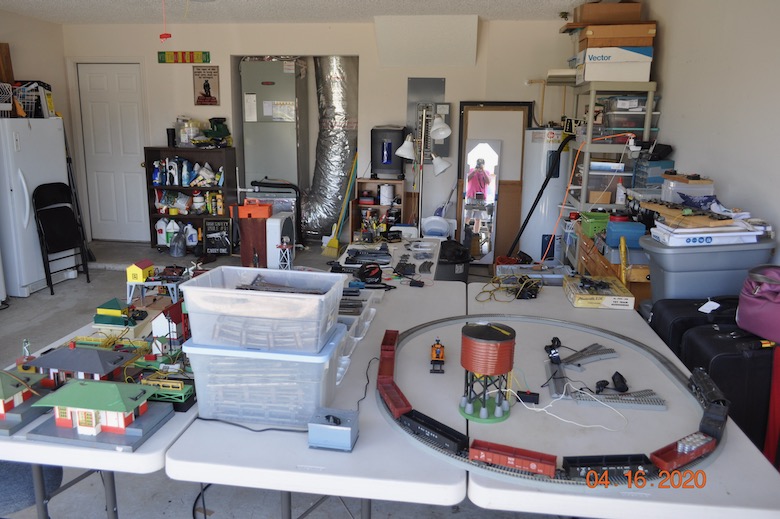 ---
Wayne Hoffman:

Wayne has been catching up on his reading and building some vintage automobile kits.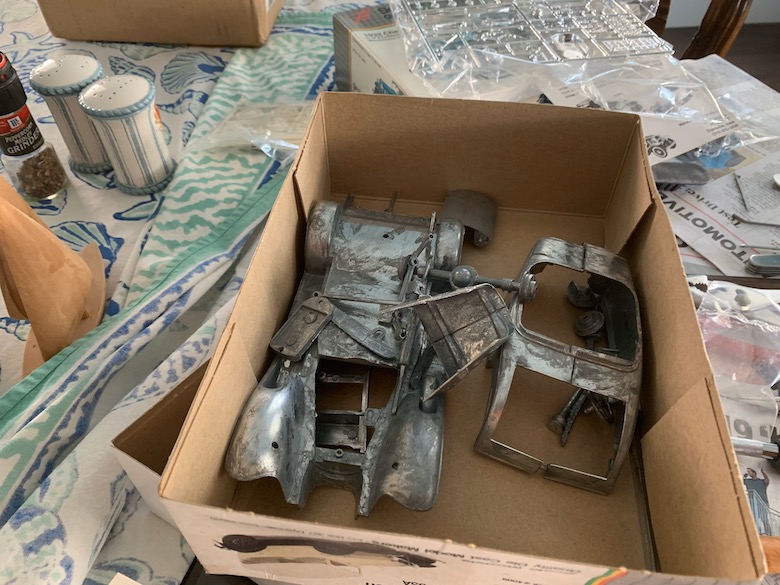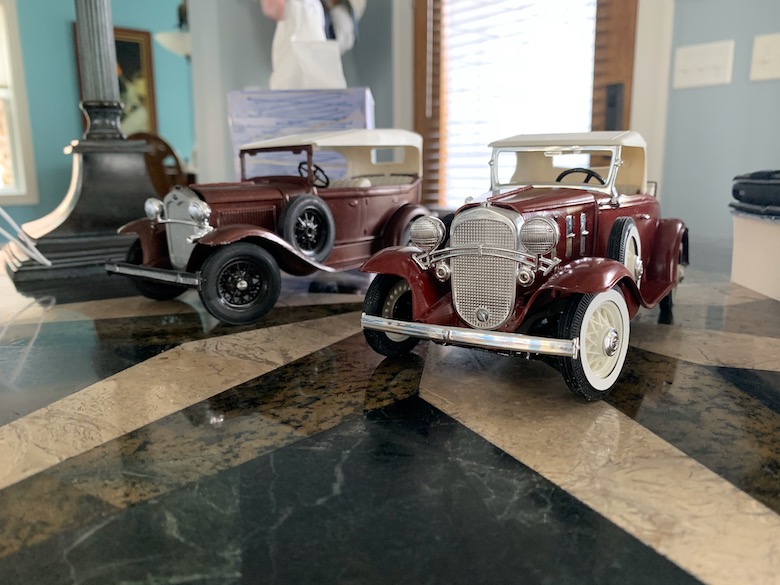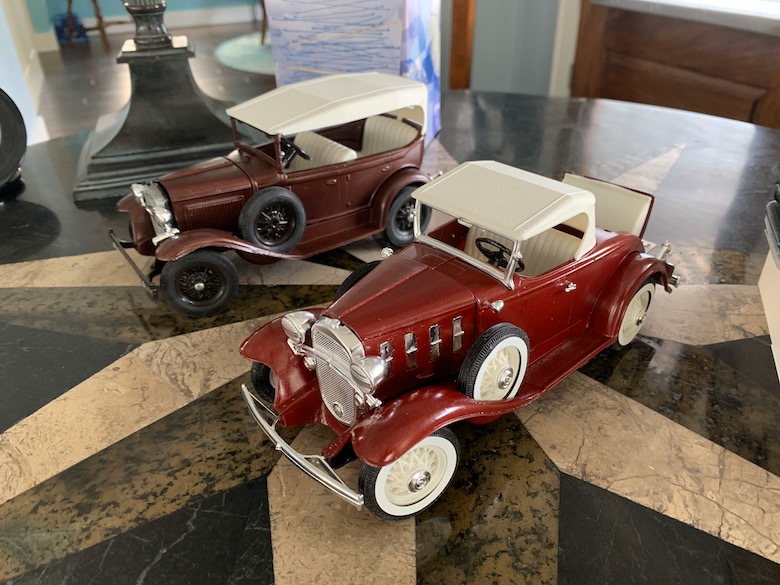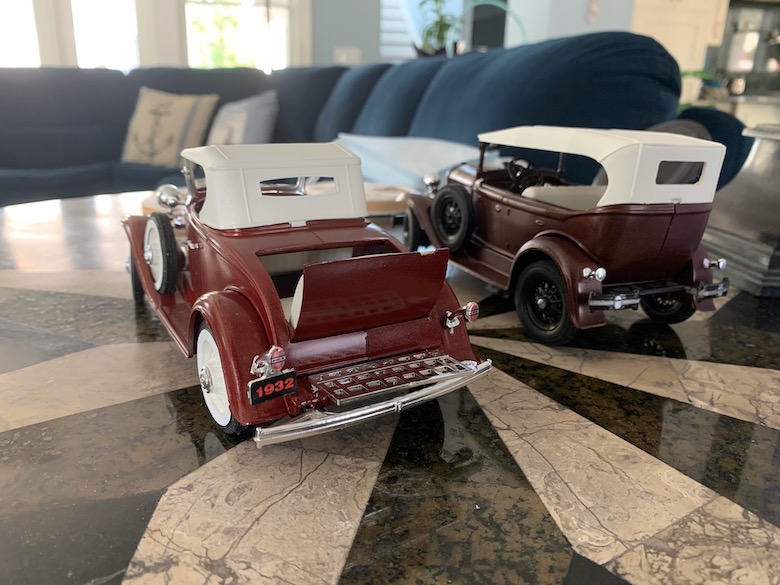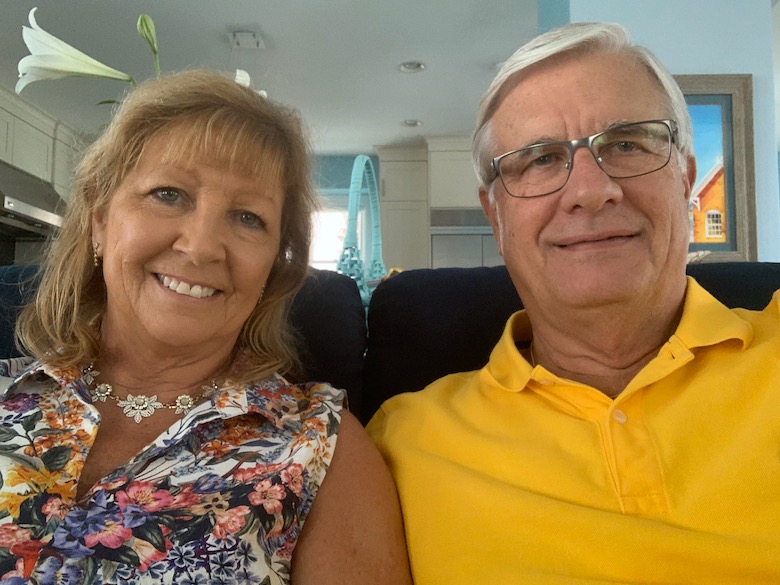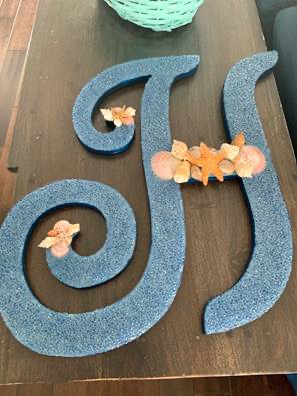 ---
Christian Bacheler:

I haven't had the chance to meet anyone yet, new to the group, having recently moved down to South Florida (Sunny Isles Beach) from South Jersey / Philadelphia. I have just started getting back into the hobby for the first time since running trains with my father as a child. I always loved the few American Flyer trains we had (was mostly O scale), so I decided to jump right into S gauge and build my own layout.

While I am in a small space, 1 BR apartment, I managed to construct a 4x8 layout on the floor (with the extreme patience of my wife!). It can be separated into 4 2x4 ft sections with wire disconnects between each. After three months of hard work, I am pretty much done. I packed a lot of track into the small area, so that I can have up to 4 locomotives (and 3x trains) on the track at one time. Almost every section of track can be switched on, off, or to either power source A or B, and to either conventional or DCC/Legacy, allowing a lot of flexibility with moving the trains around. The layout is a blend of traditional American Flyer and Hi-rail scale S. It has an operating milk car, platform loader and loading boxcar, cattle loader, talking station, and oil drum loader. In the next couple of weeks I plan on making a youtube channel for it, showing off the action! Be sure to check it out!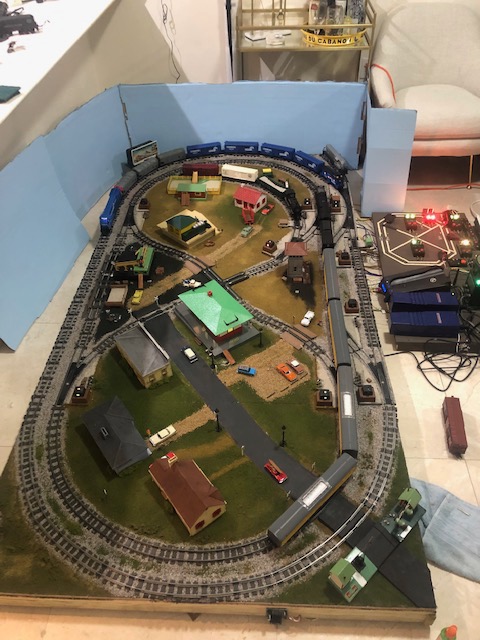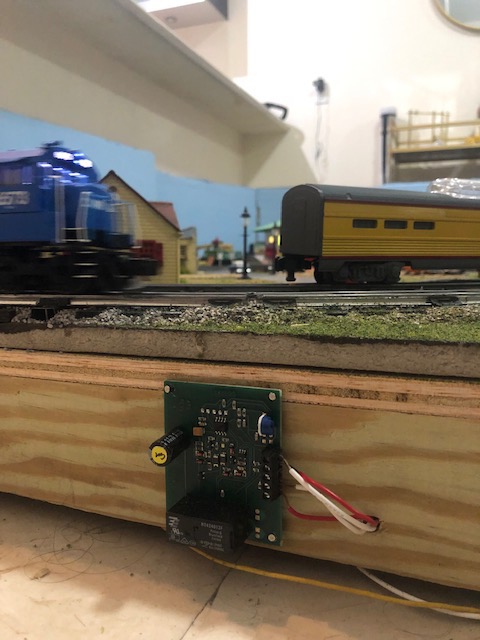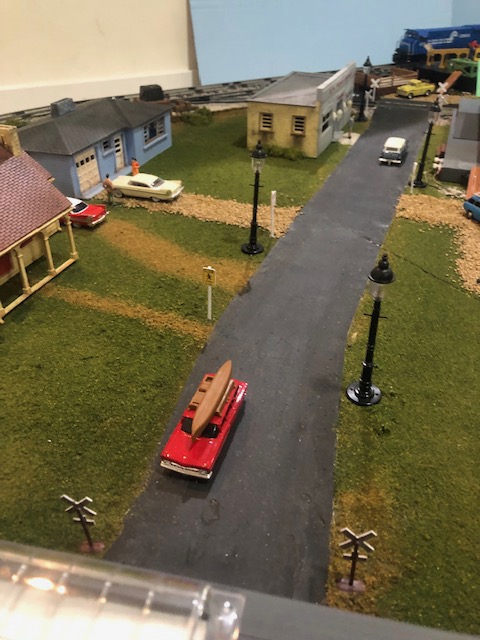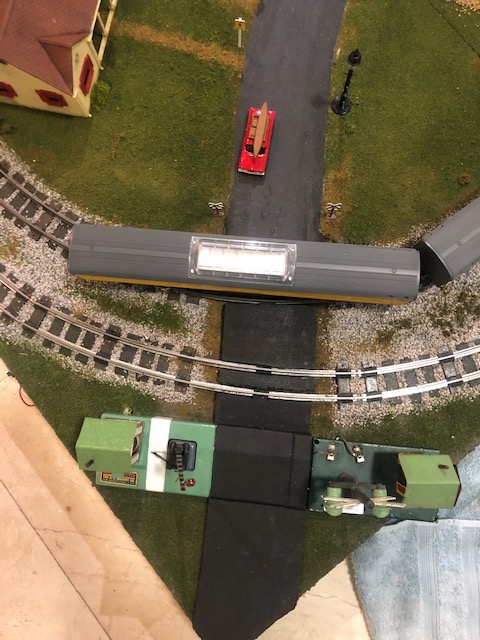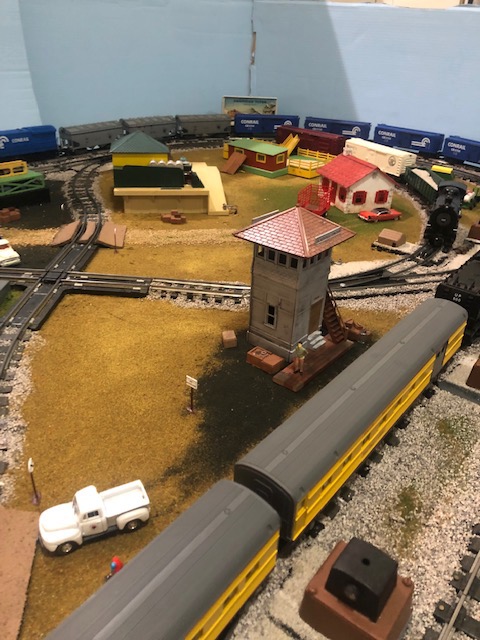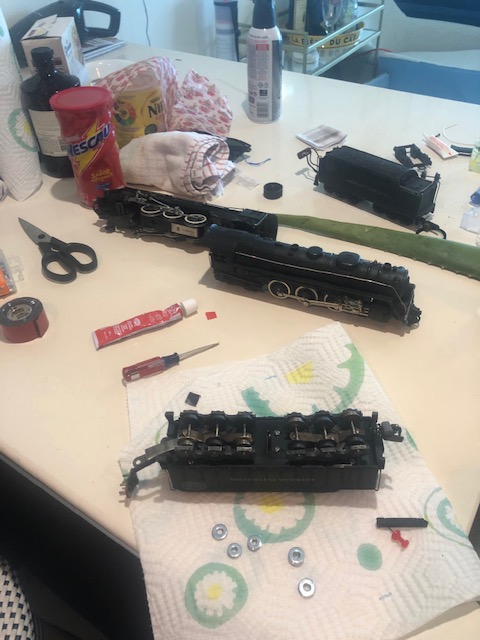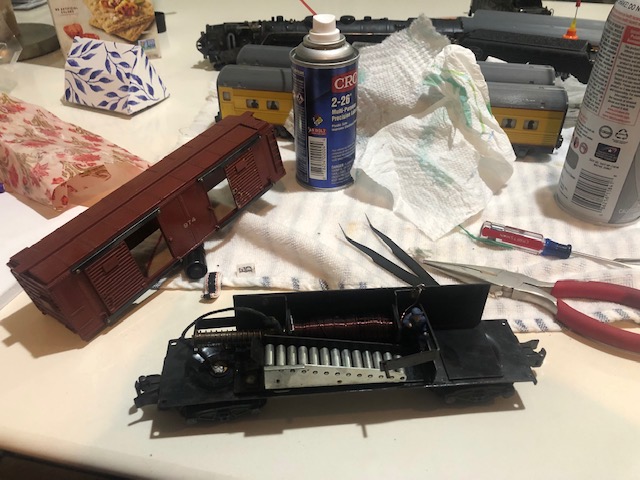 ---
Lloyd Lippert:

I was able to add to my collection a 1957 NP passenger boxed set.

The seller stated that the set had not "seen the light of day" for 25 years before it was sold. That was believable given the accumulation of dried grease in the gears and dust and corruption I cleaned from the chassis and motor. I suspect I was the first to clean the armatures. After much effort, the engine ran "like a top." It was apparent the set had been run but was very well cared for.

I have added 2 items to the set. A LTI B unit is a good approximation of the Gilbert B unit which was part of the 1956 NP passenger set. The result is a respectable ABA combination. And an American Models NP refrigerator car carrying milk that frequently accompanied a NP passenger train.

The final photo is a lighted campfire Larry Eggering made for me which I added to my hobo camp. My photography skills did not allow me to capture the lighted fire when the room was dimly lighted.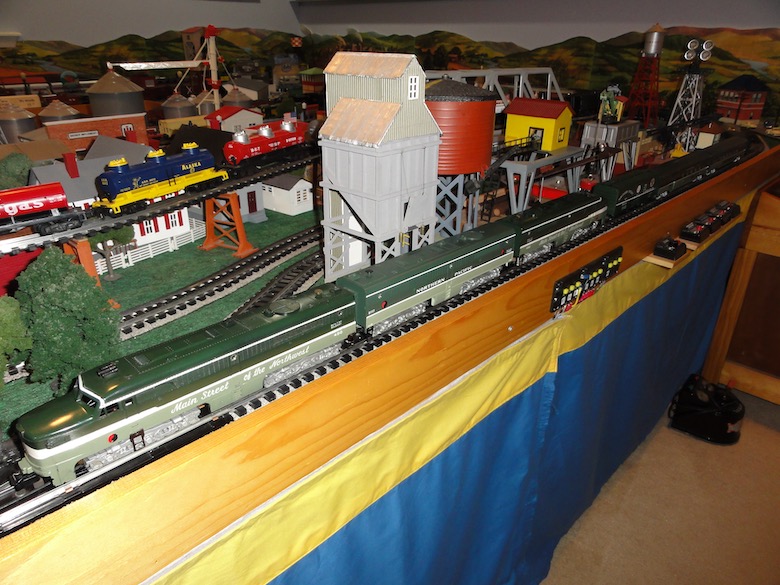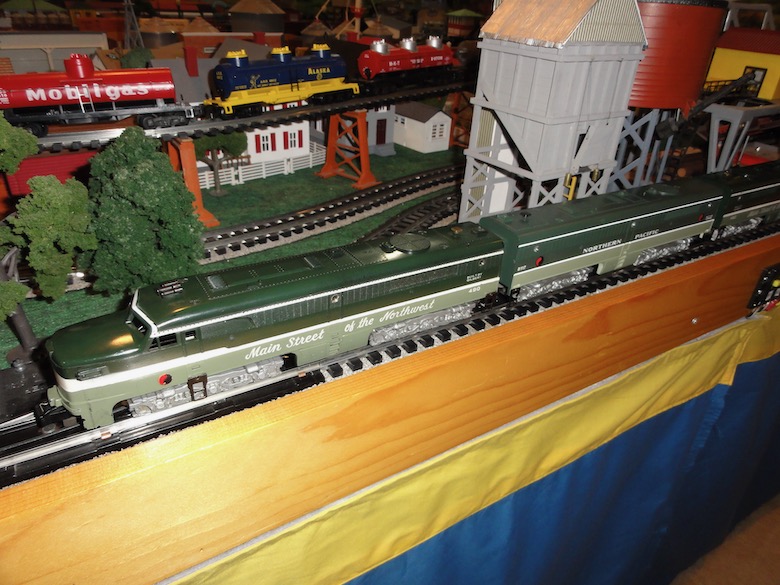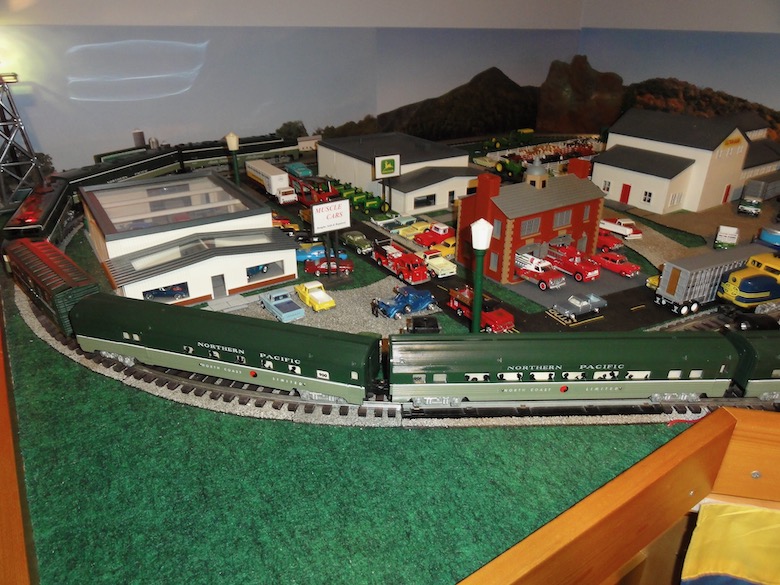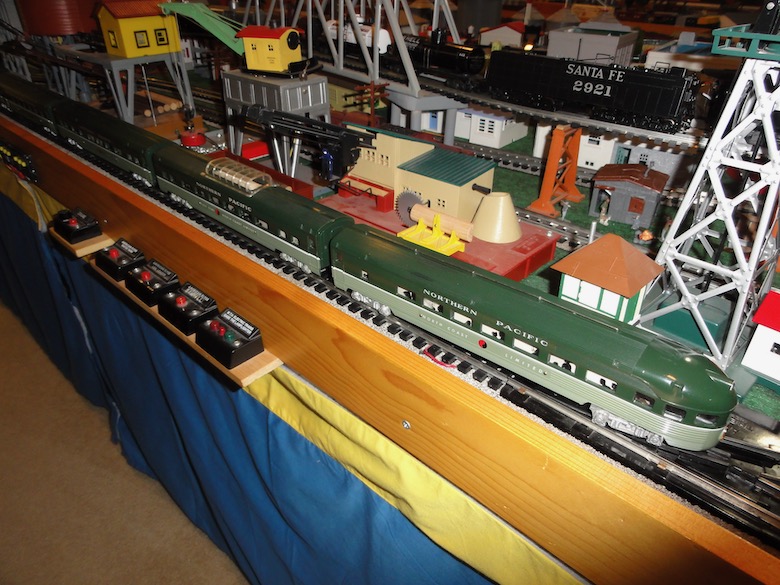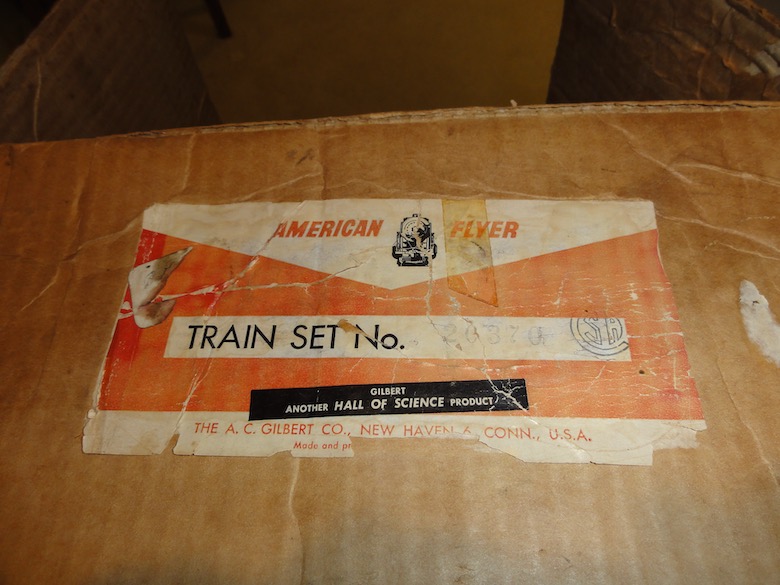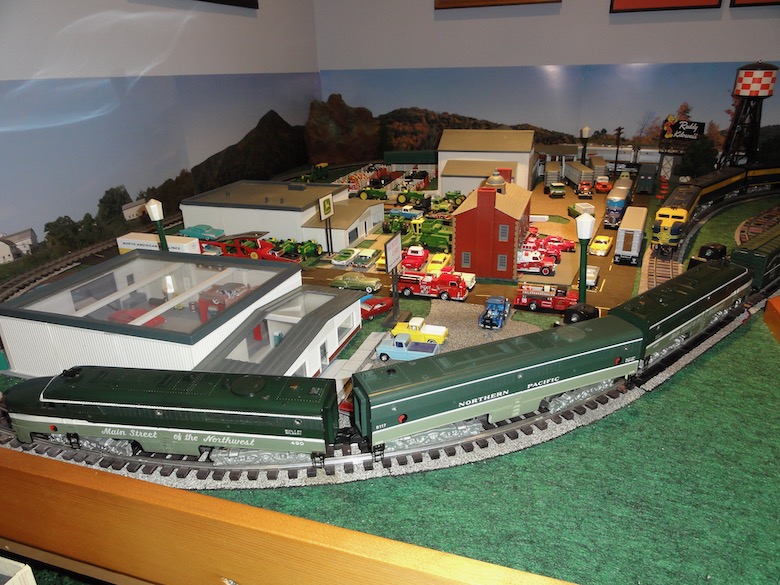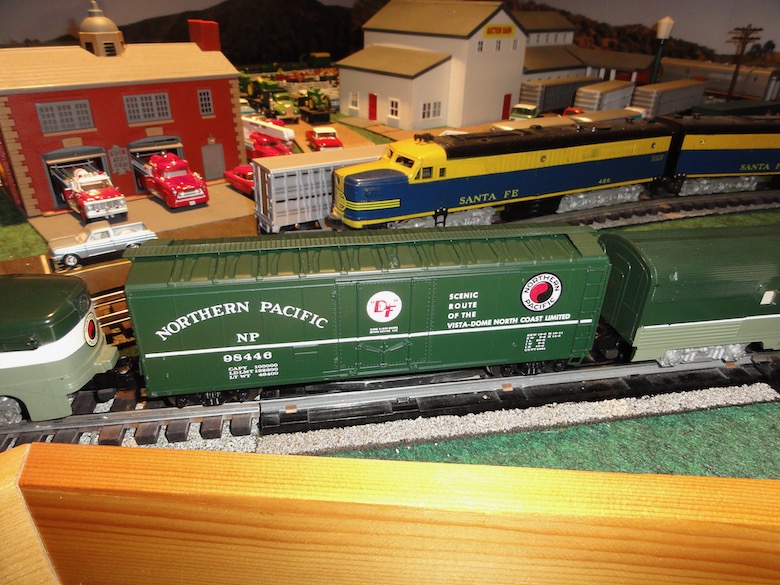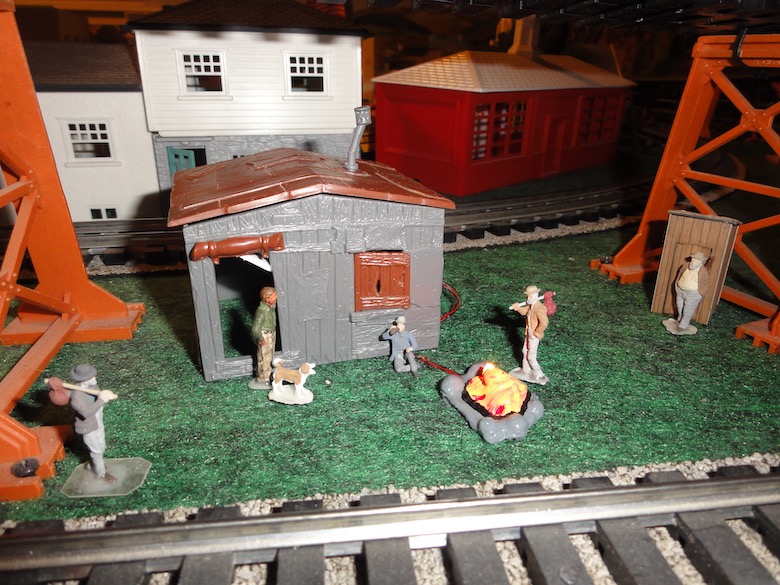 ---
Ron Fisher:

Ron Fisher is our most stalwart member of the NFD ACSG, and he doesn't own one piece of S gauge !! He comes to every meeting and often hosts. Ron helps set up, tear down, and run our modular layout wherever or whenever, it doesn't matter. Ron loves trains, and is a great friend.

Over the last several years, Ron tore down his old 3 rail layout, and is working on replacing it with a much larger, and much more involved layout. During quarantine, he has progressed nicely on his Mt. Rushmore scene, and completed the beautiful, all hand-made, curved wooden trestle. Ron designed and constructed the trestle himself. One section of the layout will be a lumber yard and saw mill. These two flat cars now have custom loads and ready to go !!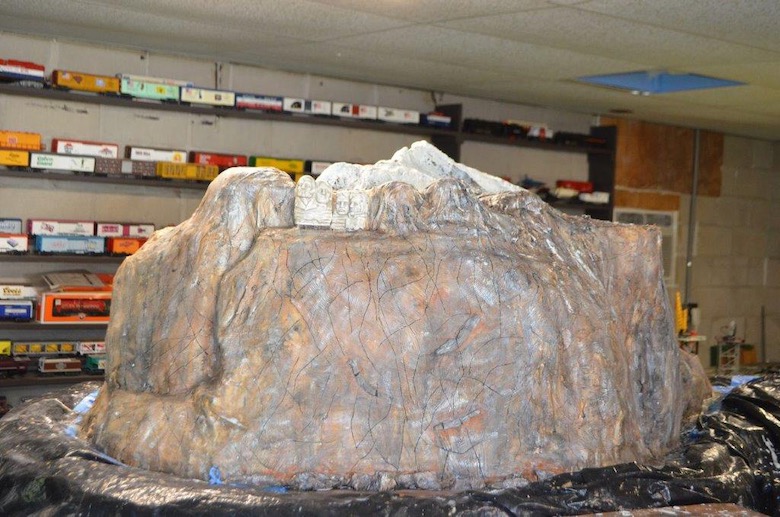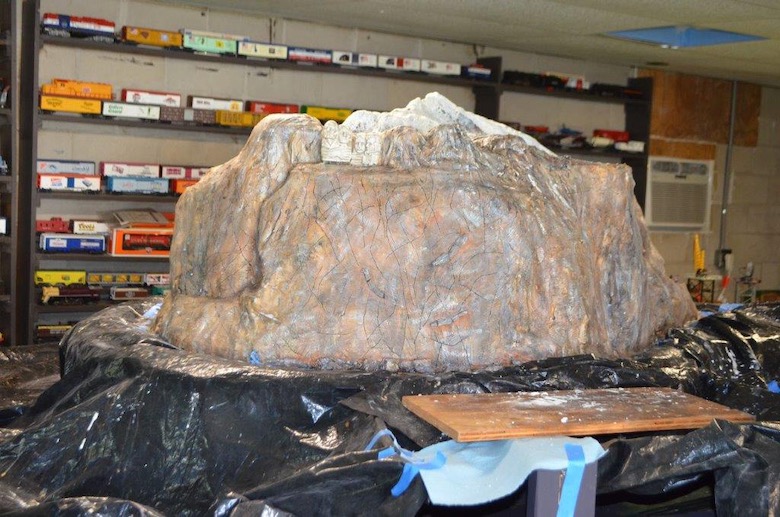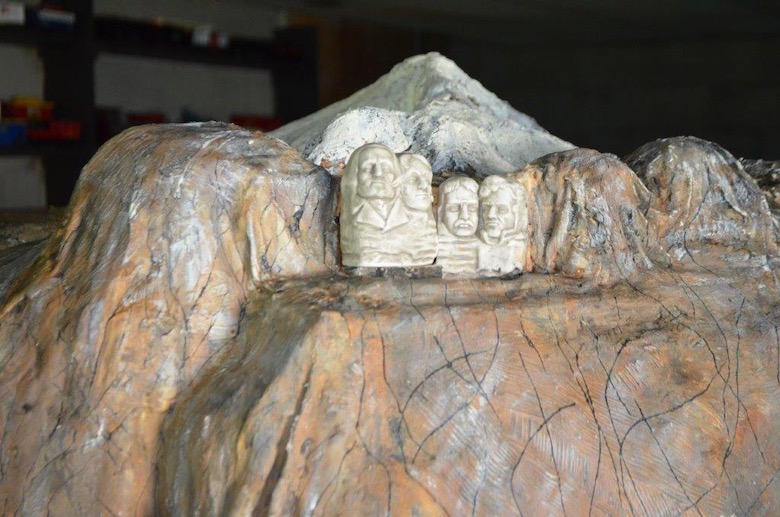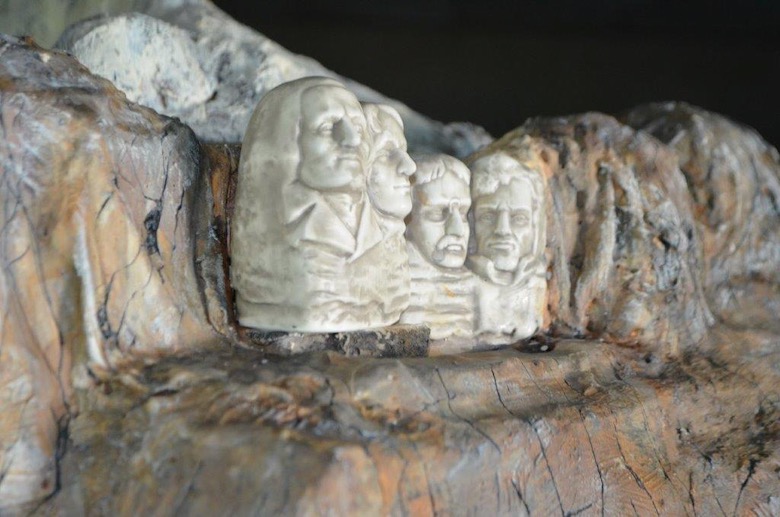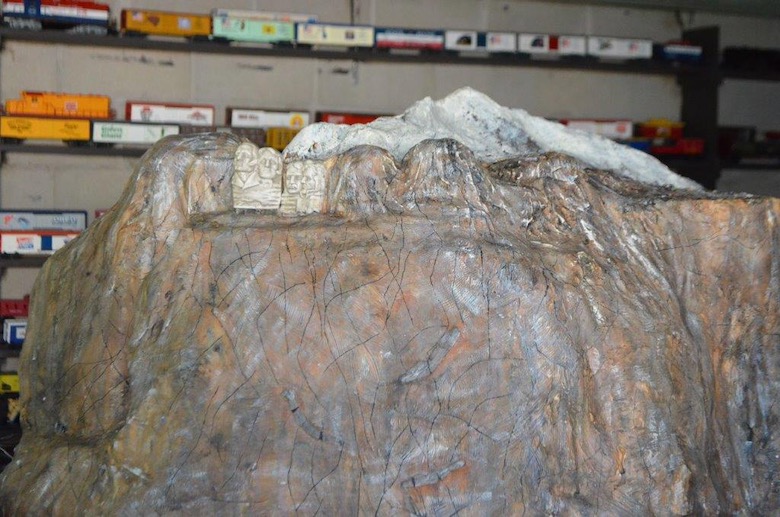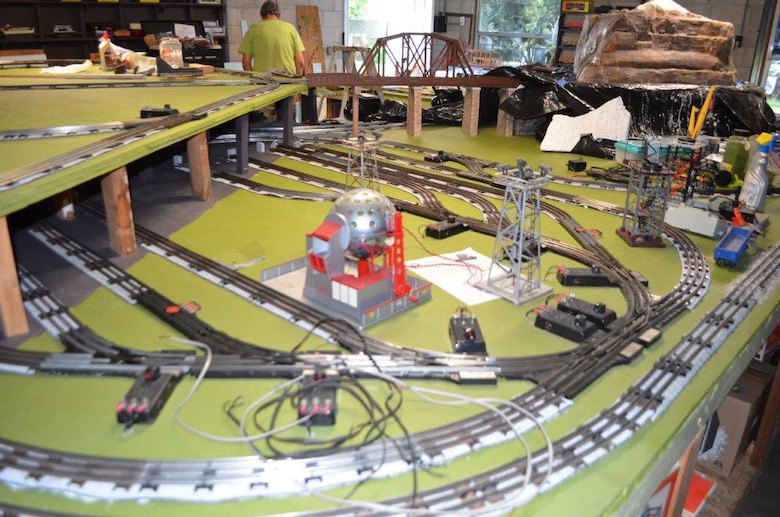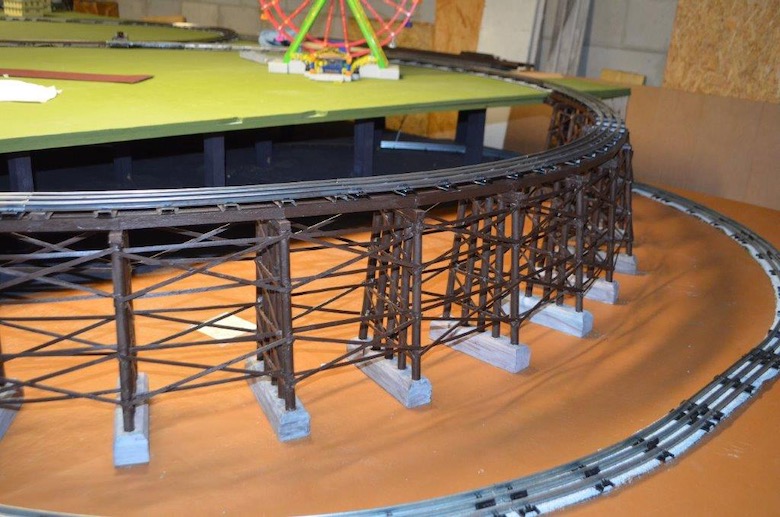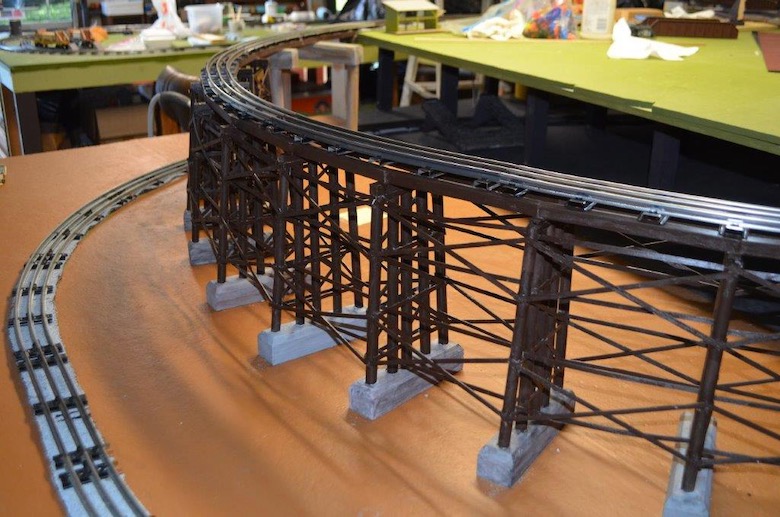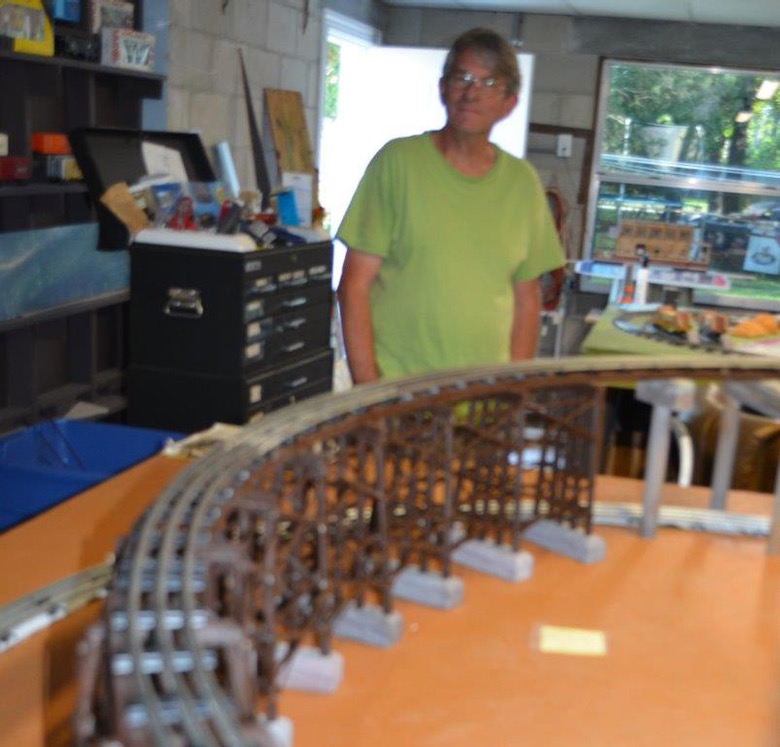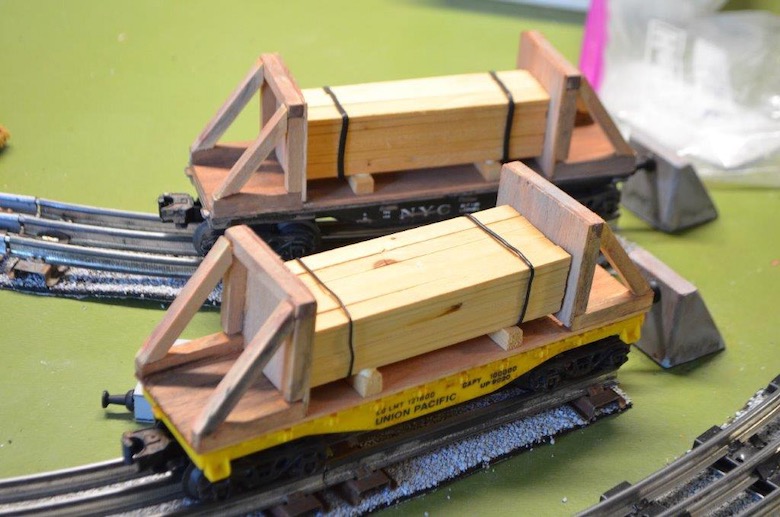 ---
Mark Laszlo:

While Mark has no intention of buying a new house, the first photo is where the Train Room is going when the 3-car garage and Man Cave are completed. Commencement of construction date is TBD, but looking better every week as one cruise after a other gets cancelled.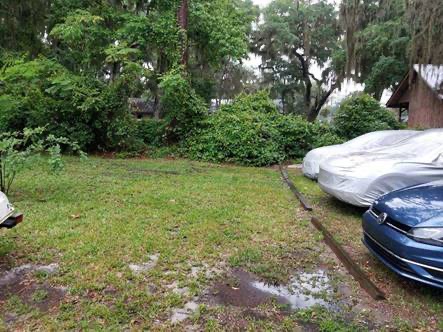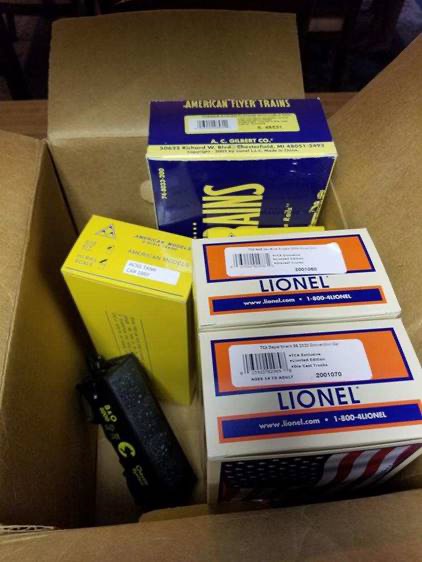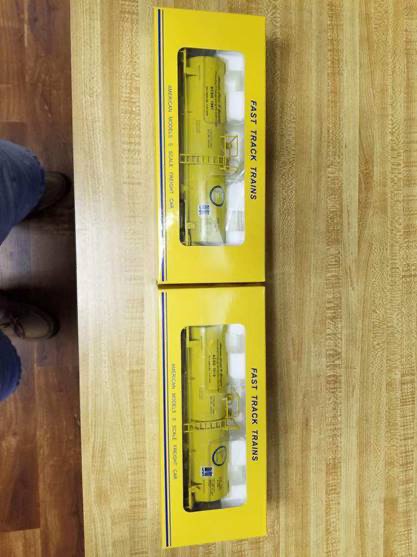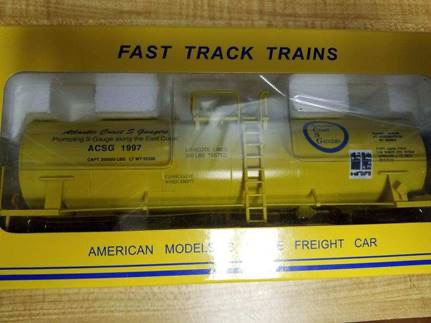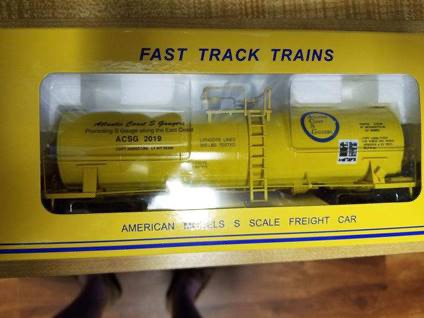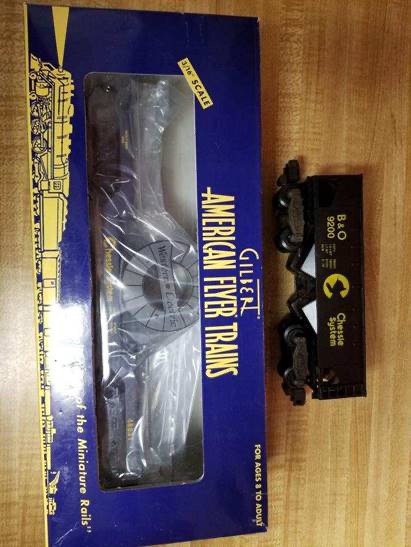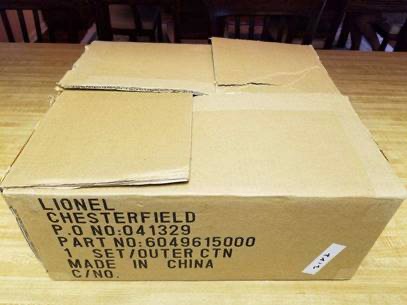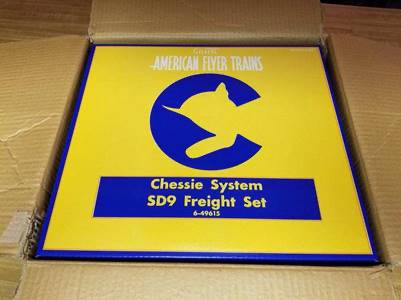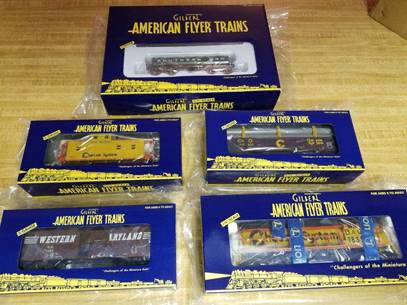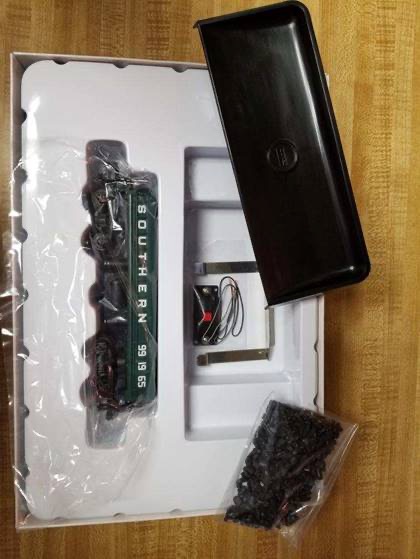 ---
Larry Shughart:

So, when my nephew Conrad visited at Christmas, I had to make a place for him to sleep under the train table, and I unearthed a set of 6 scale length passenger cars that I forgot I even had.

I was going to sell the cars, until Steve Baxendale said, "OH NO, you can't sell these. These are nice! You can fix these up. . . . "

According to Chris Rooney, the cars were kits that were made in the 1950s by West Chester models. The kits were half built, missing parts, and all glued together.

I was unable to take them apart, so alas, I am stuck with interiors that are there, and no lights. But some paint, decals using Lloyd's decal paper on my printer, some repaired trucks and added diaphragms, they look and run pretty good !!

The cars have smooth roofs, like Pullman Standard, but are rather generic otherwise. Steve and I did some quick research and decided they looked most like SAL cars, many of which came from the C&O and FEC with smooth roofs, and some later cars that SAL bought from PS.

Bill Howes helped me research the right car numbers, and Reid inspired the name of the sleeping car !!

Of course, we needed a set of locomotives to pull these cars. While the cars were a bargain, the locomotives were another story. . . . . .

Start with a pair of Undecorated E8s from American Models. Painted them with Minuteman Paint (formerly Scale Coat).

No one makes S scale Seaboard decals. So, by cutting, fitting, copying, and cheating, I used 2 sets of HO and 2 sets of O scale decals to get what you see here.

Oh Yea, and about 4 man weeks' worth of work. Jose and I worked on these together. We make a pretty good team !

While SAL did have E-8s, they did not carry the original Citrus paint scheme, except on the Northern Florida Railway, where everything is prototypical !!

The pictures really don't do them justice. I am very pleased how they turned out and can't wait to show them off in person, once the quarantine is over !!

This was truly a "Viral" project with input and support from many of my friends !!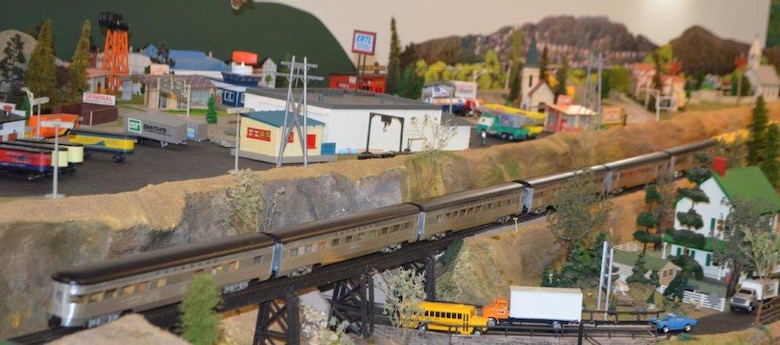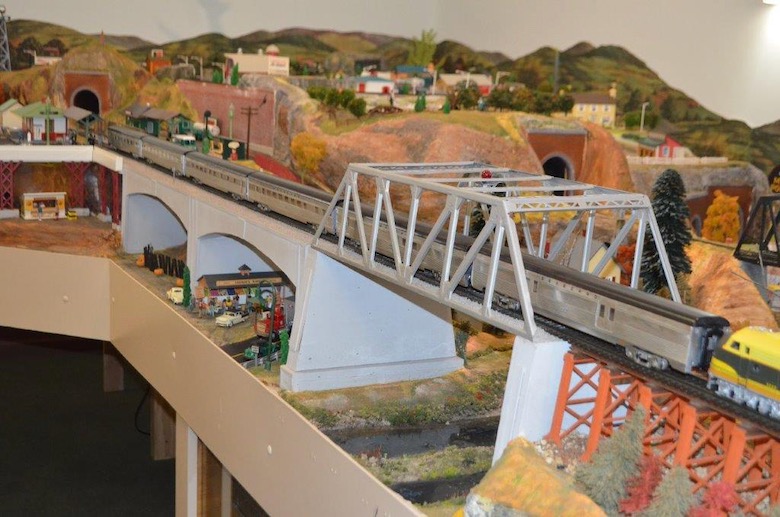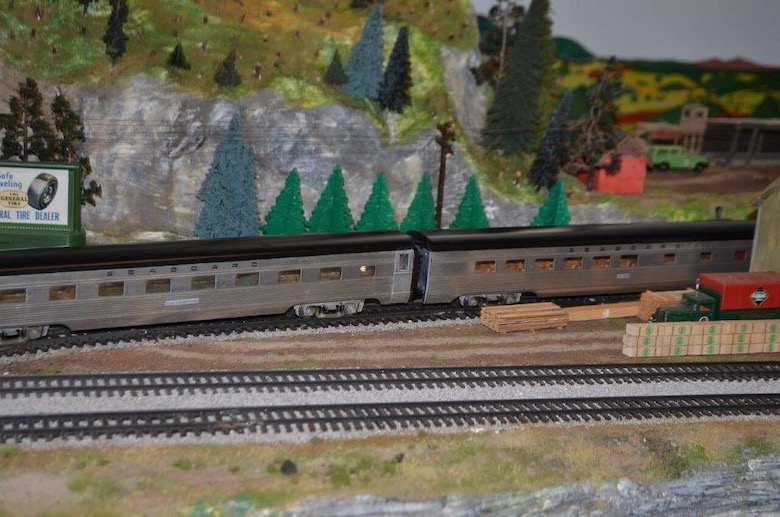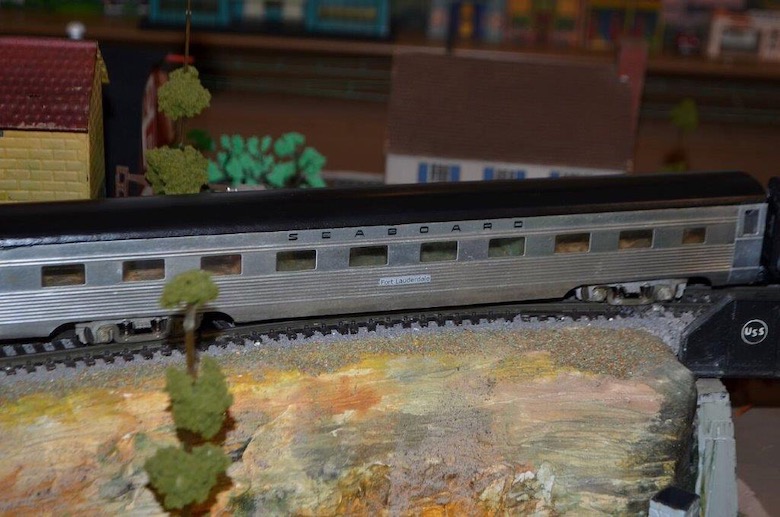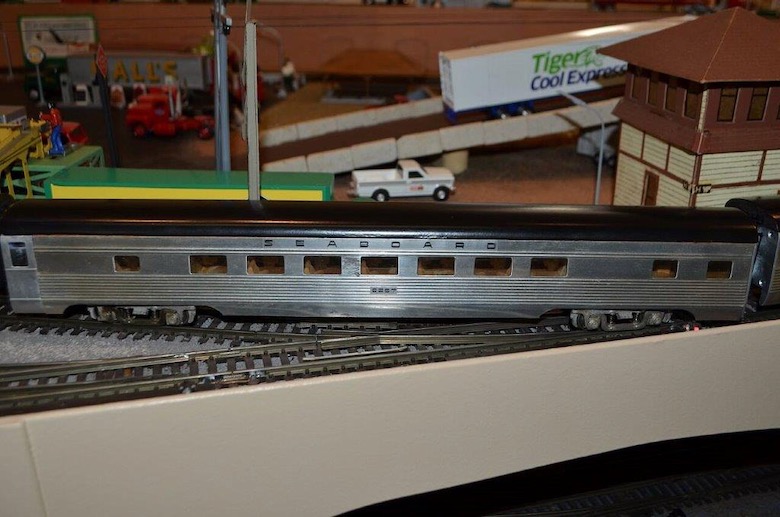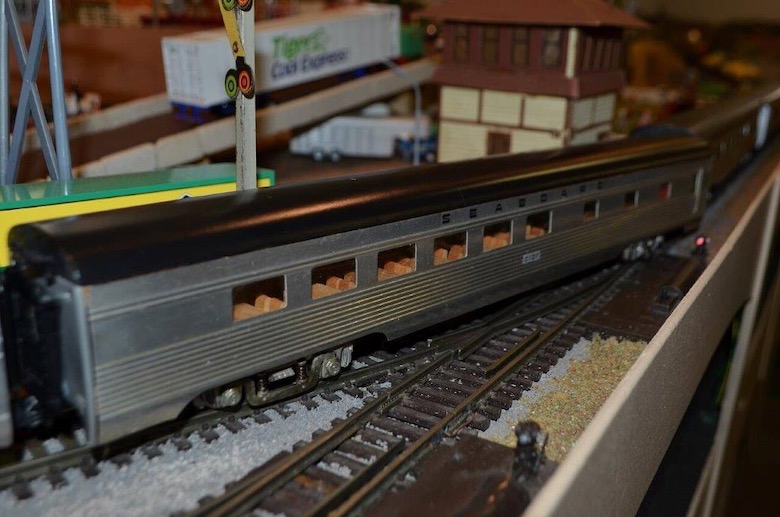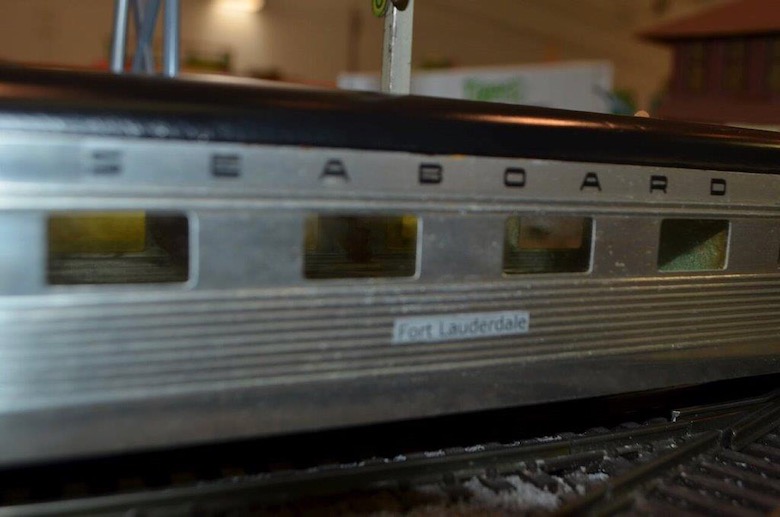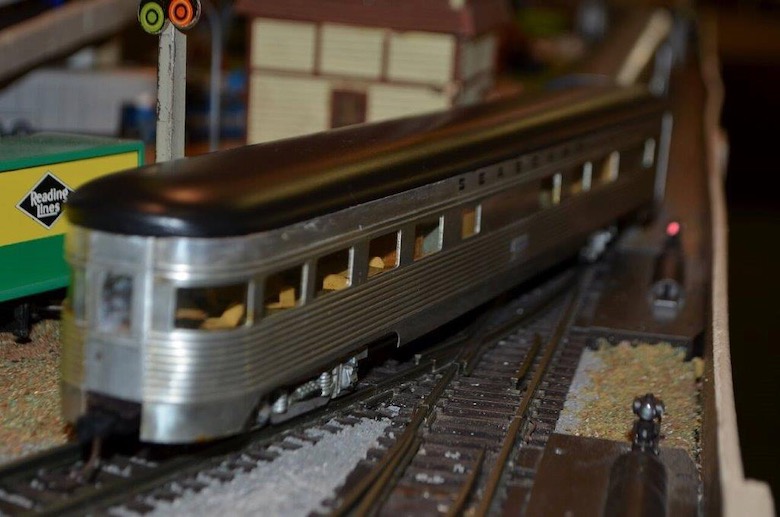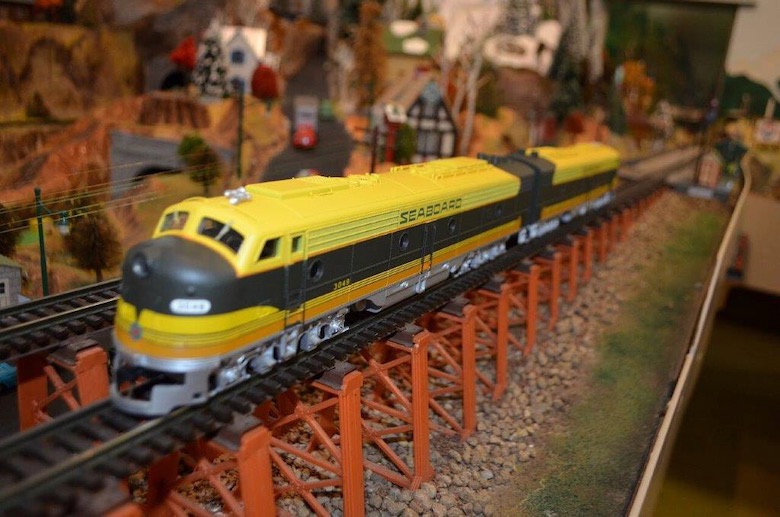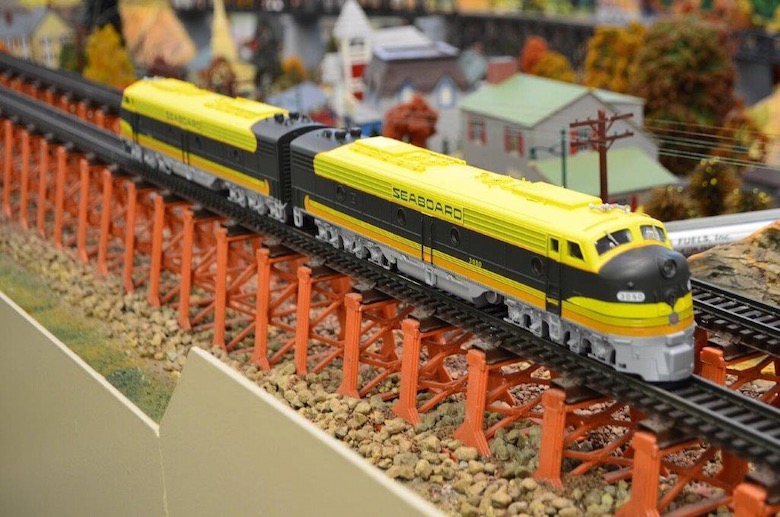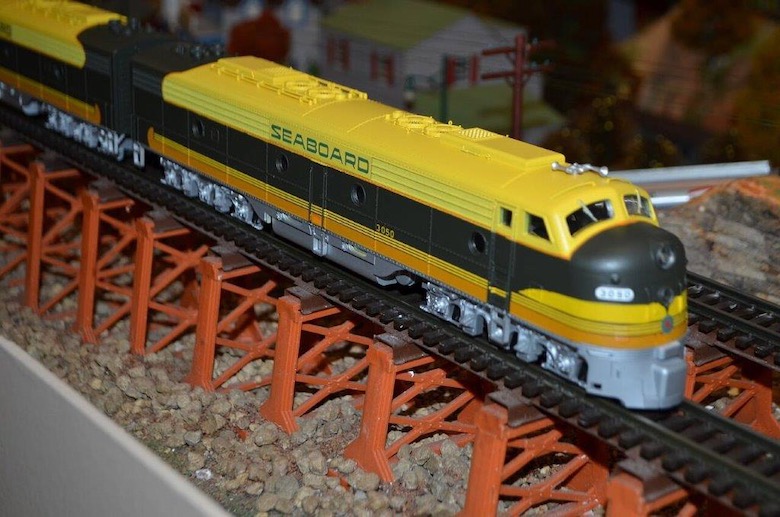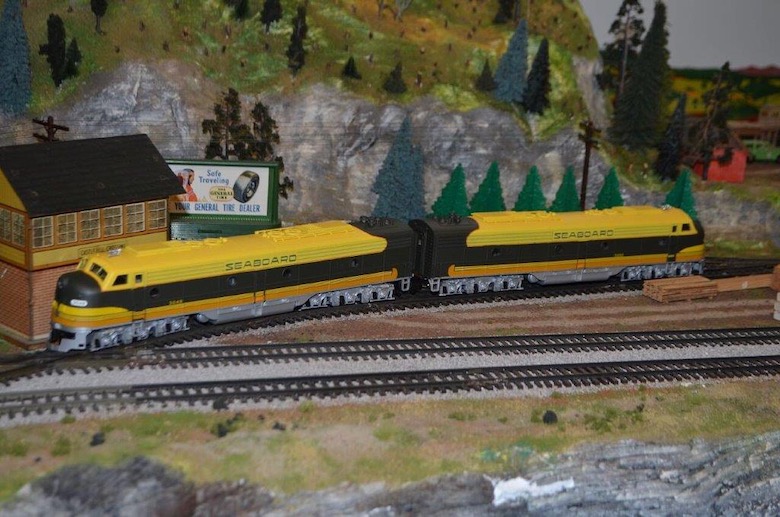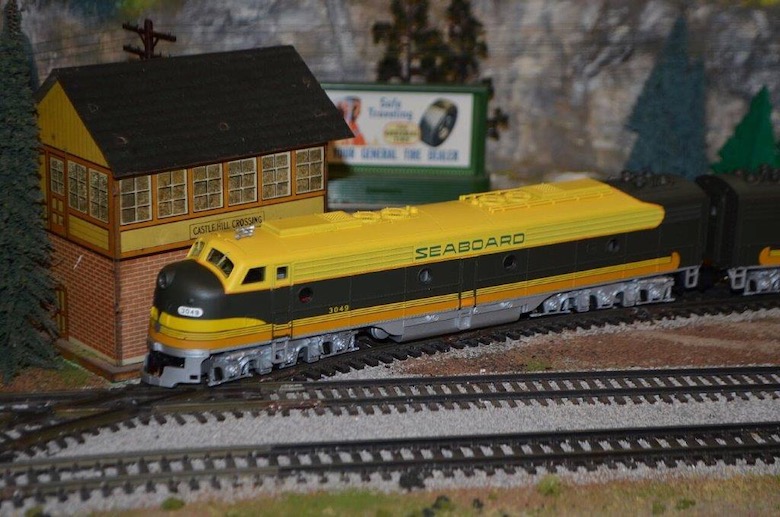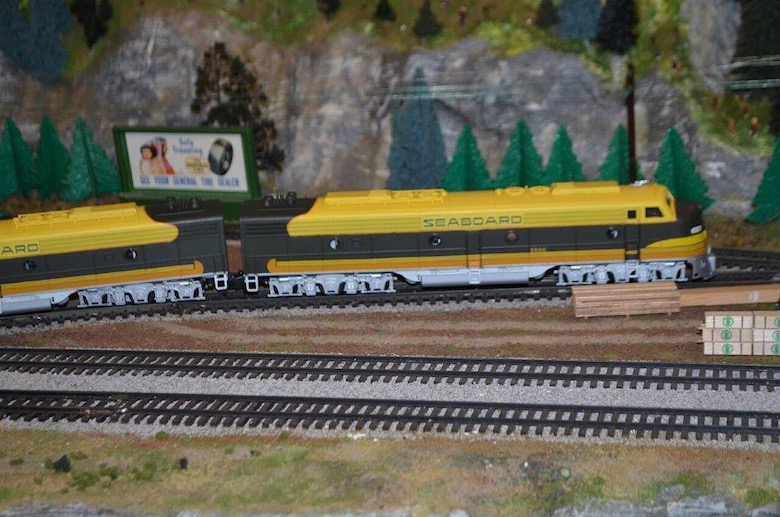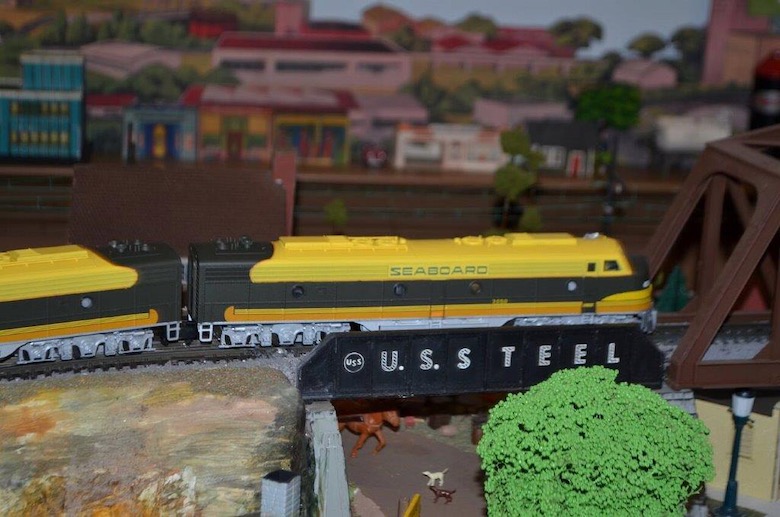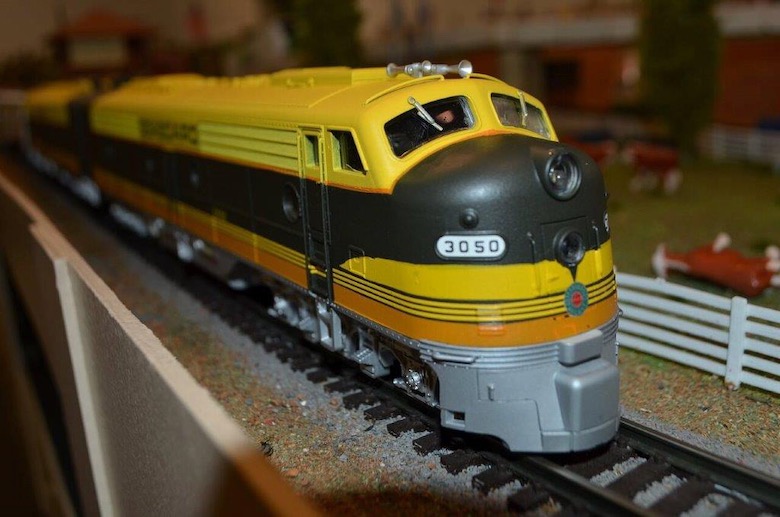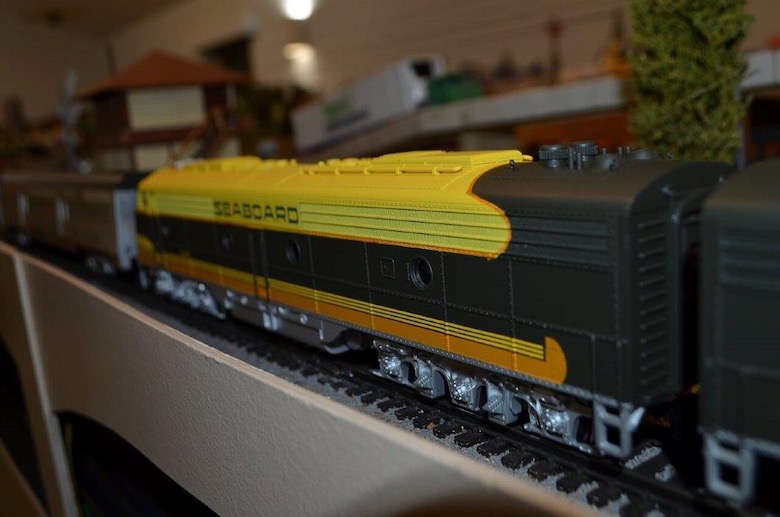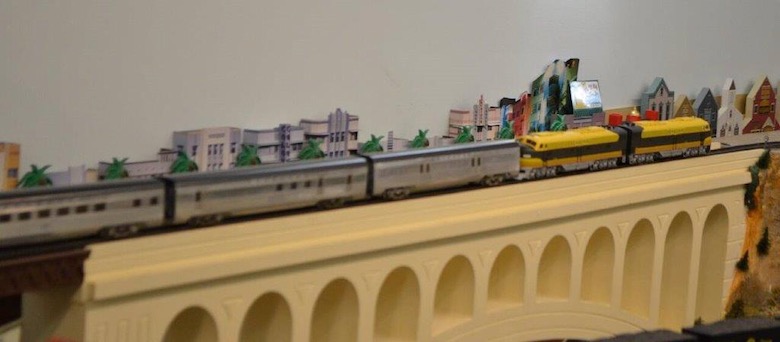 ---