Beaches Museum Train Day, September 10, 2022, Jacksonville Beach, FL

The North Florida Division of the Atlantic Coast S Gaugers set up their modular layout at the Jacksonville Beaches Museum on Saturday September 10, 2022. Over 500 people came to visit the layout, along with the On30 modular layout depicting scenes from North Florida, tours of historic train station, section house, church, and steam locomotive. A trackless train gave rides to the kids, antique cars were on display, and good train music was presented outside while folks ate hot dogs and hamburgers from the boy scouts.
This is always our best show of the year. The crowd is so appreciative of our layout, and love to look at the details and talk about their electric trains from when they were kids. Our club had 15 members volunteer to set up the display on Friday, run trains all day Saturday, and tear down and pack up everything Saturday afternoon. Everyone had a fun and rewarding time meeting the crowds, joking around with friends, teaching the young folks to operate, and promoting the hobby.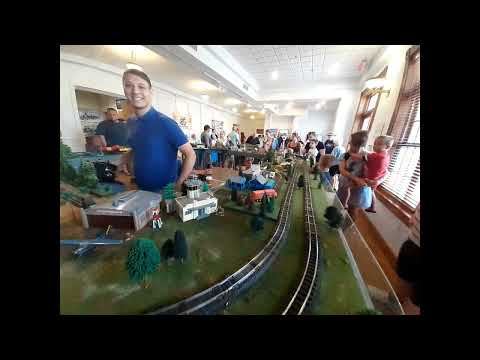 Watch the video of the layout at the show on YouTube.
We had a record number of club members show up and help, and it was SOOO much easier to have a good mix of experience folks, new energy, young guys, and friends. Thanks to everyone who worked this weekend on our very successful outing at the Beaches Museum.
Ashton Young
Chris Rooney
Chuck Bryner
Connor Michala
Fred Gorbell
Greg Turn
JP Snyder
James Widerman
Jim "Grits" Dundon
Joe Michala
Larry Eggering
Larry Shughart
Lloyd Lippert
Matt Dubelluit
Ron Fisher

Thank you to Larry Shughart for all the information.