The Carolinas Division covers both North Carolina and South Carolina.
Please contact Marvin Thiel if you are in the Carolinas and would like to join the club.
---
The Carolinas Division was the second Division of the Atlantic Coast S Gaugers. It was begun when charter member Joe Haenn was joined by Tom Davis and Pete Hildebrand. Tom, along with Ron Kolb, had formed the original Baltimore Area American Flyer Club and later moved to Charlotte, NC via Richmond, VA. In Charlotte, he met Pete and they both joined the ACSG. Joe was the owner of Joe's Train Repair and was a major supporter of the ACSG and S gauge.
This is the second show in which the Atlantic Coast S Gaugers ever participated. It was presented by the Neuse River Valley Club in Raleigh, NC. It was the first time they had ever had S Gauge participation. The layout was a combined effort of the Virginia Central and Carolina Central Divisions. Members present were most of the charter members of the Club.

From left to right: Mike Meyers, Ernie Stinson, Joe Haenn, Wayne Beachy, Tom Davis, Pete Hildenbrand
Butch Henion operated his new "T" module and 4 track yard at the Neuse River Valley Club show in Raleigh in 2000. Since then there have been more yard modules and tracks added to make a 6 track yard that is 5 modules long.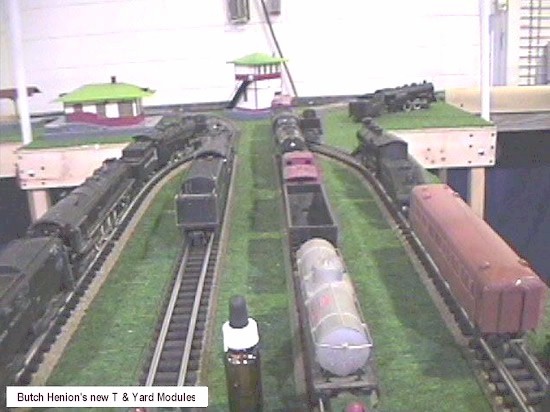 This photo is from the Greenberg Show in Charlotte, NC in December 2000. Joe Haenn's Gilbert 785 Coal Loader is on Rhett George's two 6 foot long modules. Also note the Downs Model Railroad tank train set waiting on the siding.
The Carolinas Division ran their modular layout at the Great American Train Show in Columbia, SC on August 9 & 10, 2003. This is Calvin Azarowocz's airport themed module.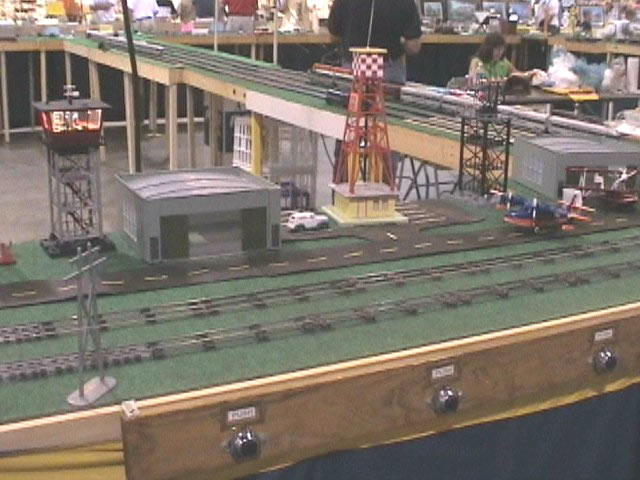 Here Calvin winds up a tin toy circus ride on his circus themed modules.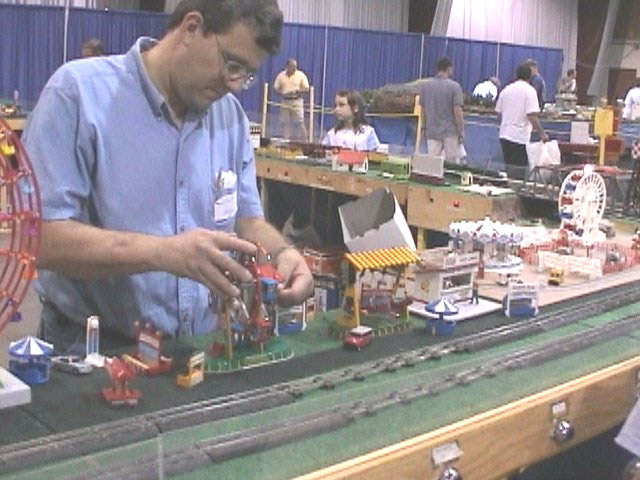 Here are Ted Zander's modules with the Rocket passenger express just crossing the road. Ted has a great variety of accessories: Lemax crossing signals, K-Line firehouse, pre-war American Flyer water tower, Marx floodlight tower, and American Flyer semaphore.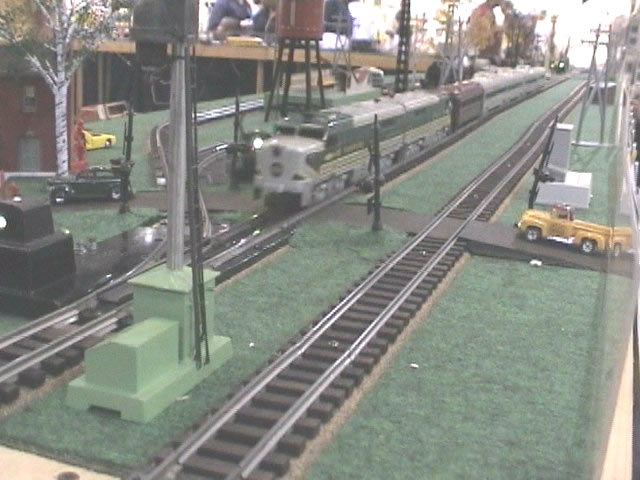 The Carolinas Division took their modular layout to the National Association of S Gaugers convention in Altoona, PA in 2005. (9:36)
---
Train Camp 2012 at Rhett George's house.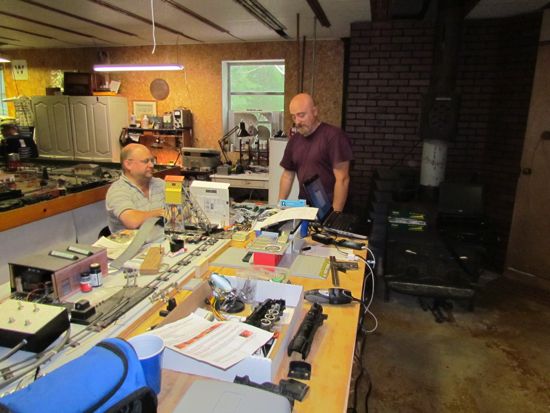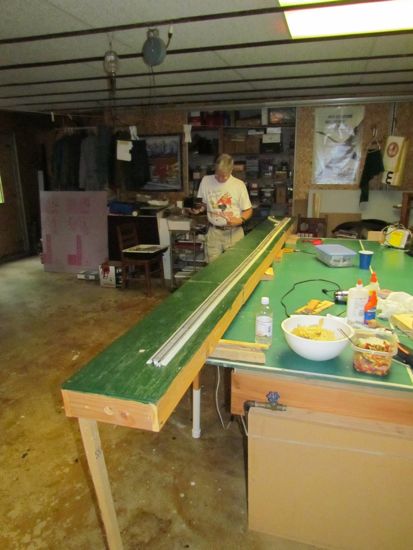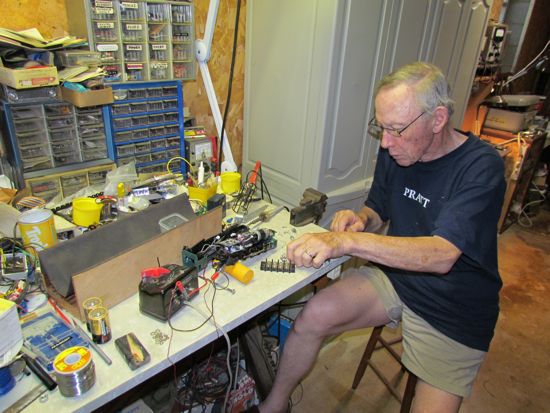 Train Camp 2011 at Rhett George's house.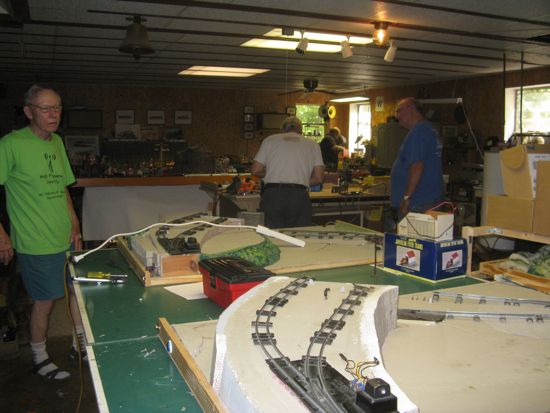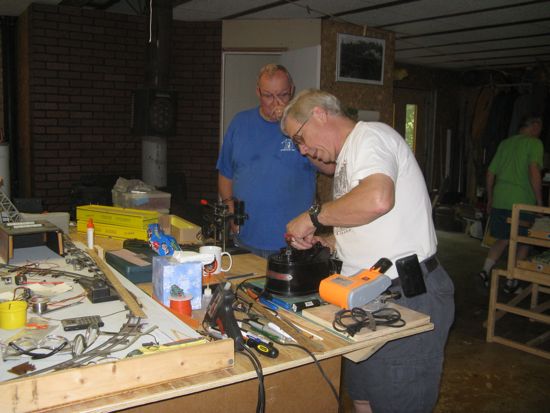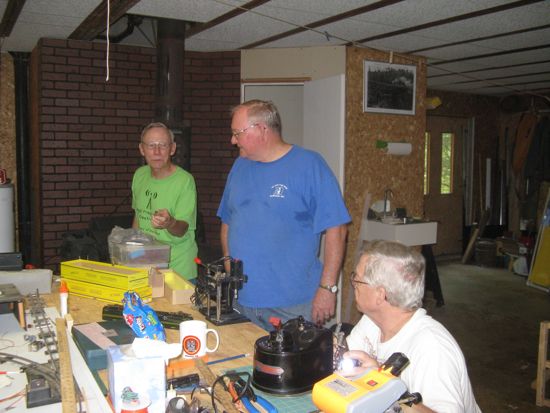 Train Camp 2010 at Rhett George's house.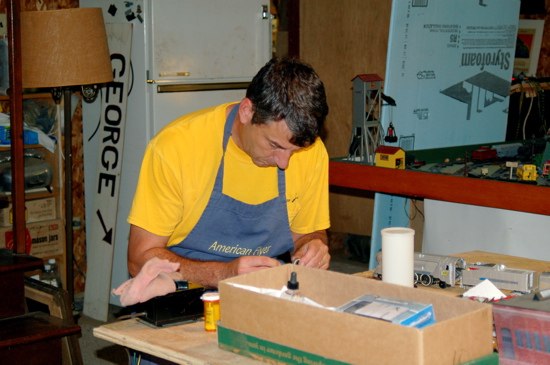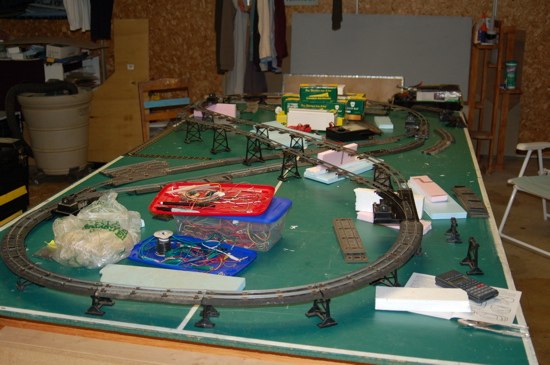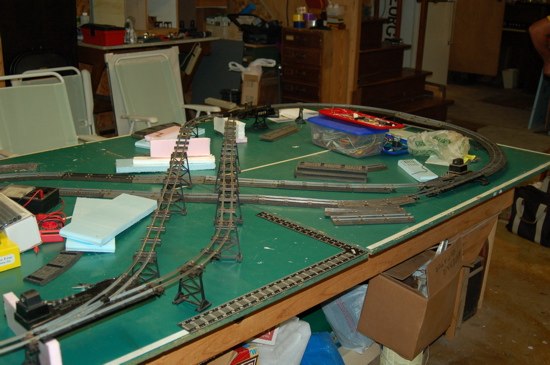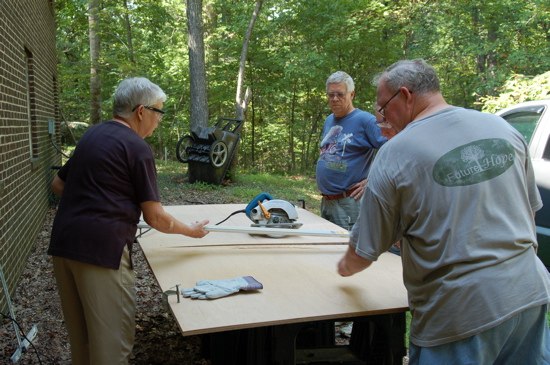 Work Day 2009 at Rhett George's house.