Rhett George's Layout
Rhett's introduction to S Gauge came in 1948 with an American Flyer 310. This ran on a loop of 125 brass rail hand laid on wood ties on a 4 X 8 piece of sheetrock. Rhett became an armchair S Gauger until 1970. The picture below shows Rhett at the controls of his 12' X 16' home layout.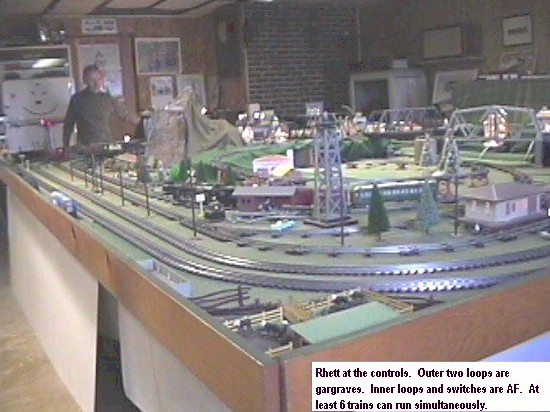 The second photo is a close-up of Rhett's home-made control panel. Power comes from several industrial, fixed-voltage AC transformers. AC powers the accessories and bridge rectifiers are added to provide DC for train operation. Control is separate for each of the 5 tracks. Each system has a variable resistor which sets the voltage on the low current element of a power transistor.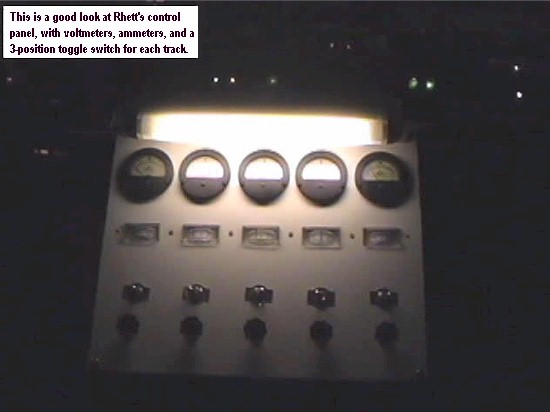 The operating power passes through the high current elements of the transistor to a reversing switch, voltmeter, and ammeter. The only mechanical wear points as far as track power is concerned are the variable resistor and the reversing switch.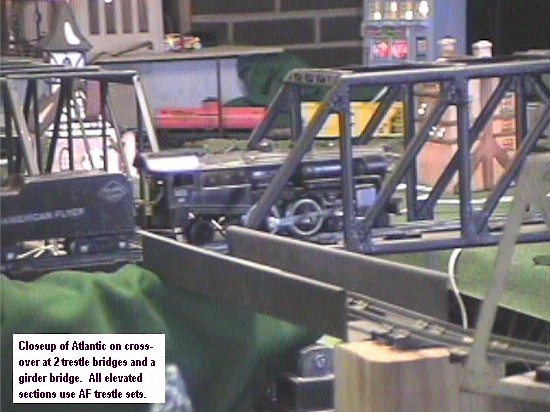 This layout consists of three 14' ladder-like frames supported by six sawhorses. Half inch particle board panels lie on top of these frames. All this is covered by grass paper. This layout started as a series of temporary Christmas layouts using the sawhorses and ladder frames. Each year the layout layout would go up around Thanksgiving and be taken down at the end of January.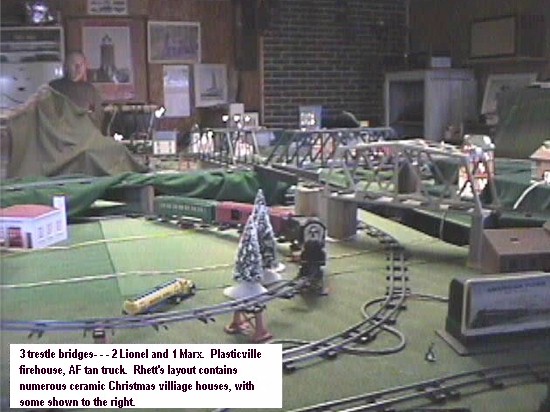 Finally, Rhett's wife, Joanna, suggested the layout stay up year-round. Obviously she is the practical one in the family. The Georges have two or three parties each winter at which guests may run the trains. There are four separate loops and a non-continuous industrial track on which a switcher runs. The outside loop has 25" radius curve. Rhett's favorite trains are the quiet ones - with the exception of choo choo - and except for the clickity clack of toy trains on toy track. He likes passenger and freight trains equally.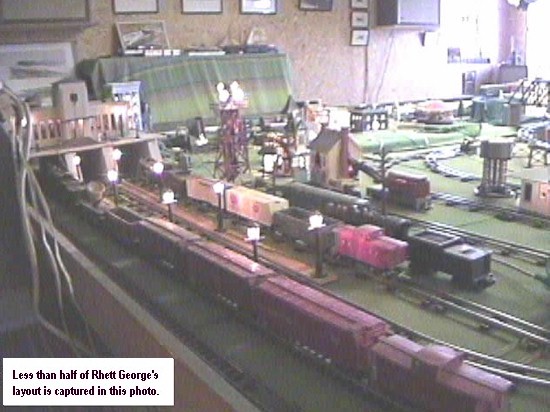 Future plans call for more switching capability and more action cars. Rhett is one of the most active and most knowledgable members of the Atlantic Coast S Gaugers.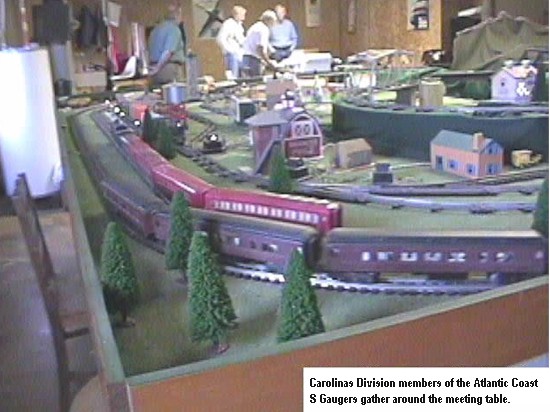 His modules have been used by both the Carolinas and Virginia Central Divisions. He is a great asset to S Gauge.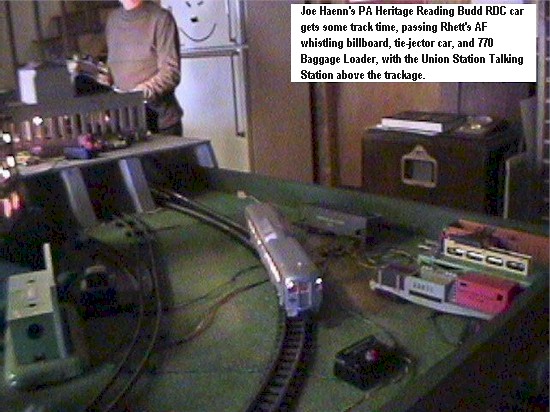 (Photo caption inserts by Joe Haenn. Text by Wayne Beachy.)