The Tennessee Central 2017 | The Tennessee Central 2015 | More of the Tennessee Central
Tom Robinson's engines: Big Boy | U33C | Challenger | 2-8-8-2
Tom's 2012 Lionel American Flyer Union Pacific 2-8-8-2 steam engine
At Rockwood with Challenger in background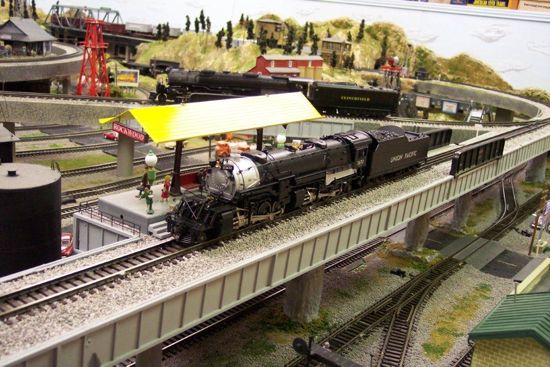 Close up of fireman's side
I received my 2-8-8-2 the week of December 15, 2012. I have broken mine in running on the blocks for 30 minutes in each direction and have about 3 hours run time on the layout.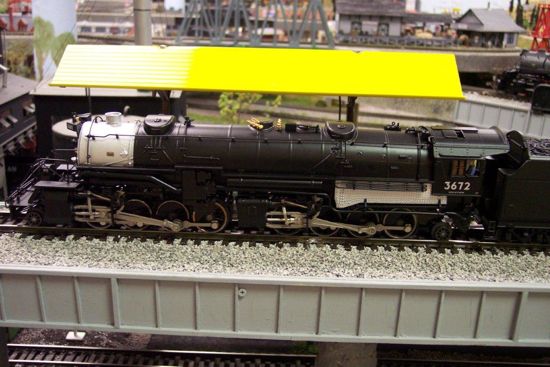 Rear quarter view
The engine did not come with a programming module so I had to enter its data manually. I run Legacy version 5.1. The engine also did not include the front boiler number board as shown in the pictures. It also did not include the nice conversion pieces for installing Kadee scale couplers as on the Challenger and U33C. Lionel has promised to reply to my inquiry about these issues as soon as their replacement parts list is available.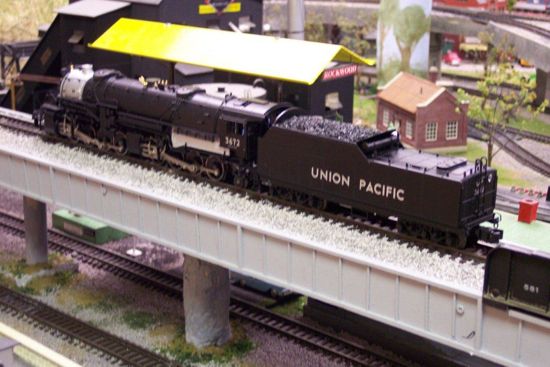 2-8-8-2 in foreground, Challenger in background
My only issue in running the engine was the front pilot shorting through two of my American S Gauge turnouts. It was very slightly out of gauge. I had to unsolder the wire to the headlight, remove the pilot, and remove the axle wheel set. I then ground off one of the keepers on the axle and widened the gauge approx. 1/64 of an inch. This may be necessary for any turnouts which require exact wheel gauge. After re-soldering and re-assembling the pilot everything is fine.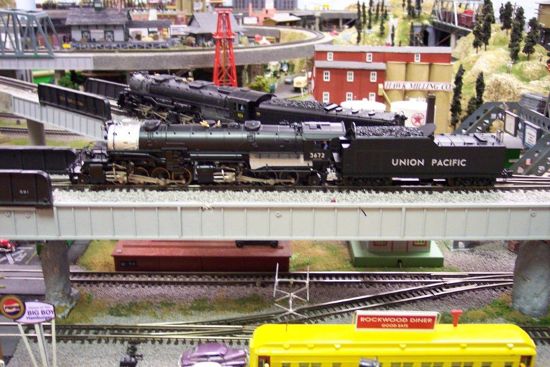 Head on view of 2-8-8-2 at Emory Gap, Lionel American Flyer Pacific on siding
This engine is the best performing model I have. It is smaller than the Challenger and the conventional tender with two swiveling trucks operates much better.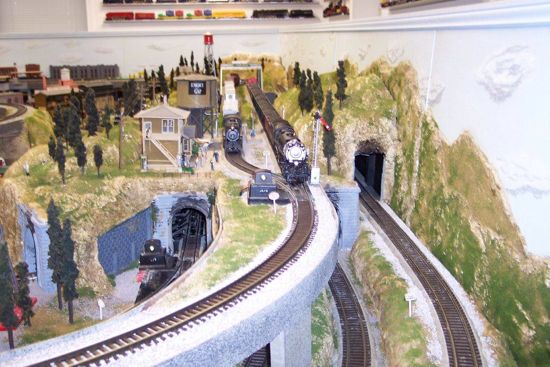 2-8-8-2 on coal train at Harriman. Note new structures in Harriman Industrial area.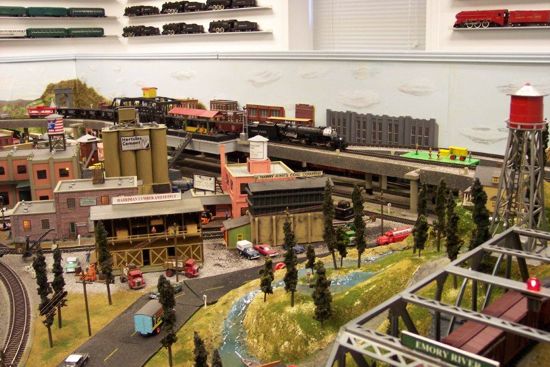 2-8-8-2 at Crossville, Challenger on siding in foreground