ACSG Holiday Displays and Trains around the Christmas Tree for 2021
---
George and Kathy Cooper's Christmas Train on All Aboard Panels (Carolinas)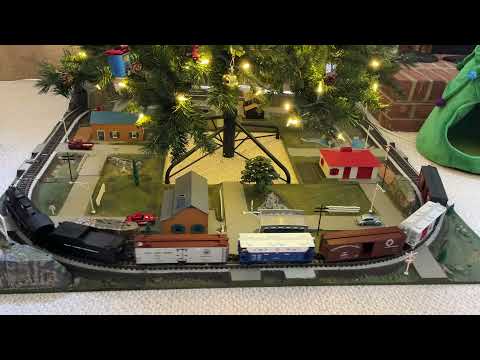 ---
Ted's display of his modules and trains and holiday decorations in the front window of his business. (Carolinas)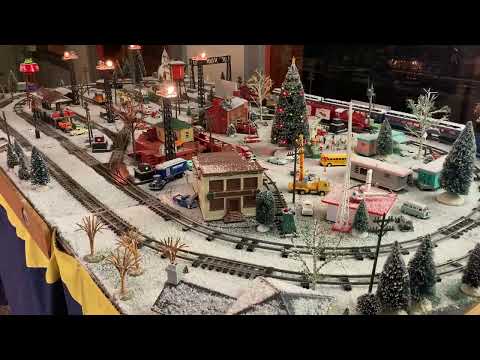 ---
ACSG Holiday Displays and Trains around the Christmas Tree for 2020
---
George and Kathy Cooper's Christmas Train and Tree (Carolinas)
First video: The Cooper's Christmas train around their Christmas tree.
Second video: Their tree with train ornaments. They have collected many types of train ornaments in many scales.
---
Andy deMontpellier's Christmas Layout (Tidewater)
Christmas layout with American Flyer prewar 561 on elevated track.
The rest is American Flyer S and Lionel American Flyer.
The video shows the trains running with the lights on and the lights off!
---
Larry Shughart's Christmas Display (Northern Florida)
My Christmas Layout is different each year, although some of the village people and accessories have been included in my Christmas display since I was a child, particularly the ice skating scene and the lead figures. This year's display is an homage to a vintage Christmas display from around 1950. The feature piece is a German Bing Metal Station that was made for OO scale, but fits S gauge quite nicely. The country area includes two Schoenhut wooden houses along with a Marx Lithograph barn. The Church is a Japanese Putz style glitter house. The City area is squeezed under the Christmas tree and is comprised of two Department 56 buildings and a dozen or so Japanese Putz houses. The train is an original American Flyer 302AC steam locomotive with link coupler freight cars. The track is traditional Gilbert track with extra wooden ties inserted. The board is a 4' x 8' with the back corners cut off so I could slide it into the window opening to give me four more inches of space in the living room. I raised the table a bit off the floor to rest on the window sill, and making a space under the table for the creche to simulate a cave.
---
Mark Ruth's Christmas Display (Carolinas)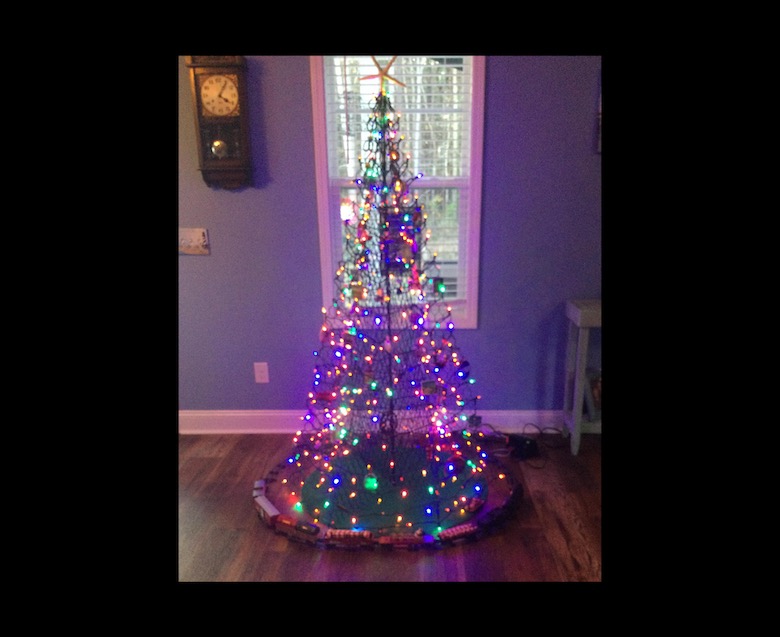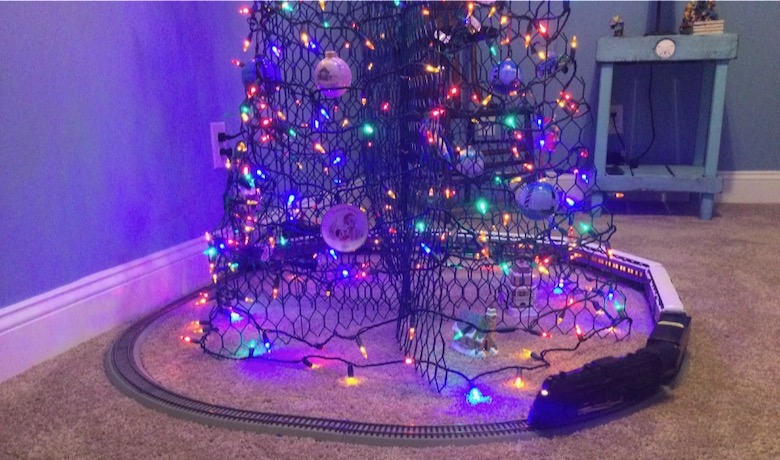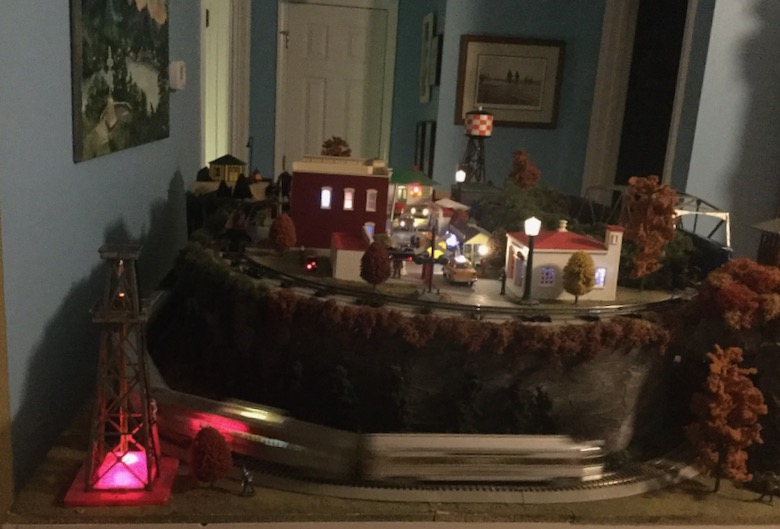 Trains on the floor around the Crab Pot Christmas Trees and Mark's layout before he moved to a new house.
---
Zachary Miller's Christmas Tree Layout (Carolinas)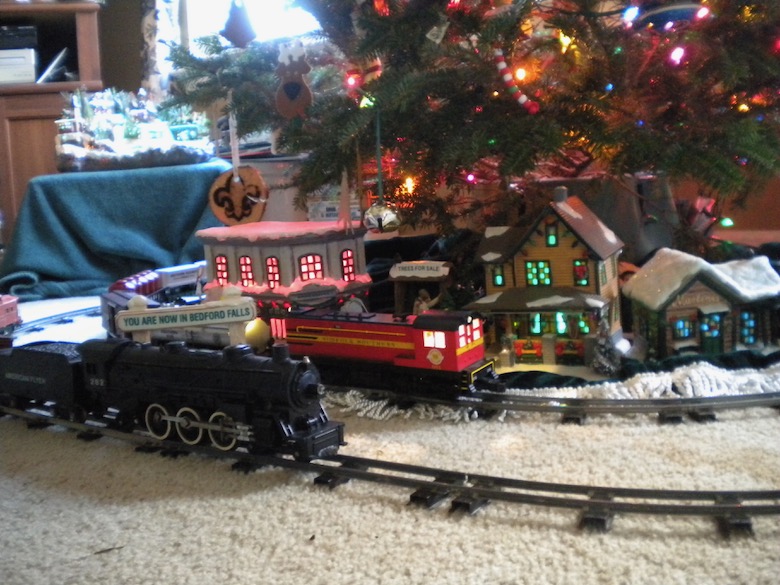 2 tracks around the Christmas Tree.
---
Cam Shontz's Christmas Display (Tidewater)
Cam's layout decorated for Christmas.
---
Richard Norman's Christmas Displays (Tidewater)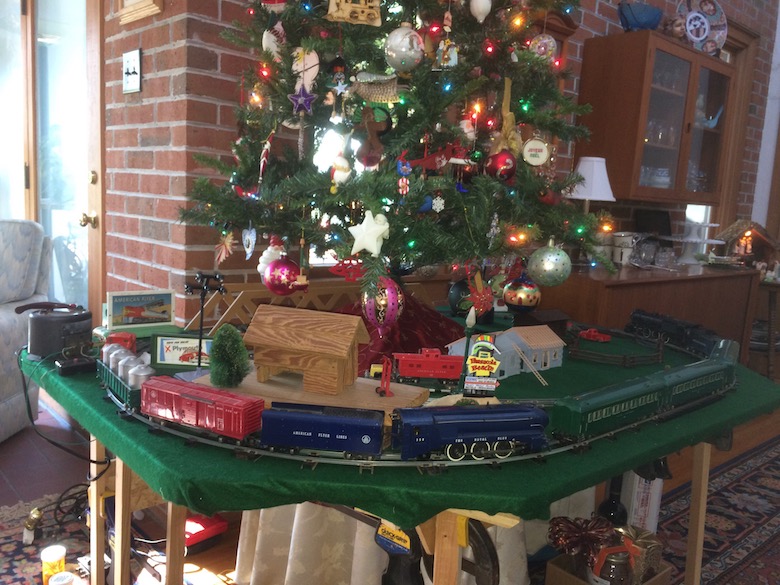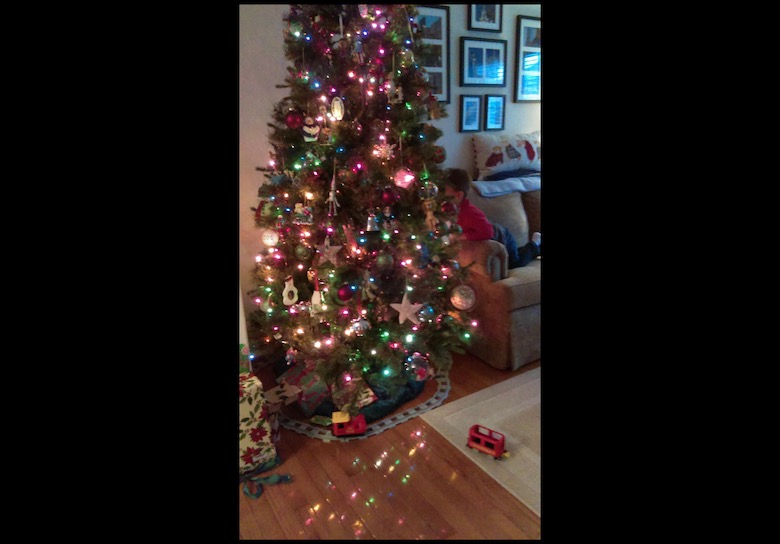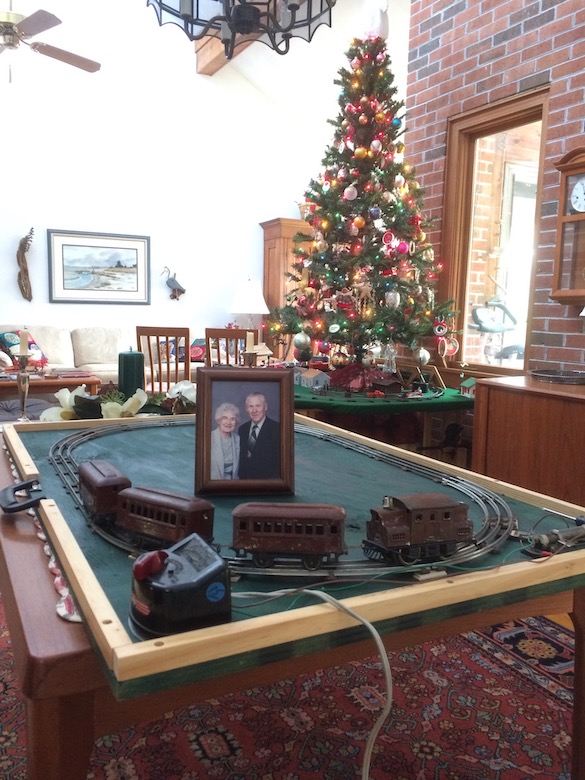 Richard's first 2 trains - Christmas 1948 & 1949 - still going strong.
Richard's 2-1/2 year old grandson is starting early with his Duplo Lego train.
Richard's father's Lionel train - circa 1917.
---
Marvin and Heidi Thiel's Christmas Layout Display (Carolinas)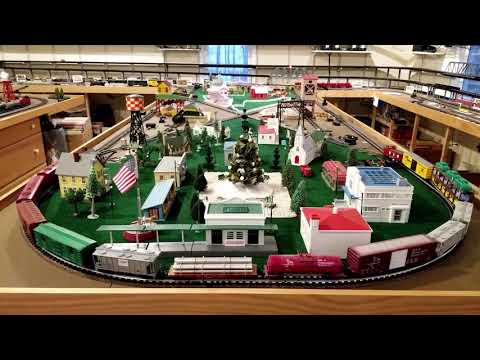 A huge Christmas Tree has been erected in the town square of Plasticville!
---